In my last post, I talked about some of the health issues with artificial dyes like Red 40 and Yellow 5.  These two dyes and six others are all made from petroleum.  These artificial colors have been found to cause hyperactivity in children, allergies, and cancer in lab animals.  These artificial food colors seem to be found in everything these days.
My question today is: Do Food Dyes Deceive Consumers?
I can't speak for everyone, but my answer to this is a big "Yes!"

Food companies use high fructose corn syrup, artificial colors, and other artificial ingredients to simulate healthy fruits and vegetables.  You can see this all over the place.  Start reading labels.  Are those really blueberries in the blueberry muffins you are eating?  Is that really strawberry filling in your cereal bar?  Is there any juice in the "fruit juice box" you buy?  I'm sorry to say……..there probably isn't.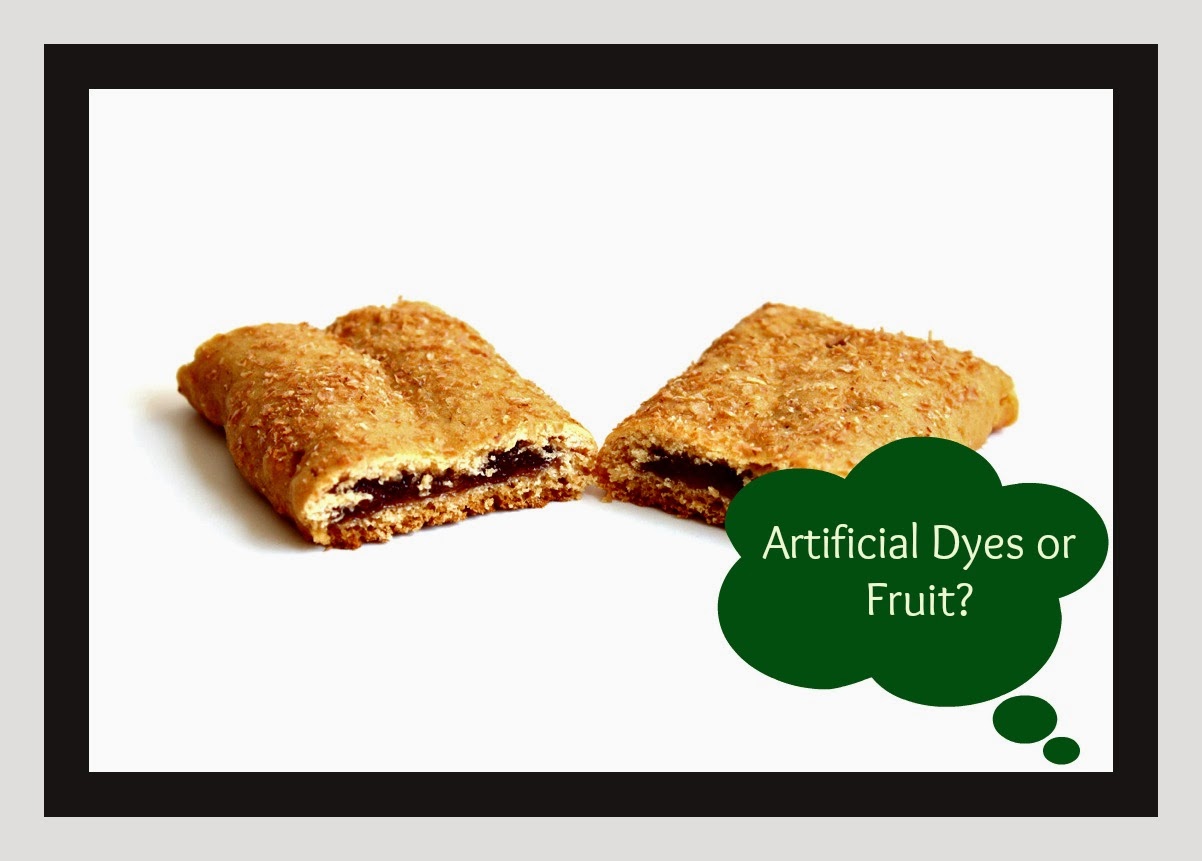 So why do food companies use artificial colors?
That's an easy answer.  Processed food is ugly.  Would you eat bland looking food?  No, you want brightly colored beautiful food. Think about how boring it would be to eat cheese puffs if they didn't have that artificial color all over them.  (Not that I encourage you to eat them anyway.)  But think about them without the color…………gross!  Unfortunately, children seem to be attracted to the brightly colored food even more than adults.  You will be hard pressed to find a food marketed to children without bright colors.  Children's yogurt is a good example of this.  Why is there a need for children's yogurt?  Why can't they eat the same yogurt we adults do?  Oh!  I know…………they need the super bright artificial colors.  The same colors that are believed to cause hyperactivity in children.
What Can I do?

This is the question I asked myself when I found out how harmful these artificial colors are. If they are in almost everything…….how do I avoid them?
Buy fresh fruits and vegetables.

Read labels – Not all companies use artificial colors

Avoid processed food and cook with ingredients.
What can I do to encourage food companies to change to recipes that do not use artificial dyes like they already do in Europe?
Get involved in the Food Movement. Write to your favorite companies and ask them to remove the artificial colors.

Vote with your dollars – Don't buy the food if they use artificial colors.

Post messages on company social media sites.  There is nothing like consumers banning together to fill up a wall with these types of requests.  It catches some attention.  I will never encourage you to be rude.  So politely tell the food companies, you want the artificial colors out.

Follow leaders of the food movement.  I love what the FoodBabe is doing.  I have been a fan of hers for a year.  It is amazing what she has accomplished in this time.
I hope this helps.  Knowledge is power and I hope you know that you DON'T have to eat artificial colors.Where have you found artificial colors that surprised you?  Were you aware they are made from petroleum?  Have you had an adverse reaction to artificial dyes?  Maybe you think that they are OK in food.  Let me know that as well.
Can't get enough Juggling Real Food and Real Life?  Make sure you subscribe to our email list so you don't miss a post.  You will also want to follow us on Facebook, Twitter, and Pinterest.  Just look for the buttons at the top to follow us on your favorite social media.  I would love for you to join our Real Food Experience Facebook group.