Why am I sick all of the time? This is the question that I was asking myself not all that long ago.  For the first time in my life I was not feeling invincible.  In fact, I was worried that there was something really wrong with me.  I felt like I had the flu all of the time for more than a year.  At times it was really bad.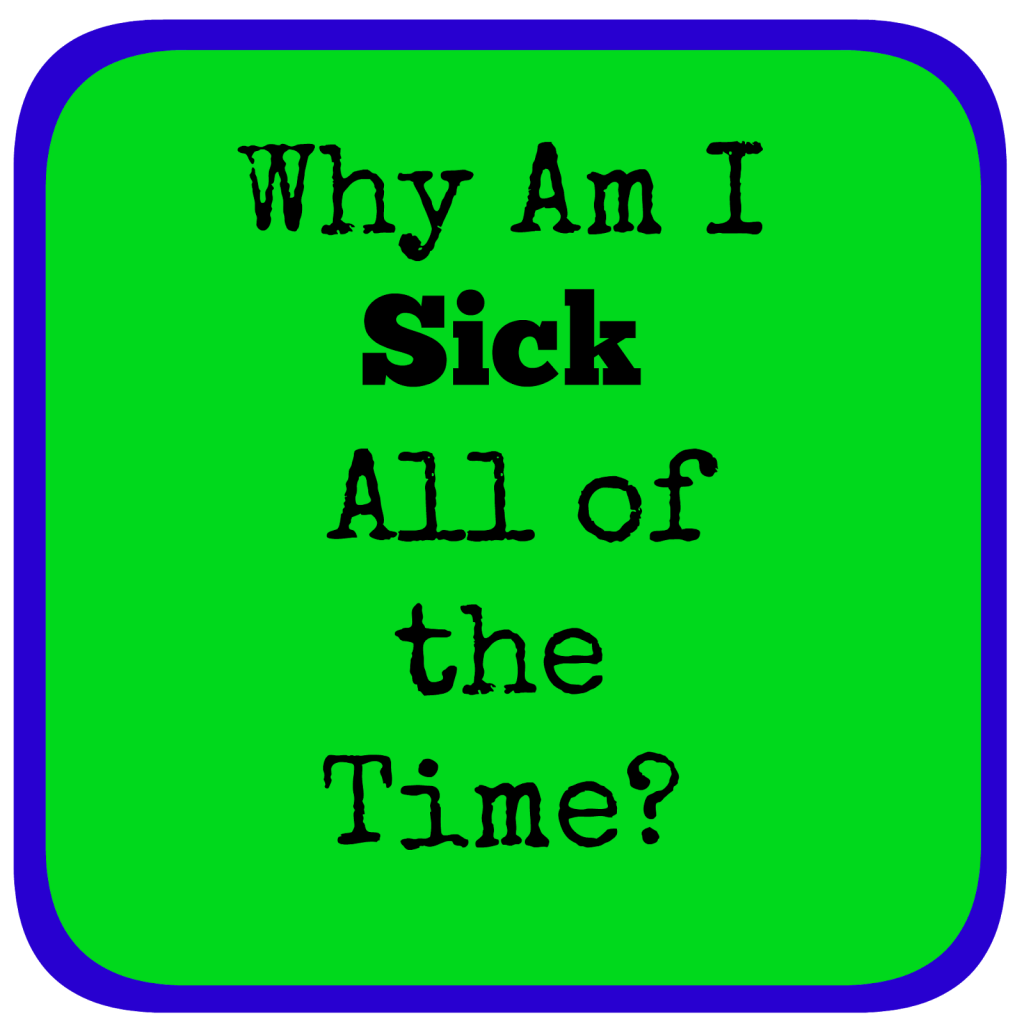 Let me tell you a little about those really bad times.  There was the time that I went to Florida to see my oldest march in the marching band at Epcot Center and celebrate my baby turning 3.  Instead of having a ball at the Magic Kingdom, I spent most of the day in bed at the hotel.  There was the time I was to take my Girl Scout troop out to breakfast and then on a tour of 4 different museums in town.  I never even made it to breakfast. Oh………this was a strange one.  I was feeling perfectly fine so I took my daughter to a birthday party at Chuck E Cheese.  Within a short time of being there, I found myself stuck in the bathroom and unable to leave because of the way I was feeling.  I had to call my husband from the bathroom to come take over parenting duties.  He showed up with a bucket in the car for me.  Yep, it was that bad!
I went to my doctor for help.  In fact, I had two trips to the emergency room for gal bladder attacks.  My last trip to the emergency room we discovered that in addition to the gal stones that I knew I had, I also had kidney stones.  I had my gal bladder removed and thought that would fix everything.  It didn't.  In fact, things got worse.  Much worse.  I found out from my surgeon that I had an umbilical hernia.  He said that the hernia wasn't that bad, but if I was having nausea because of it, I should have it fixed.  I had that surgery and was sure it would fix everything.  It didn't.
I asked my doctor what else I could do to fix my situation.  I explained that I was a busy mom of 4 active children and I really couldn't afford to have much down time.  I was starting to miss work on a regular basis and my illness was really affecting my quality of life. His answer………."Does Pepto help?"  Does Pepto help?  Are you kidding me?  This is the best he could come up with?  I was crushed.  Thoughts of dropping out of all of the activities that I love ran through my head.  Would I now have to miss out on little league games and dance recitals?  What if I was too sick to make it to their graduations………..and weddings…………?? I refused to see that disappointed look in their eyes that was caused by me telling them that mommy was too sick to go somewhere with them yet again.  That look of disappointment and sadness still haunts me.
I had been eating a diet of mostly fast and processed food.  I had been doing some reading and wondered if a change in diet could help me.  I really didn't think it would fix everything, but I hoped that it would reduce some of my symptoms.  I Googled "real food" and read everything that I could on the subject.  I read and read and read.  I probably could have earned a PhD with as much as I read.
To make a long story short…………My change in diet did more than just help me feel better.  I was actually able to heal my body drastically.  I no longer carry a supply of Pepto with me everywhere I go.  I no longer worry about missing activities and work.  I have more energy than I have had in years and I was able to lose about 30 pounds.  I wasn't trying to lose weight.  It was just a nice side-effect of changing the food I eat.  My skin is brighter.  I have less headaches and the headaches I do have are much less severe.
Why do I write about this now?  I've written about my health issues several times.  I never want to lose sight of why I made the change to real food and it's important to me that my readers know also.  I didn't make the change to real food so that I could act superior to other people.  It wasn't so that I could pay more for groceries.  I definitely did not make the change to real food so that I could judge other people.  Plain and simple………….it was a matter of survival for me and my family.  I never want to be that sick again.  Life has too much to offer for me to mess around with being sick because I'm eating fast and processed food.
If you would like to read some more about gut health, my friend Gaye at Calm.Healthy.Sexy has a good article to read.  She shares 10 things we need to know about gut health and probiotics.  You can read it here.  Janine at My Lamp is Full has a great article too.  There you can find out the signs of an unhealthy gut.  You may be surprised about some of signs. You can find her article here.  Both of these articles really spoke to me and I am convinced more than ever that eating real food is how I was finally able to heal my gut and get back to living the active lifestyle that I really wanted.
Have you read much about gut health?  Are you familiar with probiotics?  Have you seen an improvement in your health since cutting out or reducing processed food?  Share your stories here.  They just might help out another busy mom struggling to get through the day due to poor gut health.  I encourage you to consider real food.
The Juggling Real Food and Real Life Newsletter is Coming!
Make sure you subscribe by email so you don't miss a single issue. You can subscribe by entering your email address to the right of this page. Just wait to see what I have coming. Please also follow us on our various social media. You can easily find me there if you have questions.  Twitter is a great place to chat.  Follow me @jugglngrealfood and introduce yourself.   The Juggling Pinterest Boards are crammed with lots of great information and recipes. Check them out!
One Year Ago:  Spring Clean Processed Food Out of Your Diet