I love protein in the morning!  Sometimes I'm in the mood for savory and sometimes my cravings lean more towards the sweets.  Whether it is sweet or savory, I want it to be packed with nutrients.  The whole grains and protein-packed peanut butter in this muffin makes me very happy.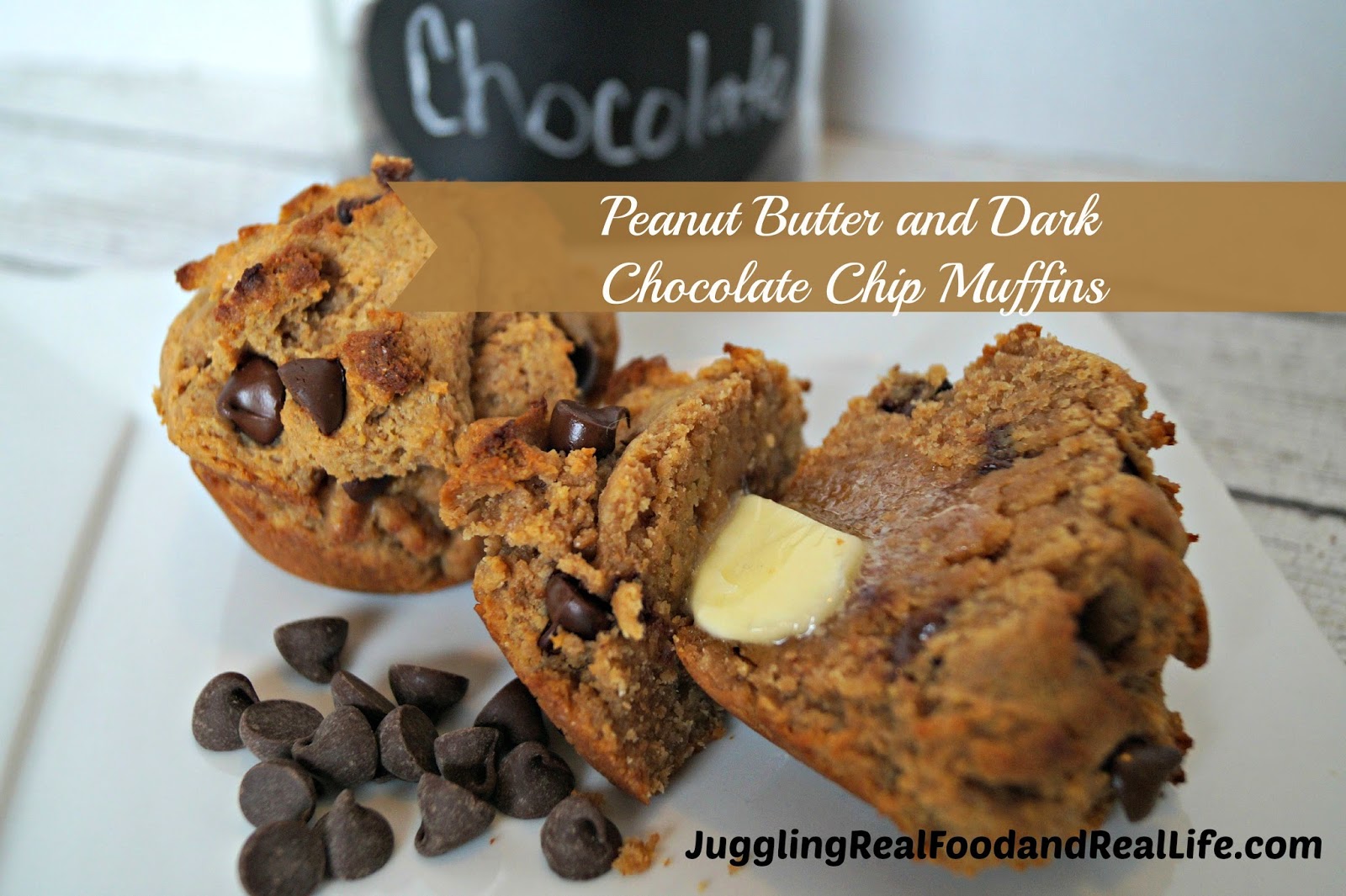 This week the Real Food Experience is talking about protein.  You can check out the weekly Real Food Experience challenge here.  And……..if you are interested in learning more about protein in vegetables, you can read the article, Yes! Protein in Vegetables.
These muffins come together very easily.  They are pretty dense in texure and very filling.  Did I mention that they are delicious?  Well……..I should have because they are really delicious.
As always, I suggest cooking with your kids.  There is plenty of stirring that they can do with this one and measuring sure is fun too.
Peanut Butter and Dark Chocolate Chip Muffins
Easy Real Food Recipes: Peanut Butter and Dark Chocolate Chip Muffins
Author:
Christina - Juggling Real Food and Real Life
Ingredients
2¼ cup whole wheat or white whole wheat flour
¾ teaspoon baking powder
¼ teaspoon salt
1 ripe banana (mashed)
⅓ cup coconut oil (melted)
1 cup peanut butter
¼ cup honey (more or less to taste)
2 eggs
1 teaspoon vanilla
1 cup dark chocolate chips
Instructions
Preheat oven to 350 degrees and grease your muffin pan. I used butter to grease my pan.
Stir together your dry ingredients (flour, baking powder, and salt).
In a separate bowl mix together banana, oil, honey, peanut butter, eggs, and vanilla. I used my stand mixer.
Mix the dry ingredients into the wet ingredients.
Stir in dark chocolate chips
Scoop muffin mixture into greased muffin pans. I use my ice cream scoop for this.
Bake for 15
-
minutes or until a toothpick comes out clean.
Notes
Makes about 12 large muffins. You could also stretch it to 18 smaller muffins.
These hold up well in the lunch box and provide a nice treat along with soup or a smoothie.
Do you prefer sweet or savory in the morning?  Does that change or are your tastes always the same?  Do your kids help you in the kitchen?  What do you find they have the most success in doing?
Thanks for stopping by. I would love to connect with you on my various social media. Just follow the buttons at the top of the page to find all of the places I hang out and make sure you sign up by email so you don't miss anything. If you would like to join our Real Food Experience to help your family systematically change from fast and processed food to a real food lifestyle, check out the Real Food Experience page for more details.
You might also be interested in: