This week the Real Food Experience is challenging you to eat a rainbow of fruits and vegetables each day. You can check out the weekly challenge if you haven't already and then come back and learn more about orange/yellow fruits and vegetables.
Special Note: This post is dedicated to an amazing friend of mine.  Her life and her work with the March of Dimes have had a profound influence on me over the years.  Today, I write for the babies.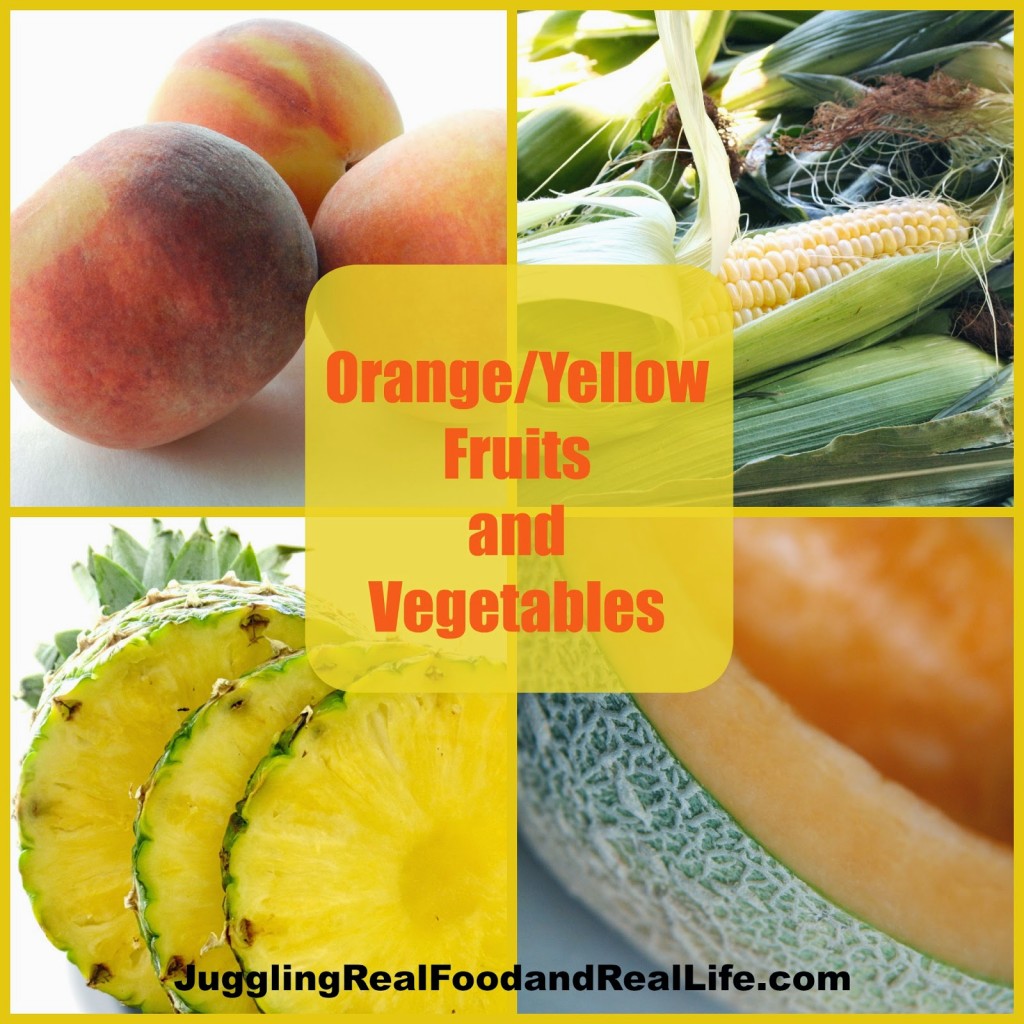 Can you stand the excitement?  OK……I know it may sound silly, but when you get used to eating fast food and processed food all of the time, the world of colorful fruits and vegetables IS exciting.  Each bite is full of interesting and varied flavors.  My family was so funny when we made the switch to real food.  We kept tasting foods like it was for the first time and critiquing them.  Go ahead.  Give a try and see what conversation you can get going at the dinner table.
OK……..now for the nutrition part.
Orange/yellow vegetables are usually colored by plant pigments called carotenoids.  This Beta-carotene is converted to vitamin A which takes care of our mucous (gross word) membranes and keeps our eyes healthy.  You may not be too worried about your eyes right now, but I know that my grandmother is always worrying that she will get macular degeneration like many of her friends have developed.  Macular degeneration starts with problems seeing properly and can continue on to complete blindness.  No, thank you.  Pass the sweet potatoes and carrots.  Carotenoids may also be good for your heart.
Citrus fruits like grapefruit and oranges are known to be a good source of vitamin A also.  You might also be interested in their high levels of vitamin C.  And…….if you are in your child-bearing years, citrus fruits are also a great source of folate that helps reduce the risk of birth defects according to the March of Dimes.
And speaking of the March of Dimes
……….March is National Nutrition Month.  Check out the
March of Dimes
special nutrition page for lots of pregnancy nutrition advice.  It's important to start taking care of yourself even before you decide to get pregnant.  Ok……just doing my part to help make sure we bring lots of healthy babies into the world.  Let me know if you want me to babysit. LOL!
Now, that you know how much nutrition these orange/yellow vegetables contain, here is a list of fruits and vegetables that you can fill your cart with on your next shopping trip.  See……..I'm always looking out for you.
Yellow Apples

Butternut Squash

Cantaloupe

Carrots

Lemons

Oranges

Tangerines Papayas

Nectarines

Apricots

Grapefruit

Mangoes

Peaches

Pears

Pineapple

Pumpkin

Sweet Potatoes

Yellow Tomatoes

Yellow Watermelon

Tangerines

Sweet Corn

Yellow Summer or Winter Squash

Persimmons

Rutabagas

Yellow Peppers
So many choices……so little time.  Which is your favorite yellow/orange fruit or vegetable?  How many times a week do you include yellow/orange in your meals?  Have you ever participated in a March of Dimes Walk?
If you have missed any of the Real Food Experience posts, I welcome you to just jump in this week and get started
. You can get caught up on all of the rest of the posts
here
. Each week is full of terrific advice to help you transition from fast and processed food to a real food diet. Changes that will help you to live a healthy lifestyle and have the energy to keep up with your busy schedule
You might also be interested in: Red Fruits and Vegetables.