I had a great weekend camping with my Girl Scouts and their Moms.  We camped in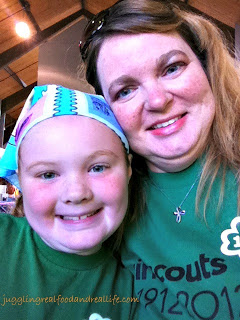 Pennsylvania at a camp called Camp Fitch.  Have any of you been there?  We had so much fun riding horses, canoeing, hiking, and doing our best to hit the target at the archery range.  I was very proud of my daughter as she tried new things and overcame fears.  We created memories to last a lifetime.
I was pretty darn excited about the fact that I felt better than I had in years.  I was able to keep up with all of the physical activity and didn't have any of the digestive issues that I used to combat.  The digestive issues that I experienced in the past would have kept me at home.  There would not have been these camping memories that I will forever cherish.  The combination of better nutrition and my recent addition of running certainly were the reasons I was feeling better.  Mental note: Keep eating a diet of fruits, vegetables, whole grains, lean meats, and healthy fats.  Make sure to include exercise as often as possible.
While the food at the camp was not great from a Real Food point of view, it did bring up some interesting conversations at the table.  One of the food highlights was the availability of oatmeal for breakfast.  We were all pretty surprised at how our girls gobbled it up.  One of my friends said to her daughter, "You know I can make oatmeal for you at home."  That got me to thinking about one of my favorite crock pot oatmeal recipes.  I thought I would share it with you here today.  I love this recipe because I can quickly prepare it at night and then wake up to a house scented of apples and cinnamon.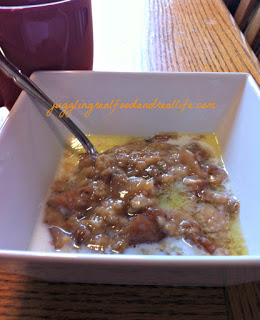 Crock Pot Apple Cinnamon Steel Cut Oats
Ingredients:
1 Cup Steel Cut Oats (Thick Cut Oats can be substituted)

2 TB Pure Maple Syrup
3/4 tsp Cinnamon (We love cinnamon so I usually use more)
Pinch of Salt
2 1/2 Cups Water
1 1/2 TB Organic Butter cut into 5 or 6 piece.  (Remember margarine is not Real Food)
2 Small Apples, cored and chopped.  (I usually use Fuji, Gala, or Honeycrisp)
Directions:
Combine all ingredients in your slow cooker.
Cover and cook on Low for 9 hours
In the morning, stir the oats well and scoop into bowls.
Serve with a pat of butter and milk or cream.  You can also add a little more maple syrup or honey if you like your oatmeal a little sweeter.
Enjoy!  I like to serve this to my family because it is quick, easy, and full of nutrition.  I used to serve the little packets of oatmeal and then I read the ingredients.  Lots of things I can't pronounce and ingredients that are known to be harmful.  The little packet was nice, but this recipe doesn't take any longer and is so much better for my family.  Another reason to make your own oats……………it is so much cheaper.  Purchase your oats in bulk and save hundreds of dollars per year compared to the individual packets of oatmeal.
Now that's what I call Juggling Real Food and Real Life!
Now it's your turn.  I love to hear from you.  I work really hard on each of these blog posts and I love the feedback.  Questions and comments are both accepted here.  I'll get back to you as soon as I can.  Are you a fan of oatmeal?  Do you eat regular oatmeal or the steel cut variety?  Have you ever had a reaction to food that caused problems with your activities?
I invite you to join the fun on our various social media. Just join us by using the various buttons at the top of the page. Lots more recipes, tips and fun to be had by all!