Have you ever taken a look at those instant oatmeal packets?  Oatmeal is good for you, right?  It really should be, but for the sake of "convenience" the food industry has turned one of the best breakfast foods into a highly processed and sugary mess.  I would like to challenge you to rethink what it means to be convenient.  I sure don't have a lot of time to mess around with fancy food prep.  I've got kids, work, and my volunteer work to take care of.  If it's going to take a long time to make, then I'm not going to make it.  OK……….so now you know where I'm coming from.  You have to trust me on this one.  You have time to make the real stuff.  Your body will thank you for it.
If you still need some convincing about how good oats are for you.  Check out this post.  If you already know all of that let's move on……………..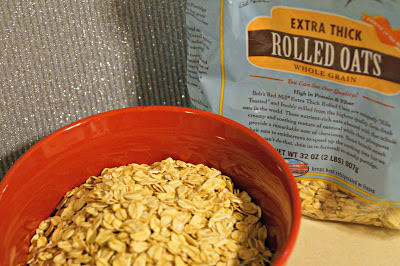 How do we include more oats into our busy schedule?  Here are 4 ways I like to cook them………and none require me to rip open a little packet.
4 Ways to Cook Oats
1.  Baked Oatmeal – Take a few minutes and make these up for the week.  Then pull them out each day and either warm them up or eat them cold.  They are delicious either way.  They also transport nicely.  There are plenty of days that I have eaten them in the car or at my desk.  Take a look at my recipe for Blueberry Baked Oatmeal.  So good!
2.  Crock pot Oatmeal – Make up a quick batch of oatmeal in the crock and let it cook overnight.  Wake up to a house that smells delicious and a breakfast that is hot and nutritious.  Take a look at one of my favorite crock pot oat recipes  –  Apple Cinnamon Steel Cut Oats for a recipe your family will love.  You will like it too because it takes just minutes to make.
3.  Microwave Oatmeal – Locked in to wanting to make your oats in the microwave?  You can still do that with rolled oats.  It takes just 3-5 minutes in the microwave.  Really……..the same amount of time it takes to make those little packets which are supposedly so convenient.  Add some butter and maple syrup and it quick and satisfying.
4.  Oats Cooked on the Stove – OK……this is going to be a stretch for you and it was for me until I realized that I have "pockets of time".  I don't have the 10 – 20 minutes it takes to cook oats on the stove in the morning if I am standing over the stove.  However, if I toss the ingredients in the pot and then dry my hair or get the kids dressed, or pack book bags………….I have plenty of time to cook oats on the stove.  I just have to be organized about it and follow my meal plan.
One of my favorite new recipes is Pumpkin Spice Oatmeal. What goes with pumpkin? Cranberries of course!  The flavors of pumpkin, pumpkin spices and dried cranberries are a perfect combination.  My oat recipe will feed 4 people or 2 people for a couple of days.  It reheats easily and tastes even better the second day.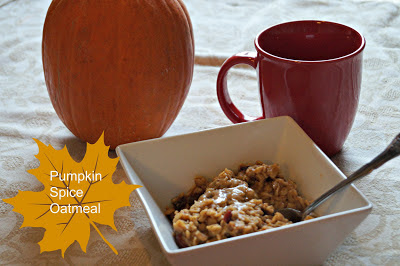 Pumpkin Spice Oatmeal with Cranberries
Oats 4 Ways Including Pumpkin Spice Oatmeal with Cranberries - Juggling Real Food and Real Life
Author:
Christina - Juggling Real Food and Real Life
Ingredients
4 cups water
2 cups thick-cut rolled oats
¼ teaspoon salt
2 Tablespoons Honey or Maple Syrup (More or less to taste)
1 Tablespoon Cinnamon
1 Teaspoon Nutmeg
½ cup pumpkin puree (Not pumpkin pie filling)
½ cup dried cranberries
Instructions
Bring 4 cups water and ¼ salt to a boil.
Add rolled oats and stir.
Add in honey or maple syrup and stir.
Add in cinnamon, nutmeg, pumpkin, and cranberries.
Stir again making sure spices are spread throughout the mixture.
Reduce heat and simmer for 10 - 20 minutes.  Time will depend on your stove and your desired consistency.
Stir occasionally.  I usually stir as I pass through the room grabbing book bags, finishing my daughters hair......juggling all of my morning duties.
Cover and let stand for 2 minutes.  This is where I grab the bowls and call the kids to the table.
Top with butter and milk or cream.
Add additional sweetener as desired.
Notes
We recommend organic ingredients when available.
This was plenty sweet for me just as I made it, but your tastes may differ, especially if you are just at the beginning of cutting out processed sugar.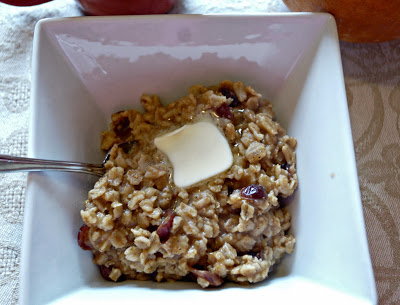 Are you still doubting me?  Do you think there isn't enough time in your day to make your own oats or are you beginning to believe?  What is your favorite way to enjoy homemade oats?  I just can't seem to get enough pumpkin this time of year……….How about you?I can't wait to hear from you. Leave me a comment here and I invite you to join the fun on our various social media. Just join us by using the various buttons at the top of the page. Lots more recipes, tips and fun to be had by all! If you are new to the blog……..I invite you to check out our Weekly Challenges. This is a great systematic way to to eat more of a Real Food diet and eliminate processed food. This is the approach my family took to overhauling our diet. Remember……small changes can create dramatic changes to your overall health. Good luck!