I've been seeing a lot of these tips for stress-free this and stress-free that and they always make me laugh. Stress-free is sitting in my PJ's with a cup of tea and a good book. Stress-free is not making a large dinner for my entire family. However, I've come up with some tips that will help to reduce the stress level in your house so that you can enjoy your holiday. Then…….spend the day after in your PJ's with the tea and book. For all of you outside of the US who think they are in the clear……….remember Christmas is coming!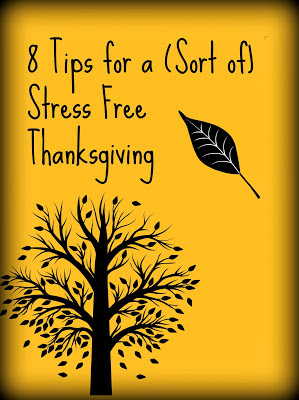 1. Delegate – You don't have to do it all yourself! You may want to consider delegating parts of the meal. Not only does this lessen the stress, but it allows others to show off their favorite recipes. We look forward to everyone's special dish each year.
2. Make sure you thaw out tom turkey ahead of time. You will want to thaw it out in the refrigerator and this will take a couple of days. Do NOT thaw it on the counter. We don't want your guests ending up with food poisoning. That would be stressful! You could also consider purchasing a turkey from your local butcher or farmer. I know around here the Amish sell turkeys that are fresh and better quality than many at the grocery store. Something to consider. If you decide to go this route, make sure you order ahead.
3. Keep it Traditional. Thanksgiving is not the time to try a whole menu of new recipes you found on Pinterest and have never made before. That will surely stress you out. Stick to only a couple of new recipes if you have to. Remember, the holidays are about tradition. I know my children like the same dishes each year. They love their simple mashed potatoes and gravy. For some reason, it just tastes better on Thanksgiving day. They really look forward to their traditional meal each year.
4. Beware of deep-frying. OK…….I work for the insurance company……..I just had to say something about this. Sure, deep-fried turkey tastes great, but burning down your house or having to run to the emergency room for 2nd degree burns will certainly make for a stressful holiday. Make sure you use an oil that can handle the heat like canola or corn. Olive oil can not be used at high temperatures. OK……..this is the last time I will discuss deep frying on this blog. If you still have to deep-fry. Make sure you slowly lower the bird into the deep-fryer and always follow manufacturers directions.
5. Consider cooking only part of the turkey. If you are not cooking for a crowd, there is no need to cook an entire turkey. Buy a turkey breast and some legs and it will take a lot less time to cook.
6. Make sure to plan everything ahead of time. Know what dishes you are using for the table, make sure you have enough chairs. Check. Check. Double Check your shopping list. Realizing you don't have butter on Thanksgiving morning is stressful. You can avoid this by checking your lists. Think about what you can do ahead of time. Can you set the table a week early? Can you chop veggies for the salad a couple of days ahead? Cranberry sauce tastes great when the flavors are able to blend together a day in advance.
7. Kids can be stressful. Surprise, right?! Plan a couple of activities to keep the kids busy and happy while you are cooking. Hand print turkeys, making bracelets, and coloring sheets will all keep kids busy.
8. Remember Thanksgiving is a day to give thanks for all of your blessings. Take a moment and write down what you are thankful for. You may find that some of your biggest stressors are some of your biggest blessings as well.
Tell me about your Thanksgiving. What do you do to keep the stress down? How many do you cook for. What is your favorite Thanksgiving dish?
I can't wait to hear from you. Leave me a comment here and I invite you to join the fun on our various social media. Just join us by using the various buttons at the top of the page. Lots more recipes, tips and fun to be had by all! If you are new to the blog……..I invite you to check out our Weekly Challenges. This is a great systematic way to to eat more of a Real Food diet and eliminate processed food. This is the approach my family took to overhauling our diet. Remember……small changes can create dramatic changes to your overall health. Good luck!