My family had a fun weekend celebrating our little athlete's accomplishments at their football and cheer awards celebrations.  The children worked very hard during the season and we were proud to see how each of them improved during the season.  On to the next season………my 8 year old daughter and her 6 year old brother are now taking gymnastics.  I don't plan on either of them going to the Olympics, but they are having a ball learning the basics and getting a little bit of exercise on Saturday mornings.
As my children continue to be active with sports, I have been thinking more and more about how important nutrition is to their performance.  We had a flag football coach last year who thought it was a good idea to "sugar up the boys" with donuts before the start of their game.  My husband who was an assistant coach noticed that by half-time the kids were all crashing from the sugar they had eaten.  Clearly, this was not the way to get optimal performance out of these boys.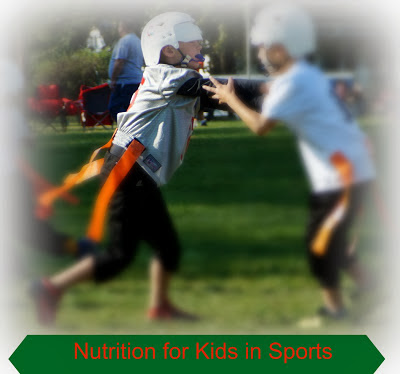 Hydration is key.  It is easy to remember to drink lots of water when it is 90 degrees out, but hydration is just as important when it is cooler out.  The sports drinks are not necessary.  They are often full of sugar and artificial colors.  My pediatrician Dr. Arthur Lavin published an article entitled, Why Your Children Should Drink Only Water. Dr. Lavin states, "One of the key engines of this (obesity) epidemic is what our kids drink. About 10-15% of all the calories that children in the United States take into their body during their childhood comes from juice and soda, a rise of 30% in the last ten years." Water is all they need.  Purchase fun reusable water bottles and keep them filled.  Good for their bodies and the environment.
Before the game.  An hour to thirty minutes before the game or practice, give your little athlete a carbohydrate serving.  A small portion of whole wheat pasta, yogurt, or an apple are all great choices.  Just pick your child's favorite fruit, vegetable, or whole grain.  They are all great sources of carbohydrates.  This will give your child the fuel they need to make it through the big game. Your child doesn't have to be a professional athlete to eat like one.
After the game.  You'll want to give you little athlete a snack or meal with carbohydrates and protein.  The protein will help to rebuild those muscles they have worked and the carbs will replace the lost glucose.  We like a turkey sandwich made with a whole wheat tortilla. We also love monkey bites which are made with peanut butter and whole wheat tortillas.
A note on portion control.  Some sports burn more calories than others.  I know my little guy gets bored sometimes with baseball because he is just standing in the field.  Good example of not burning too many calories.  He loves football because at his age he plays both offense and defense so he is running around the whole game.  Good example of burning a lot of calories.  Make sure you feed your child an appropriate portion for their level of activity.
What are your favorite before and after sports foods?  Have you noticed how good nutrition or lack of fuel affects your little athlete's performance?  Have you ever had a coach with their own ideas of what your child should be eating?  If so, what did you do?  Did you agree with the ideas?
I can't wait to hear from you. Leave me a comment here and I invite you to join the fun on our various social media. Just join us by using the various buttons at the top of the page. Lots more recipes, tips and fun to be had by all! If you are new to the blog……..I invite you to check out our Weekly Challenges. This is a great systematic way to to eat more of a Real Food diet and eliminate processed food. This is the approach my family took to overhauling our diet. Remember……small changes can create dramatic changes to your overall health. Good luck!