"Eat your fruits and vegetables."  I bet your mom has said that to you more times than you can count.  We all know that eating fruits and vegetables is a big part of a healthy diet.  My question is, "How much is enough?" According to the Harvard School of Public Health website,
" The latest dietary guidelines call for five to thirteen servings of fruit and vegetables a day (2½ to 6½ cups per day), depending on one's caloric intake.  For a person who needs 2,000 calories a day to maintain weight and health, this translates into nine servings, or 4½ cups per day (2 cups of fruit and 2½ cups of vegetables)."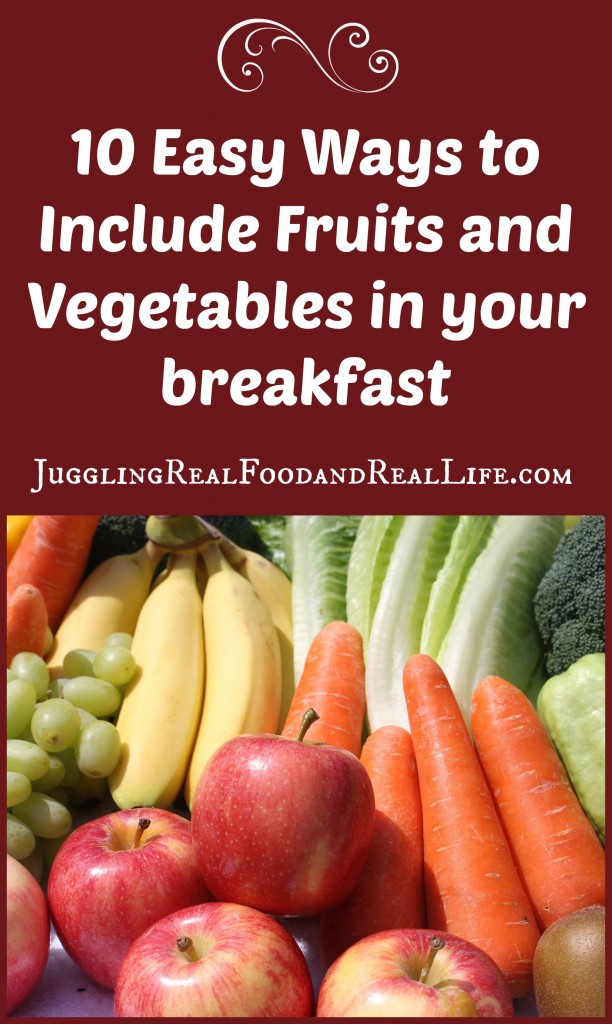 That's a lot of fruits and vegetables!  Most of us probably eat 3 servings….. on a good day. This got me to thinking.  How can I get more fruit and vegetable servings into breakfast?  The other meals seemed much simpler to me for some reason.  I came up with 10 options pretty easily.  And by easily, I mean while I was tossing clothes into the dryer.
I would love to hear some ideas from you.  How do you include fruit and vegetables into your breakfast?  Let's make a great big list to help us all out.
OK, here we go………………………
1.  Omelets  – You can toss all sorts of vegetables into an omelet.  It seems like a fancy restaurant breakfast, but it just takes a few minutes to toss together an omelet if you have your veggies chopped and ready to go.
2.  Veggies Over Poached Egg and Toast – Same idea here.  You can toss anything over the top of a poached egg.  I have one of those nifty breakfast sandwich makers that toasts my toast and poaches my egg at the same time.  You can also poach quickly in the microwave.
3.  Bananas in Pancakes.  I make whole wheat pancakes and use bananas as the sweetener. Sweetness and added nutrition all at once.  Make a batch and freeze them so they are ready for a quick breakfast.
4.  Blueberry Baked Oatmeal – You can make a batch of these tasty and nutritious treats and freeze them.  They also last 3 to 4 days and make a perfect breakfast on the go.
5.  Smoothies – I needed some smoothie recipes so I decided to have a smoothie competition. You can see all the winning recipes here.  Gaye from CalmHealthySexy was the winning recipe and Nicole from 365ish Days of Pinterest and lots of other great bloggers also shared some fantastic recipes.  This is a great way to use a wide variety of ingredients.  I'm always surprised at what my kids will eat when it is in a smoothie.  I just saw on Pinterest an idea where you pack up your smoothie ingredients and freeze them in individual packs.  This makes for a quick preparation in the morning.
6.  Fresh Fruit Salad – I love throwing a bunch of chopped fruit in a bowl with a splash of lemon juice and a drizzle of lemon.  So good!
7.  Oats with Dried Cranberries – Easy to make while getting ready.  Come on girls, I know it takes more than 15 minutes for you to get ready in the morning.  Let your oats cook during this time.  Another option is Crock pot Steel Cut Apple Cinnamon Oats – These cook while you sleep.
8.  Yogurt Parfaits– You can pay a lot of money for these at the stores or you can make your own.  I buy big tubs of plain Greek yogurt and toss on dried fruit and granola.  My little guy likes these with a squirt of honey.
9.  Handful of Raisins, Cranberries, or other Dried Fruit – One of my quickest breakfasts is just grabbing my favorite trail mix ingredients by the handful and tossing them in a snack container.  Nuts and dried fruit are quite filling in the morning.
10.  And the obvious………….Whole Fresh Apples, Oranges, Pears, Peaches, Plums, Bananas, and other fresh fruits.  An added bonus, they all come with convenient carrying cases.  That's code for their skins.
I hope this helps.  I know we are all on a mission to get more fruit and vegetables into our day.  The best way to do this is to start right away when we get up with our breakfast choices.  Adding fruits and vegetables to your breakfast will keep you fuller for a longer time. The fiber keeps us feeling satisfied for longer so we snack less during the day.
OK……..don't forget………leave me your ideas now in the comments below.  I really want to build this list up so we all have a great reference.