Our first entry in the Juggling Real Food and Real Life Smoothie Competition is is Lean. She is an energetic and fun lady and her blog is highly motivational. Stop on over and visit after you take a look at her smoothie recipe here.
Don't forget……….the winner of the competition is determined by the recipe which has the most votes. A vote is a written comment at the bottom of the post. Read the post, leave a comment, cast your vote and………best of all…….try the recipe.
And now here is Lena…………..
Hi everyone! I'm Lena – the Lena behind
Lean Lena
blog. J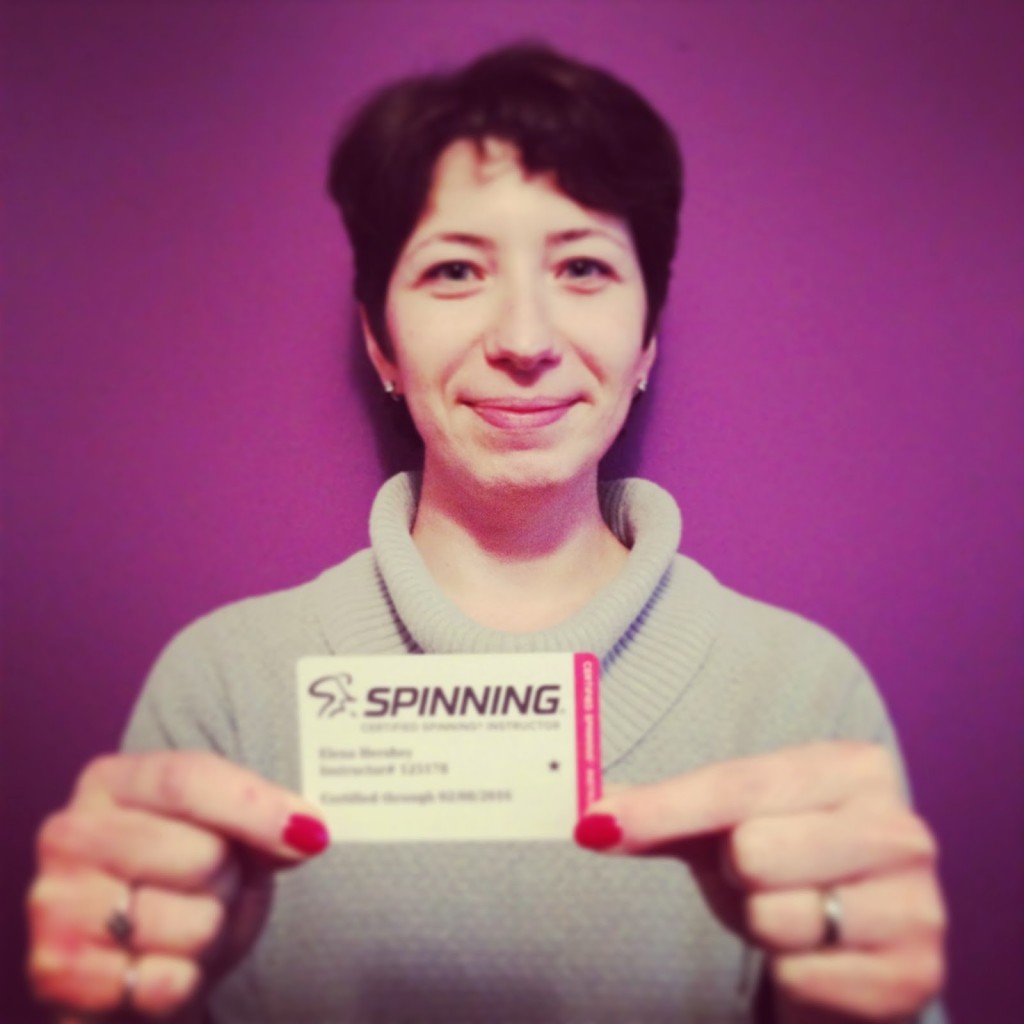 My blog is mostly about my way to my personal transformation
– from the body I've been neglecting for the most of my life, to the body I've
always wanted to have – fit, strong and beautiful.
I am not there yet, but I can see the progress and enjoy
every step of the way!
I
have started this journey on an ordinary day in February 2013. I was in
the car with my husband and kids when I said, "I will go and work out at the
YMCA every day for a month starting today". And so I did.
Once
I was done with one month, I just couldn't stop.
Results
– I've lost almost 20 pounds (9 kg) and counting, I am 2 sizes down in
clothes, and I feel lighter, better, healthier and happier than ever.
I
have recently become a
certified spinning instructor
and I now teach indoor
cycling classes at my local YMCA. Back in 2013 I didn't even know what Spinning®
was!
As I started my journey to a healthier lifestyle, one of the
first things I needed to change was my diet. That was when I discovered healthy
smoothies and started experimenting with my own recipes and different ingredients
to make those smoothies not only healthy, but delicious.
Today I wanted to share with you one of my most favorite
recipes I came up with, which is just perfect as midday summertime snack! It's light,
easy to make and delicious! And I'll bet you have most of the ingredients for
it at home right now!
APPLE-BANANA-WATERMELON SMOOTHIE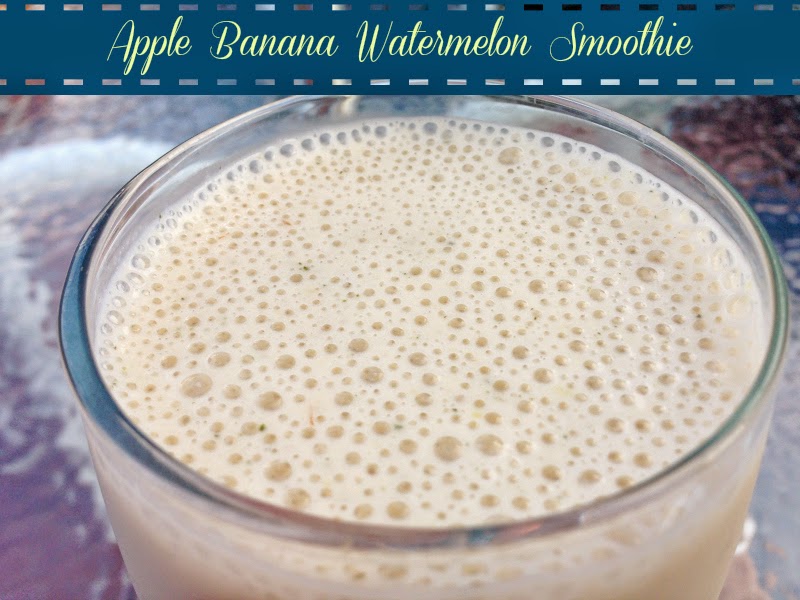 YOU WILL NEED:
§ 1 apple
§ 1 banana (fresh or frozen)
§ 1 cup watermelon cubes
§ 1/2 cup almond milk
§ 1/2 cup cottage cheese
§ 1 tbsp honey
§ 3-4 fresh mint leaves
INSTRUCTIONS:
1. Get the ingredients ready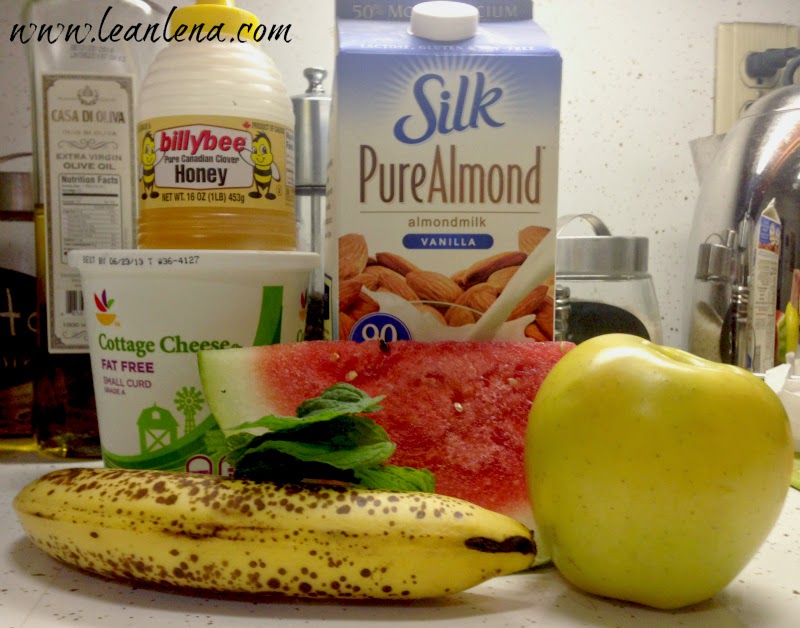 2. Cut watermelon and apple into
cubes, add to blender.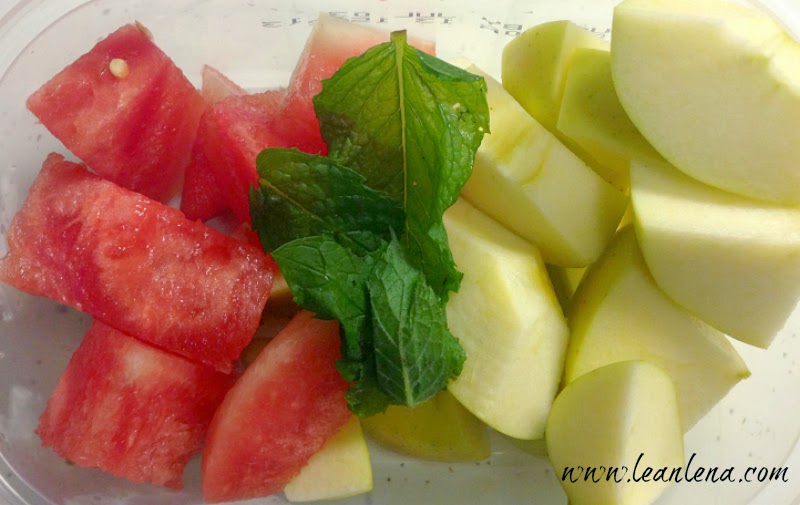 3. Cut the banana (if you're
using it fresh not frozen) and add to blender. I prepared mine the night before
and put it in the freezer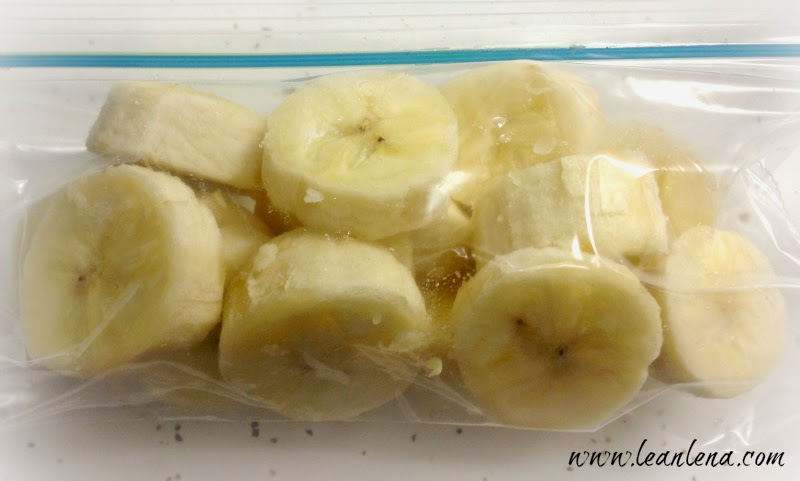 4. Add
milk, cottage cheese, mint and honey to the mix.
5. Blend well, and then whip for a few
seconds.
6. Enjoy:
Big thanks to Christina for
having me today and to you for stopping by to check out my recipe! Please,
leave a comment to vote for my recipe in this competition.
If
you would like to follow my journey to fitness, you can:
§ Subscribe to my blog updates by entering your e-mail on
my
blog page
.
§ Follow me on
Twitter
(@LeanLena101)
Now it's your turn………..leave your comments below and cast your vote for
Lean Lena's Apple Banana Watermelon Smoothie. Are you a fruit smoothie person? Do you like to add vegetables to yours? Do eat your smoothies as a breakfast, lunch, snack or dessert?
Make sure you check back tomorrow for another great smoothie recipe!
Don't Miss The Next Juggling Real Food and Real Life Newsletter!
Make sure you subscribe by email so you don't miss a single issue
. Facebook is showing you less and less of what I post there. The only way not to miss a post is to subscribe by email. You can subscribe by entering your email address to the right of this page. Just wait to see what I have coming. Please also follow us on our various social media. You can easily find me there if you have questions. Twitter is a great place to chat. Follow me
@jugglngrealfood
and introduce yourself. The
Juggling Pinterest Boards
are crammed with lots of great information and recipes. Check them out! Come back each Friday for our Let's Get Real Friday Party. The best bloggers from across the web link up their favorite posts from the week. It's quite a treat.