Our next finalist is Mary Johnson from i Need a Playdate.  I recently met Mary online and was excited to find that she is also from the Cleveland, Ohio area.  She is a true professional and a whole lot of fun.  Check out her recipe and then head over to her blog i Need a Playdate to check out more.
Now here is Mary………..
As part of getting healthy and losing weight, I started
working out first thing in the morning, right when I wake up
.  It is the only time of day I will do it and
let's be honest if I don't do it when I wake up, I never will.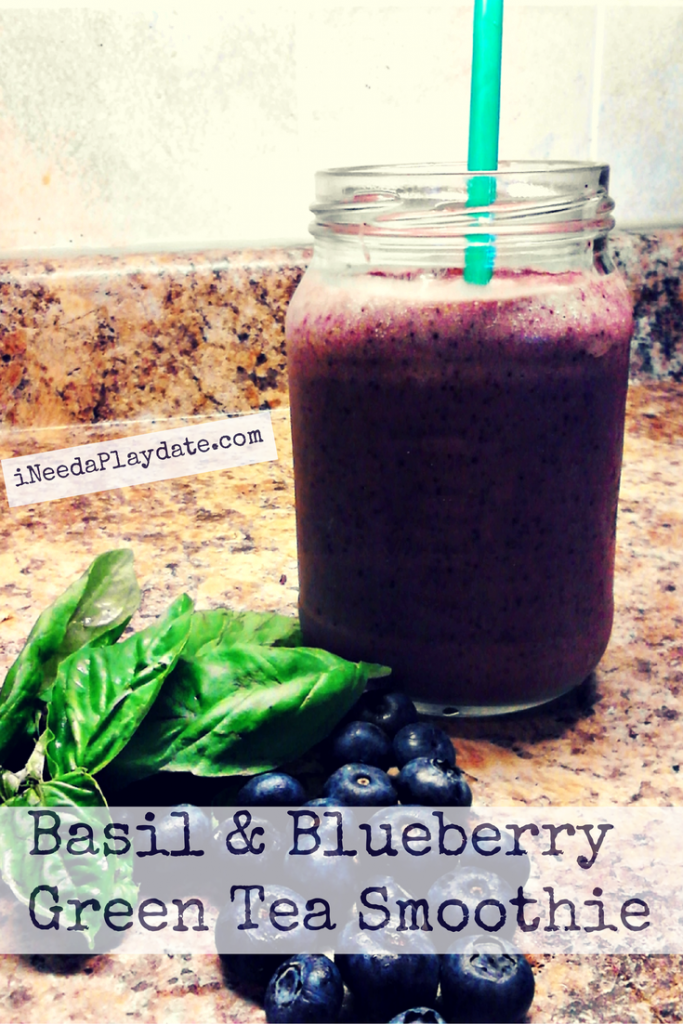 Strangely, I discovered that I am not hungry after my work
out!  In fact, it's not that I am not
hungry I just can't eat for a good hour after.
Not saying I won't get hungry, I just can't eat breakfast.  I tired quickly of egg white omelet "muffins"
and I am not a fan of oatmeal in the summer so I broke out my blender and have
had a smoothie nearly every morning for the last two months.
I had gotten in a bit of a rut with my smoothie making until
I bought way too much basil at market one day.
I love basil and buying fresh basil at our farmer's market is not only
cheap but you get way more than one could possibly use.  Still, I needed the basil for a dish I was
making, I love the taste, and I have Google so throwing caution to the wind I
picked up the basil and went home.
I started to research the health benefits of basil.   I found that basil is great as an
anti-inflammatory, an antibacterial; it's good for the heart, indigestion,
bloating, and as an appetite suppressant. From there I went to look for a recipe.  I was not sure what I wanted to make with it
besides potato salad but I knew I wanted to do something more exciting than
pesto
As I continued to search I found a lot of recipes for
smoothies and just knew that this is where I was going to use my excess basil.  I am also on a green tea kick and have been
brewing it for ice tea in nice big batches to have on hand.  Basil, green tea…  I am totally on to something but I could not
find one recipe that I really liked so I by trial, error, and green tea I
started blending.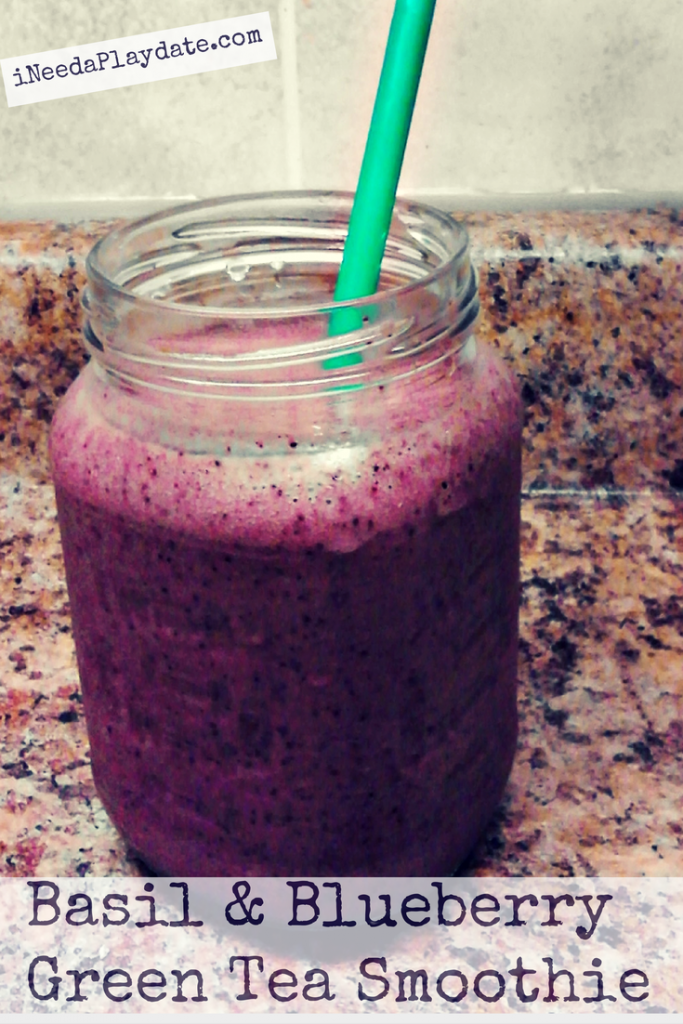 Basil and Blueberry Green Tea Smoothie
6-8 Basil leaves

1/2 cup Spinach

1/2 cup frozen chopped banana

1 cup frozen blueberries

2 tablespoons plain greek yogurt

1 cup green tea

2 tablespoons honey
Simple, easy, and fresh!
I freeze my fruit.  I found that everybody
who makes smoothies does this trick.  The
fruit lasts longer but I like my smoothies really cold and I don't like adding
ice so this was a big bonus for me.
Plus, I discovered I like frozen bananas. When my bananas were ripping
faster than we could eat them, I peeled and cut them before throwing them
into the freezer.
Cheers and happy blending!
iNeed a Playdate is not just a name but something Mary
Johnson needs more than her kids.  She is
a Northeast Ohio mom who runs an office by day, a blog by night, and a family
24/7.  Join her on her journey to be a
mediocre mom while exploring the city she loves, sharing cooking success,
creative writing endeavors, brand reviews and a sweepstakes from time to time.
Big thank you to Christina for having me today and to you for stopping by to check out my recipe! Please, leave a comment to vote for my recipe in this competition.
Now it's your turn………..leave your comments below and cast your vote for Mary's Basil and Blueberry Green Tea Smoothie. Are you a fruit smoothie person? Do you like to add vegetables to yours? Do eat your smoothies as a breakfast, lunch, snack or dessert?  Have you ever used basil in a smoothie?
Make sure you check back tomorrow for another great smoothie recipe!
Don't Miss The Next Juggling Real Food and Real Life Newsletter!
Make sure you subscribe by email so you don't miss a single issue
. Facebook is showing you less and less of what I post there. The only way not to miss a post is to subscribe by email. You can subscribe by entering your email address to the right of this page. Just wait to see what I have coming. Please also follow us on our various social media. You can easily find me there if you have questions. Twitter is a great place to chat. Follow me
@jugglngrealfood
and introduce yourself. The
Juggling Pinterest Boards
are crammed with lots of great information and recipes. Check them out! Come back each Friday for our Let's Get Real Friday Party. The best bloggers from across the web link up their favorite posts from the week. It's quite a treat.