My little guy is struggling.  He is 7 years old and is playing tackle football for the first time.  He loves the sport and is enjoying his long practices, but I can really see him fading during the practice.  He just doesn't have the energy for these long practices.  His current summer schedule has him at a camp all day while I'm at work.  He and his sister take swimming lessons in the morning, play for a while, eat lunch, and then head back to the pool for an afternoon swim.  I pick him up from camp and it's off to football practice 4 days a week (less once school starts).  He is burning calories like crazy.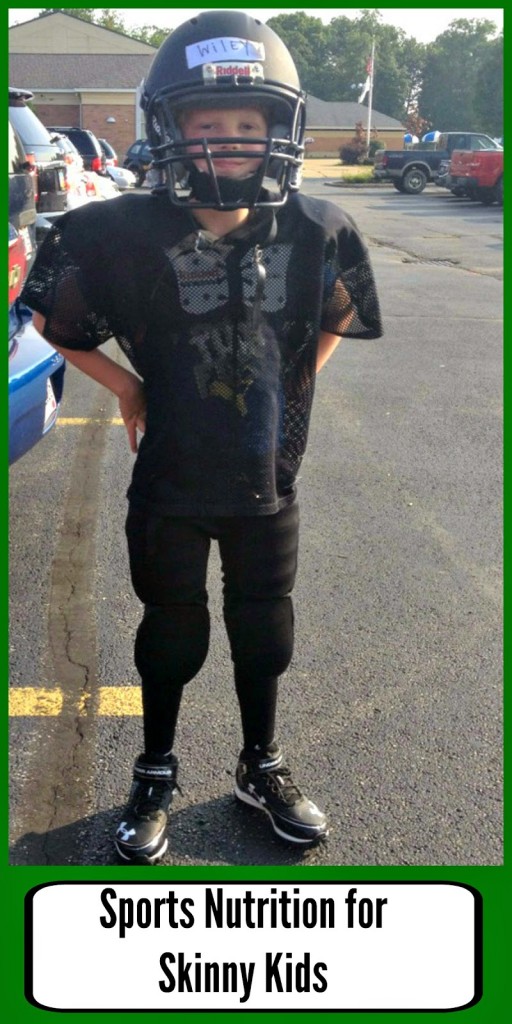 For most kids this is a good thing.  There is a national obesity problem and kids weigh more than our previous generations.  My youngest child does not have that problem right now.  His problem is different…………he is too skinny.
He eats very little at any one time and being an active kid, he burns through those calories very quickly.  Our family is very into sports and I've done lots of research on sports nutrition.  This skinny kid thing is new to me.  In general sports nutrition is simply good well-rounded nutrition.  Extra calories and snacks are needed to help offset the extra exercise and extra protein helps with muscle building………..just a little extra.  No need to go crazy!  My little guy is different and he needs my help to make the most of his sporting experience.  Perhaps, you are experiencing the same issues with your active child.
Here are 5 things I'm going to do to help my skinny kid maximize his sports nutrition:
1.  Avoid weight gain supplements and protein shakes.  They are not needed.  They are costly and most of them are full of junky ingredients that just aren't good for kids (or adults for that matter).  Supplements are not regulated like food so they really are buyer beware.
2.  Eat more often.  Skinny kids really need to eat more meals throughout the day.  Little C doesn't eat much at any one meal, but he is willing to eat often.  He needs a breakfast, a mid-morning snack, lunch, late day snack, dinner, and bedtime snack to get more calories into him.  Be careful!  I'm talking about good healthy meals here.  Eating more is not an excuse for me to get lazy and start feeding him processed foods.  This is going to take some planning so that he has something to eat before football practice.
3.  Choose higher calorie foods.  This one is hard for me to even write.  I've been taught my whole life to choose lower calorie foods when I have a choice.  My son's nutrition needs are different than mine and I need to keep that in mind.  We drink mostly water in our family, but higher calorie (no sugar added) juice is appropriate for my skinny son.  Whole wheat peanut butter sandwiches are good.  He likes corn and hates green beans.  In this case………it's a good thing because corn has more calories than green beans.
4.  Rethink the drink.  Hydration is super important for all kids, especially kids who play sports.  My kids take refillable water bottles for their camp and school lunches.  I encourage them to drink often and refill their bottles as needed.  In addition to water, I plan to offer milk more often for dinner and bring fruit juices back into the house.  Again, he is not like me…….he needs the extra calories while he is playing sports.
5.  Eat more peanut butter, nuts, olive oil, and avocado. These foods are high in healthy fats and help reduce inflammation.  The higher fat content means that they are calorie dense which again…….. is good for my skinny kid and not so much for his mom.  My plan is to make extra thick peanut butter sandwiches, toss slivered nuts into his breakfast cereal, cook his dinners with olive oil and shhhh……….sneak avocado into his favorite fruit smoothie.
For a mom who has struggled with her weight most of her adult life, introducing more calories is a scary proposition.  It is so obvious to me though that this is exactly what my little guy needs to make it through these long practices and really enjoy his experience.  Calorie intake needs are not the same for everyone.  It is important to adjust calorie intake based on your level of activity.  When my son is done with football, we will adjust his calories back down.
What are your thoughts on skinny kid nutrition?  What are the ways you are able to add additional healthy calories to your child's diet?  I would love to hear what sports your children play and any sports nutrition questions you may have.  I'll be happy to do the research and write a post for you.
Don't Miss The Next Juggling Real Food and Real Life Newsletter!
You still haven't signed up for the newsletter?……….Why not! It just takes a second. You can subscribe by entering your email address to the right of this page. I have lots of great recipes and fun coming this fall that you will only find in the newsletter. Please also follow Juggling on our various social media. You can easily find me there if you have questions. Twitter is a great place to chat. Follow me @jugglngrealfood and introduce yourself. The Juggling Pinterest Boards are crammed with lots of great information and recipes. Check them out!