Meal Planning really is the key to Juggling Real Food and Real Life.  Benjamin Franklin said, "If you fail to plan, you are planning to fail." I really believe this is true of so many things, but especially of meal planning when you have a busy family schedule.  It is oh-so-easy to give up or "punt" as my husband says and pick the nearest fast food restaurant.  Knowing what you are going to eat next is the best defense against the "punt." Meal Planning is also a great way to reduce waste and therefore save money.  No more throwing away unused produce because you didn't use it in time.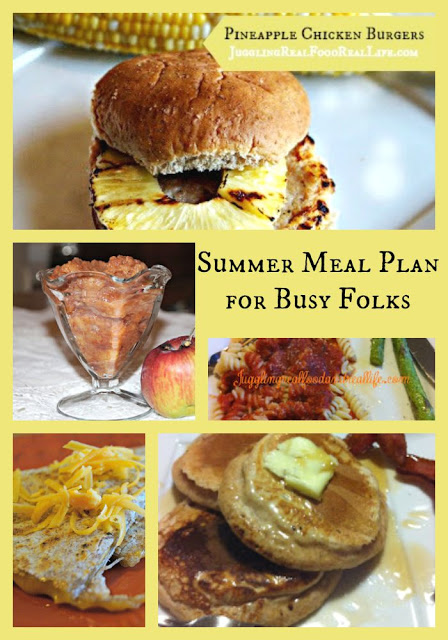 I want my meal plans to be different than those you typically see.  We all have busy schedules……….that's why we read Juggling Real Food and Real Life, so how can one cookie cutter meal plan fit into our schedules?  I also know from conversations with you that you all plan your weeks and grocery shop on different days.  You need something you can customize.  The first thing I did was roll out the Juggling Real Food and Real Life Meal Planning Calendar that includes a spot to fill in all of your family's activities.  This helps you to see what types of meals you have time to make each day.  For this reason, I don't want to write up a Monday, Tuesday, etc. meal plan.  I'm including 7 days, but the idea is that you fill them into your week as they fit into your schedule.  We can work on this together as I introduce additional meal planning and meal prep concepts along the way.
Stay tuned………..I have lots more coming as we learn to Juggle Real Food and Real Life together.  This week, let's start with 7 easy dinners your family is sure to love.
Day 1 – Pineapple Chicken Burgers, Carrots, Cucumbers, and Dip
Day 2 – Whole Wheat Pasta with no-sugar added jar sauce and tossed salad.
Day 3 – Breakfast for dinner – Cinnamon Spelt Pancakes, Scrambled eggs, Creamy Summer Fruit Salad
Day 4 – Cheese Quesadillas, Refried Beans, Tossed Salad
Day 5 – Hamburgers on the grill with lettuce, tomato, and pickles, carrots and celery with Dip, and Crockpot Applesauce.
Day 6 – Spicy Italian Beef Sandwiches, Salad, Crockpot Applesauce
Day 7 – Grilled Chicken, Asparagus Roasted with Lemon and Herbs (can also be grilled in foil packets), grilled peaches.
 If you liked this meal plan, please sign up for my newsletter to receive weekly updates.