My family's road to recovery from fast food to Real Food continues with a Google search. The Internet is a wonderful invention. Almost as nice as libraries. Almost. One sunny afternoon while I was at work munching on my processed food lunch, I decided to search "Real Food". I was at such a lost as to what I should be doing to provide healthy meals for my family. I knew I didn't have time or money for fancy, but I had some inkling that I needed to get back to cooking with ingredients rather than pre-packaged convenience items. Boy, was I surprised when I found out that Real Food was an eating movement and that I was not alone in wanting to eat this way. I dove right into that Google search and spent hours and hours learning how to be truly healthy with Real Food.
Real Food is not concerned about being fat-free, low-fat, low- carb, heart- healthy or whatever other diet fad there is out there. I learned that there are 2 parts of the nutrition label on packages. The nutrition facts and the ingredients. OK………I'll admit I learned that in home economics class, but didn't much care back then. The new more mature me now knows that I really need to pay attention to the ingredients I put in my body. Without too much reading, I decided I would rather put food into my body that I could pronounce rather than chemicals.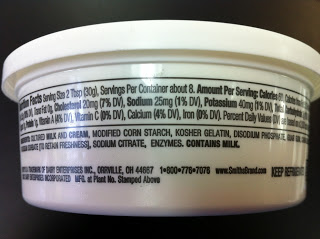 The label above is for sour cream. This label isn't even that bad. Sour cream can be made with cultured milk and cream. That is what my new brand says for ingredients. This one has all kinds of extra stuff in it. My husband, Matt, and I read labels all the time now. Our favorite question is now, "Why?" Why do they have to put all that extra stuff in my food when it really only takes a few ingredients to make it? Why? Why? Why?
It became obvious to me that I needed to start changing how I shopped. Even if I didn't mess with family favorite recipes, I could be buying better ingredients for those recipes. Makes sense. Shouldn't be too hard, right?
I knew I had a lot to learn, but I had my start. I would rather eat Real Food that still had its nutrition, rather than processed food that had all of its nutrition processed out and then refortified so that it could make health claims. This realization has completely changed how I shop and prepare food for my family.
So, some of you may be wondering how I got my husband to agree to completely changing how our family eats and shops? That's a great question. He is a typical food loving man. He likes his meat and potatoes and jalapeno poppers. He also has an accounting degree so is always looking at the bottom line. How much is this going to cost? It actually turned out to be quite simple. I told him that if we followed my new Real Food way of eating, he would NEVER HAVE TO DIET again. That's all it took! He was on board and we were on our way!!
Make sure you subscribe to our free newsletter so you don't miss anything. You can join us on Facebook for more fun and support along the way. You can also follow us on Twitter if you are interested in learning more about the Real Food Movement. You can also follow our boards on Pinterest. Till next time…………..Keep Juggling!