Eat 2 Different Fruits and/or Vegetables With Each Meal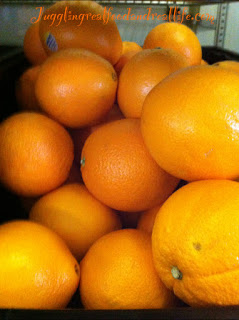 Finally!  A Juggling Challenge that is more fun.  I love this week's challenge because it is all about what you CAN eat and not about what you CAN'T eat.  There is a whole rainbow of fruits and vegetables to choose from.  However, if you are like most people eating the typical American diet, you are probably not eating 2 different fruits or
vegetables in a day…………..let alone per meal. The best part of this challenge………..you will start to feel better (even if you already feel good) when you start adding in a wider variety of nutrients.
Another positive is that fruits and vegetables are very filling.  The fiber in them helps to make your belly feel fuller.  If your belly feels fuller, you will be less likely to turn around and put junk in it.
My very picky 5-year-old likes exactly 
4 fruits and a big fat zero vegetables
.  He likes bananas, apples (no peals), peaches (again no peals) and raisins (not grapes).  He does like pasta sauce, so I can sneak extra vegetables into that.  He also loves my mini meatloaves which I always pack full of carrots and onions.  I am not a big fan of sneaking food into my children, but I will do it on occasion.  I am attempting to expand his likes, but that takes time.  I prefer that he knows what he is eating………..even if that knowledge only comes after he has told me that he likes it.  I am trying to teach my children to make good nutrition choices for themselves and they can only do that if they actually know what they are eating…….eventually.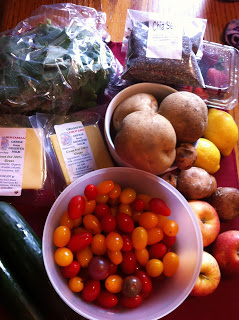 My story of my picky 5-year-old is to encourage you to give this a try even if you are not a big fan of fruits and vegetables either.  I still manage to get 2 fruits and or vegetables into that boy at each meal.  I leave a fruit bowl out at all times and I love to see him "sneaking" off with a banana.  I stick bananas in his pancakes and apples on the side.  I load my pizza and pasta sauce with lots of veggies.  I serve applesauce to him all the time and thanks to that picky boy…………..I discovered that I love apple, banana, and peach fruit salad.
I've been told that the key to getting your picky eaters to try new foods is to prepare the foods differently each time.  Maybe they aren't a fan of plain green beans, but maybe they'll love them with a bit of butter, fresh garlic and lemon juice. Oh, and lemon juice is another fruit.  I've definitely found this to be true with my even pickier 15-year-old.  He has come a long ways from his "I will only eat chicken nuggets and ketchup" days.  I need to remind myself of that, especially when I feel like hitting my head against the wall each time he tells me he doesn't like something.
Keep trying and get creative!  What are ways you add extra nutrition to basic recipes?  Make it a game.  How many fruits and vegetables can you fit into one meal?  Hmmm……….that's got me thinking about dinner.  Till next time………….Keep Juggling!
Don't forget you can join us on
Facebook
for more fun and support along the way.  You can also follow us on
Twitter @Jugglngrealfood
if you are interested in learning more about the Real Food Movement.  You can also follow our boards on
Pinterest
.