Juggling Real Food Tip and Tricks
 We've been talking about real food for 6 weeks of challenges and there is still much to talk about, but I've decided to take a break from that and start talking about how to actually get into the Juggling part of Juggling Real Food and Real Life. 
The challengethis week is to implement 2 Juggling Tips
and Tricks into your regular routine
.  I want you to start thinking about how you can eat real food and still maintain your busy schedule.  It is possible.  I am your typical way- to- busy- to- breathe Mom and I am eating real food on a regular basis.  If my family can eat real, any
family can eat real.
My # 1 tip to Juggling Real Food and Real Life is : Meal Planning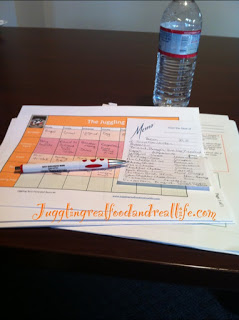 You don't have to plan every meal, but how are you going to know what to shop for and what to cook if you don't have a plan?  There have been many times where my weeks don't go as planned and I've had to rearrange my plan, but in the end, it was having the plan that saved me.  My meal plan was a list of meals that I had the ingredients for and could quickly prepare.  You can find out more about meal planning here.  I usually plan 5 dinners and lunches.  I also keep a couple of extra meals always on hand for the weekends.
Tip # 2 to Juggling Real Food and Real Life : Get rid of the junk
I'm serious.  Get rid of it.  If it has ingredients you can't pronounce, artificial colors, or processed sugars………just throw it out.  Your family doesn't need it and if you don't have it in the house, you will be forced to cook something Real and your family will be forced to snack Real.  This probably comes off sounding a bit harsh, but that is not my intention at all.  What I am talking about is creating new healthy habits and it is much easier when you don't have junk food in the house to tempt you.  It is also easier when the whole family is in on the deal.
Tip # 3 to Juggling Real Food and Real Life:  Keep your Recipes Handy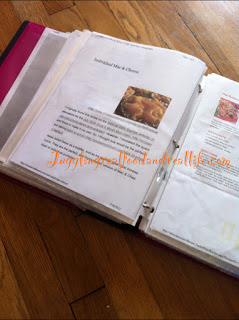 When I first switched to eating more Real Food, I found myself with just a few recipes.  As time went on, I had more and more recipes and it became harder and harder to find them.  Take a few minutes and organize your recipes in a binder, box or online.  It will save you tons of time when you can just grab a recipe and get to work.
Tip # 4 to Juggling Real Food and Real Life: Keep you pantry stocked
Find a jarred pasta sauce that satisfies the rules and keep pasta, canned tomatoes, chicken stock, grains and beans on hand.  We also keep whole wheat wraps, mini bagels, and lots of cheeses ready for quick meals.  You can find more on pantry stocking here.
Tip # 5 to Juggling Real Food and Real Life:  Use your pockets of time to prep
I've talked about this quite a bit before.  I like to look for little pockets of time where I can chop veggies, cook rice, bake, etc.  I don't have any days where I can cook for the week or do all my prep at once.  I simply look at my schedule with my new Real Food priorities in mind. 5 minutes here and 10 minutes there………  I would rather go to bed 5 minutes later and have rice ready to go the next night for dinner than give up and go to the drive through window.  Start looking at cook times and work on your multi-tasking.  I got quite a few potatoes peeled while watching American Idol with the kids and was able to have real mashed potatoes for dinner the next night.  Rice is another one.  Put it in the pan and do something else for an hour.
Well there you go………..that's a few tips and tricks to get you going.  I will have more as the week goes on.  Do you have any tips to share on how you get dinner to the table each night?  I would love to hear them.  Just leave me a comment at the bottom of this page.
Don't forget you can join us on Facebook for more fun and support along the way.  You can also follow us on Twitter @Jugglngrealfood if you are interested in learning more about the Real Food Movement.  You can also follow our boards on Pinterest.