If you've taken the Pack Your Lunch Challenge, you have had a chance to start packing lunch this week.  Droopy lunch meat and soggy bread sandwiches really are not that appealing.  You need to put some adventure and planning into your lunches like you probably already do with your dinners.  Whether you eat at home or work, it makes sense to pack and plan your lunches.  If you have a plan, you will be less tempted to eat junk food.
I suggest you plan your week of lunches with a combination of hot and cold foods.  Leftovers make great lunches and can be packed in a thermos or any other container if a microwave or stove is available.  One of my favorite dinners right now is taco/burrito night because I always have leftovers for the next day.  Other family favorites include pasta and soups.  It is so easy to make a big batch and have lots leftover the next day.  Leftovers can also be frozen and saved for another day if you prefer more variety in your meals.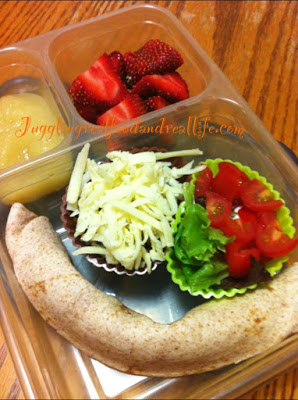 Make Your Own Taco Lunch
If you have been following along with our Facebook page, you are likely familiar with the divided Ziploc containers that I use.  I absolutely love these containers for two reasons: They remind me to pack a variety of foods and they don't leak from compartment to compartment.  I can pack yogurt and a sandwich and not worry about the two mingling.  I use them to pack lunches most days and they are even good for dinner on-the-go.  Just ask my kids about eating dinner in the car on the way to Vacation Bible School this summer.  The other supplies that I use include refillable water bottles, washable plastic spoons, thermoses, and cloth napkins.  The plastic spoons I collect when I take my family to the frozen yogurt store.  I've got to save money somewhere and these spoons are perfect for what I need.  I like to use cloth napkins because I do laundry almost every day and it is just as easy to throw them in the wash as it is to go to the store and keep paper napkins in stock.  I pack it all up in a PackIt lunch bag.  They work great for us because you fold them up and put them in the freezer and the whole bag is a freezer pack.  I worry about sending yogurt and other dairy and this solves the problem for me. If you don't use the Pack-Its, make sure you use lots of freezer packs to keep everything cold.
Another favorite tool of my lunch-making trade is the Wexy bag.  They are biodegradable and come with these cute little monsters illustrated on the front.  They were created by a couple of Moms so that makes them even cooler.  I like to keep lunch fun for my kids and this is one way that I can do this.  I use the Wexy bags for lunches when I don't use the Ziploc containers and for on-the-go snacks. I love packaged snacks because they are so easy to grab and go.  I just make my own now using the Wexy bags.   You can usually find a Wexy bag in my purse.  I love to tease my husband by sending him to work with the pink monster Wexy bag.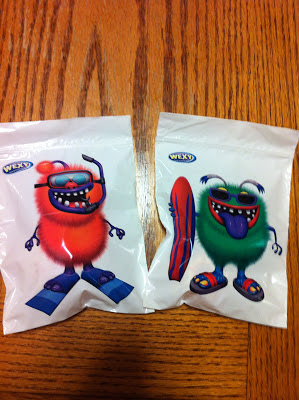 Wexy Bags
I'm including a collection of some of our favorite lunches to get your thought process going.  Start packing your favorite Real Foods keeping in mind that variety is always healthier than eating the same thing over and over.  Unfortunately, variety doesn't work for everyone.  My kindergarten son likes variety in his main dishes, but his sides are so repetitious.  There are times I get bored packing them.  What matters most to me though is that the lunchbox comes home empty and everything he does eat is healthy.  I tell my kids to not throw anything away and to just close everything up and bring it home.  That way I can see what they are eating and I don't have to worry about my napkins and spoons hitting the trash.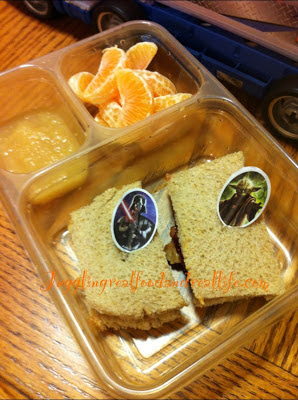 Natural Peanut Butter and Jelly, Clementines and Applesauce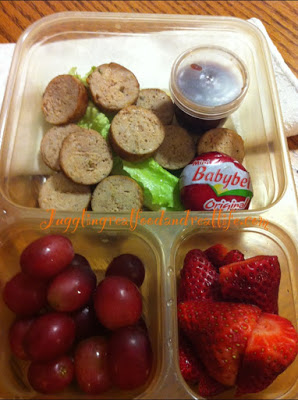 Chicken Sausage Medallions, Grapes and Strawberries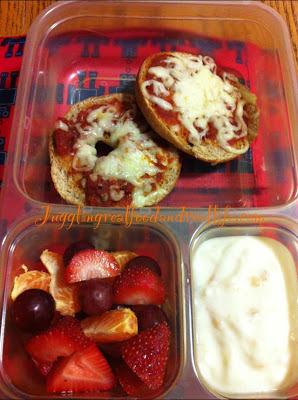 Pizza Mini Bagels, Fruit Mix and Plain Yogurt with Apple Spice Jelly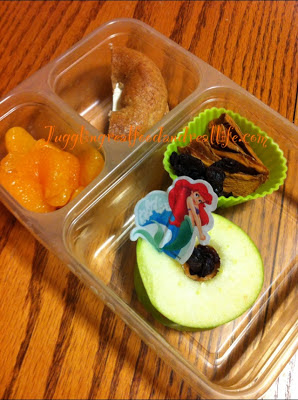 Peanut Butter Apple Sandwich, Raisins and dried fruit, Mini Bagel with Cream Cheese and Mandarin Oranges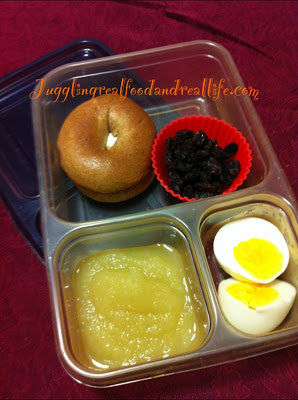 Mini Bagel with Cream Cheese, Raisins, Apple Sauce (no sugar added) and Hard Boiled Egg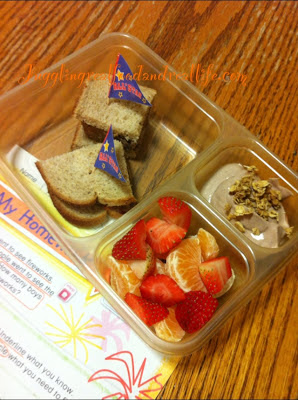 Leftover Meatloaf sandwich, Fruit Mix, Chocolate Yogurt with Granola Topping
Do you have any favorite lunch-making tools of the trade that I should check out?  Leave me a comment and I'll be sure to do just that.  I am always on the lookout for affordable, nutritious and fun products to use.  Are you making lunches?  What is holding you back?
Don't forget you can join us on Facebook for more fun and support along the way.  You can also follow us on Twitter @Jugglngrealfood if you are interested in learning more about the Real Food Movement.  You can also follow our boards on Pinterest.