Pack Your Lunch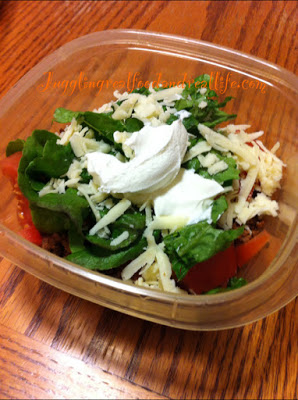 Burrito Bowl with Cilantro Lime Rice
There are probably lots of you sitting there wondering after weeks of only using natural  sweeteners, eating more fruits and vegetables and avoiding artificial ingredients, why would "pack your lunch" be a challenge?  This week is about gaining control over  the mid-day meal.  There are lots of us working folks who chow down at your desks and stay at home folks who grab whatever is around when they are out and about.  There is lots of time and attention paid to the evening meal, but lunch is often forgotten or just something last minute that is thrown together.
Each meal that we eat is an opportunity to fill our body with nutrients that give us energy, fight disease, and help our body's systems to run smoothly.  I don't think anything that we eat should be a waste of that opportunity.  Most of us probably eat 3 to 5 times a day.  Take inventory of those meals and make sure you aren't wasting valuable opportunities to feed your body nutrients.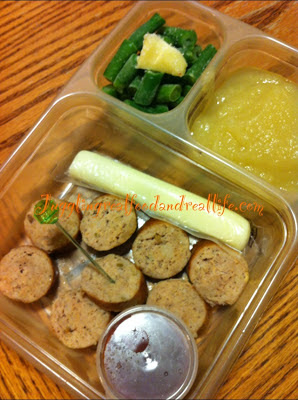 Chicken Sausage Medallions
For many folks, there is a lot of peer pressure associated with lunch.  Sounds kind of funny to say that to a bunch of adults, but it is true.  I spent years working with folks and thinking I needed to eat like they did.  Unfortunately, that was years spent eating burgers and then diet type frozen meals.  All of which just made me fatter and sicker.  How many of you spend lunch with business associates or associates from organizations that you volunteer for?  Many times the lunch meal is not a choice that we make, but one that is made for us.  You go to a meeting and it ends with lunch.  Hmmmm………..just what is in this sauce that I am eating?  Start acting like a person who has allergies……..even if you don't have allergies.  Ask questions and really know what is in your food.  Once you find out………….you'll know when you need to pack your lunch and eat before or after the meeting.  Don't put yourself in a situation where you are forced to eat bad food on a regular basis.
Now to the kiddos.  Some schools do OK with preparing lunches, but many do not due to limited budgets.  Those lunch ladies do the best they can, but they can only work with what has been given to them.  Much of what has been given to them is processed.  Rather than fresh fruits, you see wilted peaches in a ton of syrup.  My oldest spent most of his life thinking he hated peaches because he thought they were all "mushy".  I also found out that my kids would come home hungry because they didn't like some of the things on the menu and they would just throw it away.  Sure it is easier to send our kids to school with a couple of bucks than it is to make their lunches, but these are the same kids that we spend tons of time running them around to their activities and bending over backwards for.  Keep bending and make their lunch…………..or teach them how to make their own.  Check out my Pantry Essentials to see how I stock my kitchen to make lunch making easier.  I also post daily pictures of the lunches I pack on my Facebook page.  I am also working on a round-up of all the lunches on Pinterest.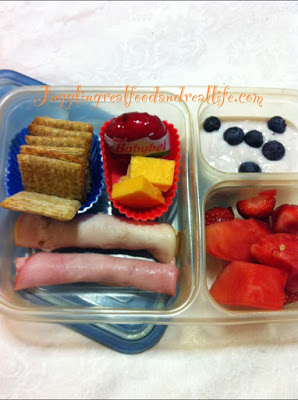 Applegate Turkey and Ham with Whole Wheat Crackers
Take back lunchtime and fill it with lots of whole grains, fruits, vegetables and lean proteins.  It will help to eliminate that 2:00 crash we all hate and as a nice side-effect reduce your waistline as well.  There is nothing wrong with being healthy.  Be a trendsetter in the group you eat with.  Instead of eating out, get together with your packed lunches and share recipes.  Be that good peer-pressure your friends need.
Don't forget you can join us on Facebook for more fun and support along the way.  You can also follow us on Twitter @Jugglngrealfood if you are interested in learning more about the Real Food Movement.  You can also follow our boards on Pinterest.