Last Saturday I went to my local Farmers Market.  It was pretty cold and lightly raining.  I was thinking that there were plenty of places I would rather be than out in this cold and rain.  Very quickly, I was reminded that Spring may not always have the best weather here in Ohio, but there are still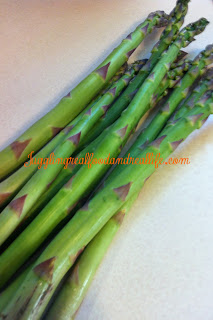 lots of wonderful foods that can be found during this season.  I try to eat seasonally for a lot of reasons.  I talk about some of those reasons in this earlier post.  Just about everywhere I looked, I saw beautiful, green asparagus.  It really stood out against the grey back drop of the day.
My family isn't really known for being asparagus eaters.  It's not that we don't like it, we just never really ate it much.  Let's just say………they don't have it at any of our former favorite fast food establishments.  I decided to take my own advice and try a new food.  I have eaten asparagus before, but I've never cooked it.  My kids have never eaten it, unless someone snuck it to them………….ahhh………….that probably never happened.
Asparagus is attractive to me because of its nutritional benefits.  It  is a very low calorie food.  It actually takes more calories to eat asparagus than it has in it.  It is one of those zero calorie or negative calorie foods.  I love foods in this category because I can eat as much as I want and not worry about it.  My Spring schedule has me running more than ever so I've been really hungry lately.  According to the article "Asparagus Nutrition Facts" on the website nutrition-and-you.com asparagus is a good source of antioxidants which protect the body from possible cancer, neuro-degenerative diseases, and viral infections.  It is also rich in folates which are important for women to consume pre-conception and during early pregnancy to help prevent neural tube defects in newborn babies.  Asparagus is also rich in vitamins C, A, E, K, and lots of minerals as well.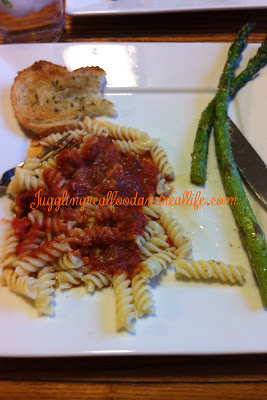 OK………..so we know it's good for us, but how do we cook it?  I found cooking asparagus to be quite simple.  The danger is overcooking it.  Even overcooking it by a few minutes, can make it a mushy mess.
There are lots of ways to cook asparagus, so I'm going to focus on one simple recipe that is pretty much full-proof, tastes delicious, and quick.  That's what Juggling Real Food and Real Life is all about.  This recipe was prepared at my house after my son's first baseball game of the season.  Everyone at the fields were talking about where they were stopping to grab dinner and I refused to cave.  I could make something just as quick and far more delicious and nutritious.
Roasted Aparagus with Lemon and Herbs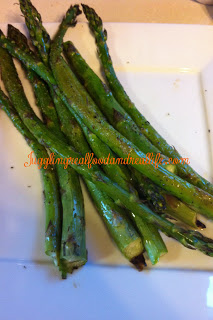 Ingredients:
Asparagus
Olive Oil
Dried or Fresh Herbs (I used Thyme and Rosemary)
Lemon Juice
Salt and Pepper
Directions:
1.  Prepare your asparagus.  This is done by washing.  Gently rub the stalks while running under water.  Thin spears are more tender, simply trim the cut ends.  The thicker spears (these are the ones I like) need to have the ends broken off.  Grab the spear in two hands near the bottom and bend until it snaps.  This removes the tough end.  There is no need to peel the asparagus.
2.  Place in bowl and drizzle olive oil over the asparagus spears.
3.  Add herbs seasoning to taste.
4.  Drizzle lemon juice over the asparagus spears.  Again this is to taste.  I like a couple of tablespoons.
5.  Place asparagus spears on cookie sheet or other baking pan.
6.  Sprinkle with salt and pepper
7.  Bake in 450 degree F oven uncovered for about 15 minutes.
8.  Enjoy!
Now it's your turn………..Let me know all about your asparagus experiences.  Do you like it?  Never tried it?  Thinking you might try it?  I would also love to hear how you enjoy this recipe and other asparagus recipes you have tried.
Thank you for all of the love and support.   Don't forget you can join us on Facebook for more fun and support along the way.  You can also follow us on Twitter @Jugglngrealfood if you are interested in learning more about the Real Food Movement.  You can also follow our boards on Pinterest.