My two older boys are convinced they are going through a growth spurt because they are hungry all of the time.  They probably are, but they better stop growing because they are both already taller than me now.  My daughter seems to never be full and always wants to eat.    My answer to all three of them is……………."Eat More!" 
This is not a weight-loss blog, but it is a healthy eating blog, so of course I mean eat more fruits and vegetables.  Empty calories are NEVER going to fill those kids up.  Empty calories WILL make them fat.  I don't want that to happen to my family.  Obesity is a problem in this country and it's time we open our eyes and quit making excuses for our family.  So much of the food I used to feed my kids was empty calories when what they really needed was nutrition to fill them up.  I had no idea that most of the food in the center of my grocery store was not really food, but food-like substances.  I am definitely guilty of feeding my kids fruit gummies and thinking they were OK because they were fruit.  Ummmm………..not even close to fruit, I know now.
I heard a guest on one of the afternoon talk shows say eat big salads.  Really big.  Think about cooking down that lettuce and how it would be just a little bit of food.  Now, that doesn't mean load a salad with fried chicken fingers, cheese, bacon and dressing and think you are eating a healthy salad.  The salads that I'm speaking of are a mix of greens, vegetables, fruit and little bit of dressing.  Eat as much of that as you want and I promise you won't put on weight and you will feel like you've had plenty to eat. So, my first strategy to fill my family up is to make sure there are lots of salad fixings ready to go so they can just make up a quick salad.  I also plan to have the salad greens washed and vegetables chopped so they are ready for me to put a salad on the table with each dinner.
Strategy two is to keep lots of fruit sitting around so they can easily grab it.  I keep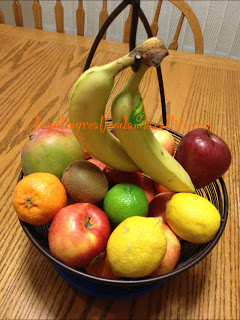 a fruit bowl full of apples and bananas.  These are two favorites in our house.  There are no rules with my fruit bowl.  Anyone can grab whatever they want, whenever they want.  I don't need them for other recipes ( I would put them elsewhere if I did) so nobody is going to get in trouble for eating anything.  This is the replacement for the snack cupboard which used to be filled with gummie snacks and processed white flower and sugar 100 calorie packs.
Strategy three is cucumbers.  Three of the kids love cucumbers.  I gladly buy and chop cucumbers so they are ready in the fridge to grab.  I keep them right up front so when they stare into the fridge for something to eat………..cucumbers are what they see.  I also buy bags and bags of baby carrots and oranges.  I don't hide them in the vegetable drawer, I keep them right at eye level.  Again, I don't complain that they have eaten them all.  I don't want to send the wrong message. I don't want them thinking that eating healthy snacks is a bad thing.
Now it's your turn………..what strategies do you use to keep your family feeling full and satisfied?  We are a family who likes to eat real, not a family who likes to be hungry.  I would love to hear from you.
Thank you for all of the love and support. Don't forget you can join us on Facebook for more fun and support along the way. You can also follow us on Twitter @Jugglngrealfood if you are interested in learning more about the Real Food Movement. You can also follow our boards on Pinterest. If at any time, you want to join the Juggling Weekly Challenges, you can do so by leaving me a comment below indicating your interest. I would love to know how many adults and how many kids are participating.