Today's finalist in the Juggling Real Food and Real Life Smoothie Competition is Trinity from Victory.  Her blog is all about overcoming obstacles in life and becoming the best You that you can be.  Trinity writes beautiful poetry and prayers.  I turn to her blog when the going gets tough and with my busy family life………that is quite often.  Her blog helps me to keep focused on what matters most.  One of my favorite features of her blog is her Meatless Monday posts.  I am not a vegetarian, but have found that my digestive system functions better with less meat.  These Meatless Monday posts provide me with lots of great ideas for meatless meals.  My goal is that my family doesn't know that they are having a meatless meal.  They just know they are eating dinner and it is delicious.  Trinity is a huge help to me with this.
Here is Trinity…………
My name is Trinity, and
I am the author of Victory . Victory is an inspirational blog that focuses on the
total man – the spirit man, the soul man, and the physical man. As author of
this blog, I believe that God wants HIS people to be spiritually whole,
mentally whole and physically whole!According to 3 John 1:2,
Beloved, I wish above all things that thou mayest prosper and be
in health, even as thy soul prospereth.and 1 Thessalonians 5:23
And the very God of peace sanctify you wholly; and I pray God
your whole spirit and soul and body
be preserved blameless unto the coming of our Lord Jesus Christ.
God wants us well!
Therefore, the posts that I share on Victory are all about
how to become whole – prosperous in spirit, mind, and body! Each Monday
(Meatless Monday), I share simple meatless meals that include a variety of
fruits, grains and vegetables to edify the body.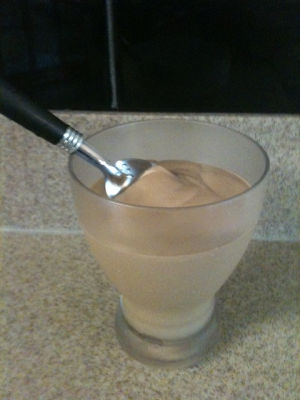 Chocolate Almond Banana Smoothie
I made a chocolate, almond butter banana smoothie. I blended 1 cup of Banana Honey Champions Yogurt with 2 tablespoons of almond butter, a half of a frozen banana, 2 teaspoons of Hershey's cocoa , 2 packets of Splenda and about 6 ice cubes. It was delicious!
Click here
to see Trinity's original post which includes an additional recipe.
Now it's your turn………time to vote.  If you love Trinity's Chocolate Almond Banana Smoothie, leave a comment at the bottom of this post and that is your vote.  I would love to hear from you how you like this recipe.  Have you tried almond butter before?  What other butters do you like?  Do you eat a variety of butters due to allergies or just because you like the taste?  Keep checking back……….more recipes to come.