If you have decided to switch your family to a Real Food diet, I bet you are feeling a little overwhelmed.  I often talk about our change in diet as my Real Food Journey because for us our change in eating didn't happen overnight.  We started with cleaning out our kitchen, decided on some Real Food rules, and then started buying the best foods we could find.  I do research all of the time on recipes and ingredients to try to get the most nutrient-dense food into my family.  I share that information here with you.  It's not easy to eat Real Food all of the time, but we have decided our health is worth it.  As my Grandmother says, "Without your health, you have nothing."
I like lists so I thought I would share with you a Top 10 List that combines nutrition and affordability.  This is a great "no-excuses" list.
2.  Bananas are full of potassium and natural sweetness.  Even the organic ones are cheap!  They are great to use as a sweetener in baked goods or to eat raw.   They are perfect in smoothies.  They are also my kids' favorite lunch when I make Monkey Bites.
3.  Beans are super cheap and full of protein and fiber.  I know I was really lacking in fiber until I switched to a Real Food diet.  I love refried beans in my tacos and taco salads.  I use kidney beans in chili. And chick peas or garbanzo beans make awesome homemade hummus to be used in wraps or as a dip.  My Dad makes a killer ham and white bean soup.  I will have to get that recipe from him this fall.
4.  Apples are available everywhere at a great price and are full of antioxidants.  We eat them raw, make apple sandwiches with them, and love them served over homemade ice cream as an apple crumble.  Since I am not getting any younger, I love that apples help slow the signs of aging.  I've got to keep the husband interested in more than just my cooking, if you know what I mean.
5.  Grapes are another powerful fruit that you can find everywhere.  They are also full of antioxidants.  I love them because I can eat them any time of day.  I eat them in handfuls, in salads, in fruit salad and as a dessert with my homemade whipped cream.  They are also pretty darn awesome frozen if you want to take a frozen treat to the beach or pool.
6.  Frozen Fruit and Berries.  Lets not forget that frozen fruit is still fruit and available year round.  It packs much of the same nutrients as its fresh relatives.  You can often find large bags of it at wholesale clubs and grocery stores.  I love frozen fruit for smoothies and with yogurt.
7.  Oats are full of vital nutrients and fiber and really inexpensive especially when they are purchased in bulk.  Don't buy the little packets with all of the artificial flavorings instead make your own Apple Oatmeal for breakfast or try my Blueberry Baked Oatmeal recipe.  I also use oats for my Chocolate Energy Bites for a power packed snack.
8.  Eggs aren't just for breakfast anymore.  I always have eggs in my house because I know my whole family loves them anytime of day.  Eggs are loaded with protein and are good for your eyes.  We love scrambled eggs and omelets as meals anytime.  Omelets are also a great way to use up small bits of vegetables, too.  Like French Toast?  French toast is dipped in eggs.  Yep, you get the nutrition of eggs.  Have you made egg salad lately?  Maybe you should.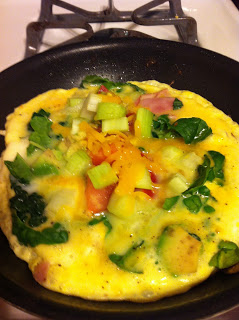 9.  Carrots are especially inexpensive when you buy the full size ones and peal and chop them yourself.  They are full of vitamins and nutrients that our bodies need.  They are great in soups, on salads, and dipped in ranch dip.  I can't get enough of carrots.  I think I am starting to turn orange!
10.  Canned Tomatoes are an inexpensive alternative to fresh tomatoes.  Tomatoes are a great source of lycopene and lots of vitamins so I want to include them in my family's diet.  I prefer fresh, but when I'm short on time, canned tomatoes help me make soups, chili, and pasta sauce in a hurry.  They are easy to find all year round so they are a staple in my house.
I hope this helps you to feel less overwhelmed and gives you a starting point on your Real Food Journey.  These are great foods to add to your diet because they are packed with nutrition.  This list also serves as a nice reminder of where some of the bargains at the grocery store can be found.  We all want to stretch our dollars a little further these days.  This should help to do that.  Do you have any favorite bargain foods?  What are some of your frugal tips?
Thank you for all of the love and support. Don't forget you can join us on Facebook for more fun and support along the way. You can also follow us on Twitter @Jugglngrealfood if you are interested in learning more about the Real Food Movement. You can also follow our boards on Pinterest.