I usually like to keep this blog positive.  There is so much negativity in the world and I don't want to be that, but I've just got to get this off my chest.  No wonder we Americans have no idea anymore what healthy food is.  I went to a discount store the other day to pick up some kitty litter.  I wasn't sure exactly where I was going, so I wandered around a little bit.  I spotted a large overhead sign that said "Fresh Foods".  That caught my attention and I walked over.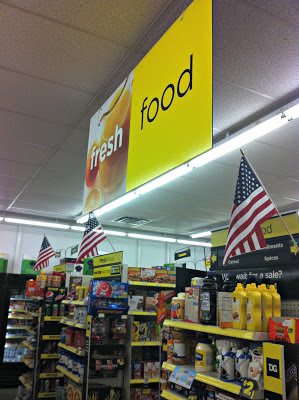 I was hoping to see a lovely assortment of fresh produce, maybe some milk, and eggs.  I was really getting excited as I walked over because I was thinking how great would it be to get "Fresh Foods" at discount store prices.  I was imagining that it would be wonderful to open up the "Fresh Food" world to a population that wasn't shopping at the "fancy" and higher priced grocery stores.  You can imagine my disappointment when this is what I saw.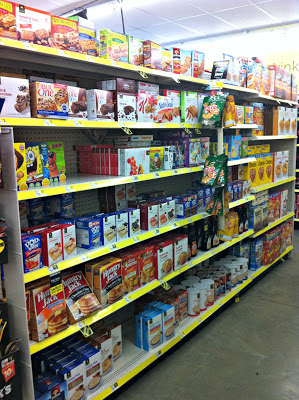 I couldn't believe it!  How the heck can they get away with calling this "Fresh Food"?  All I can see when I look at this aisle is artificial colors, artificial ingredients, and sugar, sugar, sugar!  I don't see anything and I mean anything that I would consider "Fresh Food".  What do you think they mean by fresh?  Maybe I'm wrong, but I think of fresh food as food that can't sit on the store shelf for weeks and weeks.  Have we strayed so far from fresh that we don't know that "Fresh Food" is an apple and not a toaster pastry?  What lesson does this teach our children?  Do you think they don't read this sign and start making those types of connections?
I know that my children are extremely bright (LOL!), but I bet most kids see these types of signs and start to make the association.  Fresh equals just bought it at the store.  Fresh is fruit-flavored and not real fruit.  Fresh is corn syrup flavored with maple and not the syrup that comes from the trees.  A few years back Jamie Oliver brought his Food Revolution to TV and on his program he held up basic fruits and vegetables and asked the children to name them.  They couldn't do it.  What!?  Corn, Potatoes, and carrots and they couldn't name them.  That is just wrong.
The problem is if we only feed our children processed chicken nuggets and french fries, they will never have the opportunity to really learn what "Fresh Foods" are.  And the worst part is that their bodies will suffer for it.  "Fresh Foods" set a strong foundation for their bodies to grow and develop.  "Fresh Foods" help their bodies to fight disease by building up their immune systems. "Fresh Foods" also help their brains to function so that they can focus at school and the rest of their life.
"Fresh Foods" certainly are not found at this discount store.  I want that to change.  We live in America for Pete's sake.  "Fresh Foods" should be made available to everyone at an affordable price.  There are some areas of our country where there isn't access to "Fresh Foods".  Places where the only place to shop for groceries are these discount stores and gas stations.  Crazy isn't it?!  Crazy, but true.
Remember, you vote with your shopping dollars.  Tell your grocery store that you want true "Fresh Food" and quit buying their junk.  Shop the perimeter of the store, where the "Fresh Food" is and avoid all of that processed junk in the middle of the store.  It may not be easy at first, but I promise it gets easier with time.  True story……….during the time I've been eating Real Food, I have found more and more Real Food options at my traditional grocery store.  I like to think that my purchases have something to do with that.  Be the example your children need you to be.  Don't let them be kids that don't know what a potato is.  They don't have to like everything……….they just need to know what it is.
Exit soap box……………………
What do you think?  Have I gone crazy or has our food system?  Why is it that our food doesn't even look like food anymore?  What is it like where you live…………do you have access to "Fresh Foods" or is are they difficult to find?
I can't wait to hear from you. Leave me a comment here and I invite you to join the fun on our various social media. Just join us by using the various buttons at the top of the page. Lots more recipes, tips and fun to be had by all! If you are new to the blog……..I invite you to check out our Weekly Challenges. This is a great systematic way to to eat more of a Real Food diet and eliminate processed food. This is the approach my family took to overhauling our diet. Remember……small changes can create dramatic changes to your overall health. Good luck!