The day that I found out that I was accepted into the Ambassador program for Jamie Oliver's Food Revolution was a special day for me.  Jamie's Food Revolution TV program had a big impact on me and as a result my family benefited as well.  My family mostly ate fast and processed food which was likely a path to obesity and chronic disease. Jamie's Food Revolution "is about saving our health through good food and essential cooking skills. We need to improve food education, stand up for good food and keep cooking skills alive." according to the Food Revolution website. I owe Jamie my forever gratitude.
Now it's my turn to help further Jamie's Food Revolution work.  I decided to start at home. I take my kids to the farmers' market and show them a wonderful variety of food.  I introduce them to the farmers and let them hear stories about how they grow the food that we put on our table.  I take them grocery shopping and show them food labels – both labels with good ingredients and those with harmful ingredients.  I want them to know the difference.  I also take the time to teach them basic cooking skills.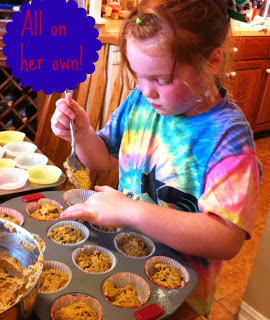 I am very proud of how much they have learned in just a short time. I am not a chef or professional cook and yet I still have the ability to teach my children.  Reading recipes, measuring, stirring and baking.  It can be lots of fun and wonderful family time.  If you have boys, you may notice that they don't usually have heart-to-hearts like girls do.  I have found that working together in the kitchen is a great opportunity for them to work alongside me and talk.  I find out more about my children's lives in the kitchen than any other room in the house.
The Pumpkin Spice Muffins came out of one of our cooking lessons.  My daughter made these with just a little coaching.  Make sure you always oversee young children when they are using the oven.  We want them to learn………. Not spend the afternoon in the emergency room!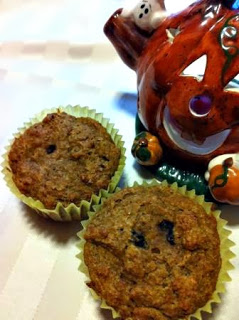 I love all things pumpkin and all of the donut and coffee shops have pumpkin sweets that are full of all kinds of horrible ingredients to tempt me. My daughter and I decided to adapt a recipe we found at Allrecipes.com. They came out super moist and the raisins added an extra sweetness that we love. They take a little while to make, but once made they make for a quick breakfast.  They pack nicely in the lunch box and make for tasty dinner sides. We love to eat them all day and with all the great ingredients they make for a perfect healthy treat.
 Pumpkin Spice Muffins
Pumpkin Spice Muffins - Juggling Real Food and Real Life
Author:
Christina - Juggling Real Food and Real Life
Ingredients
2 cups whole wheat flour
2 tsp baking powder
2 tsp baking soda
2 tsp cinnamon
2 tsp nutmeg
1 cup pumpkin puree
¼ cup honey
2 cups unsweetened applesauce
2 tbsp coconut oil
1 tsp vanilla
2 eggs
1½ cup raisins (nuts or dried cranberries would be good too)
Instructions
Preheat oven to 350*
Mix all of the dry ingredients. (flour, baking powder, baking soda, cinnamon and nutmeg)
In a separate bowl beat the wet ingredients. ( eggs, pumpkin, honey, applesauce, coconut oil and vanilla)
Slowly fold in the dry ingredients to the wet ingredients. Mix well, but do not over mix. This will toughen the muffin.
Fold in raisins.
Spoon muffin batter into 18 muffins cups.
Bake 25 to 30 minutes
Cool completely. Enjoy!
Notes
We recommend using organic ingredients where possible.