Welcome back!  It's so good to see you.  This week our Real Food Experience goal is to make our own junk food.  Why would we be making our own junk food instead of avoiding it all together?  That's easy!  Because it tastes good.  We're only human and there comes a time where we want something sweet or salty and a carrot just isn't going to take care of it for us.
When you make your own junk food you are still going to be eating healthier than if you buy it at the store.  I am pretty confident that you won't come anywhere close to using the same amount of salt, sugar, and fat that the food manufacturers use to make the same items.  You will also likely not be cooking with artificial colors, preservatives, high fructose corn syrup……………..you get the picture.  I am also sure that you won't be hiding known allergens from your family in the foods that you prepare for them.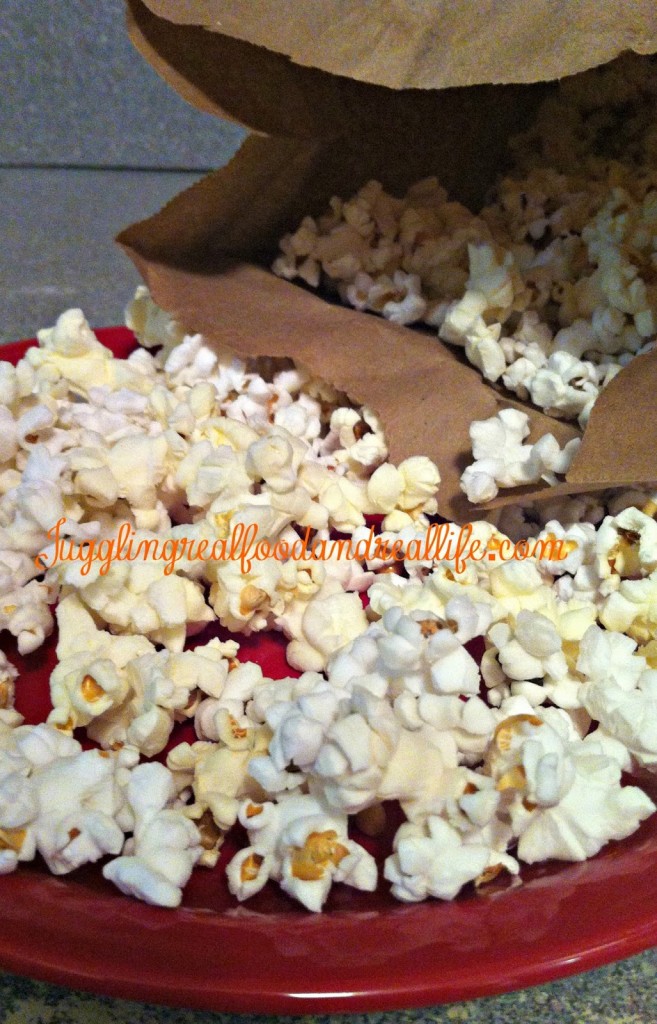 My kids have had to get a little creative when they get the munchies.  They no longer can just grab a bag of chips and plop their bum on the couch to pig out.  They have learned to make their own microwave popcorn which doesn't use any oil, artificial colorings, or artificial flavorings.  My teenager is becoming pretty famous for finishing off the container of raisins.  My little guy likes to sneak off with the peanut butter……….and I buy peanut butter without sugar.  Crazy kids!
My college son was much more creative when he was home this summer.  Today, I would like to share his recipe for Fruit and Peanut Butter Quesadillas.  I so hope you try his recipe.  It is really delicious.  The peanut butter melts and tastes like a really decadent treat.  Yum………..I love that melty goodness!  The creation, cooking, styling, and photography is all his own work.  Children of food bloggers are such interesting people.  Who photographs their food before they eat it?  He does!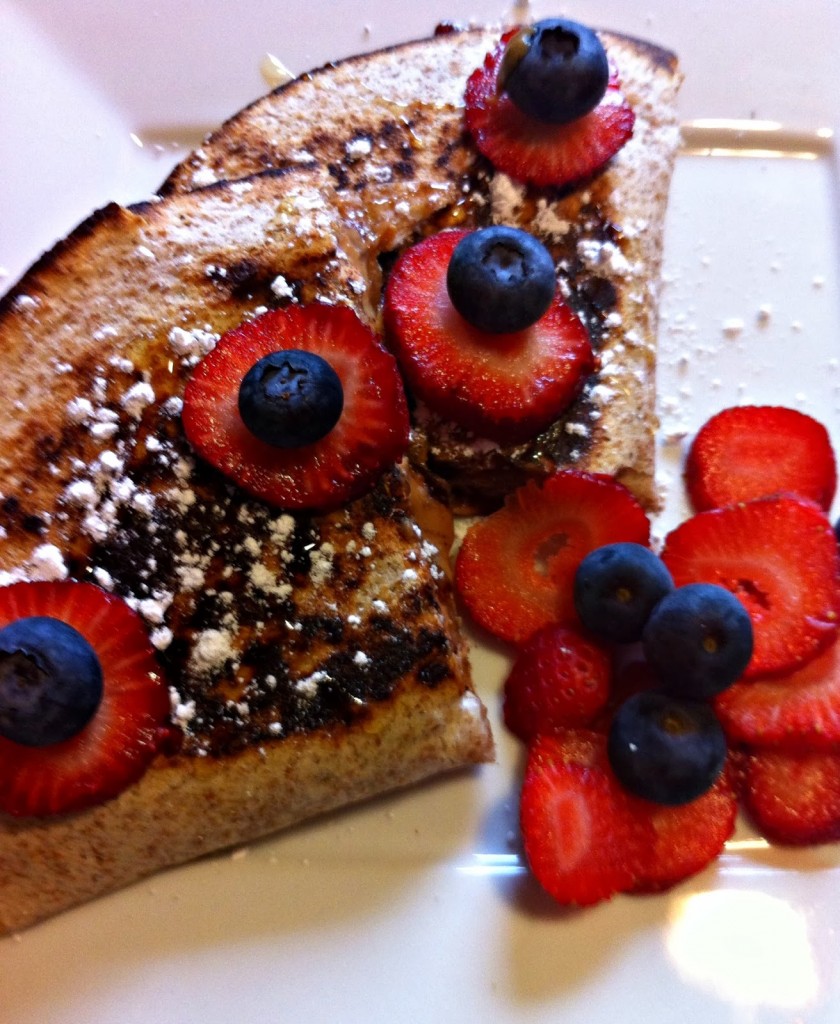 Fruit and Peanut Butter Quesadillas
Ingredients:
Whole Wheat Tortilla
Butter
3 Tablespoons Natural Peanut Butter – More to Taste (Your favorite Nut Butter or Sun Butter can be substituted.)
Strawberries and Blueberries (or your favorite fruit)
Honey
Directions:
Lightly butter one side of your whole wheat tortilla and place in frying pan…….butter side down.
Spread peanut butter over the top of the tortilla.
Cook until lightly brown. Do not overcook.
Fold tortilla in half.  Make sure you don't spill out the peanut butter.
Cut into wedge shaped sections.
Drizzle honey over the top of each section.
Serve with sliced strawberries and blueberries.
If you are serving this as a dessert, Maple Whipped Cream would be awesome with this.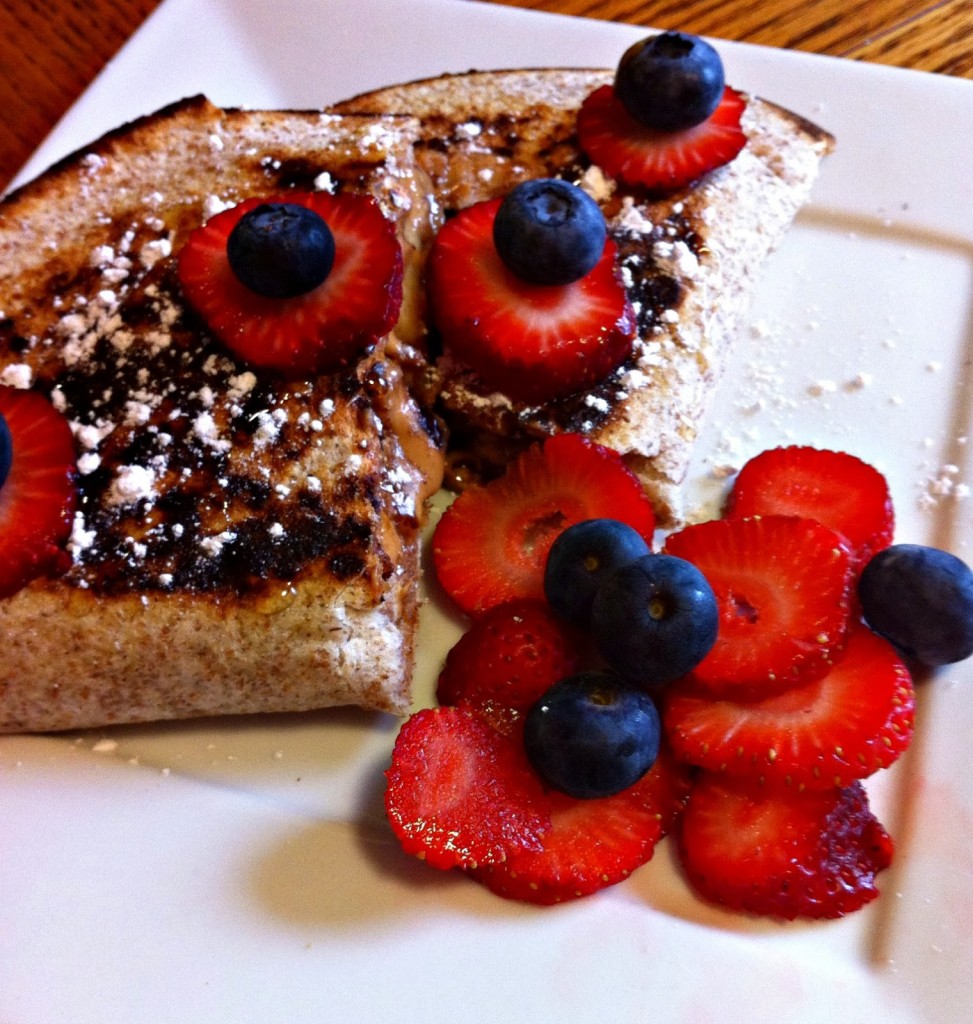 This a quick and easy recipe that is certainly delicious.  The Fruit and Peanut Butter Quesadillas are a great recipe to try with kids who are learning to cook on the stove.  They will certainly be pleased with the results.  And with whole grains, protein, and fruit………..it's not too shabby from a nutrition stand point either.
Do you ever make treats up on the fly?  What is your favorite homemade concoction?  What are your kids' favorite go-to snacks?  Is there anyone out there that has a sweet tooth as bad as mine?
Thanks so much for stopping by.  I hope you leave a comment and let me know what you think of college boy's creation.  I texted him to let him know that I was writing this up for him so I bet he will be checking to see what people say about it.  Can't get enough of Juggling Real Food and Real Life?  I hope you will follow us on our various social media.  It's a great place to get to know you better.  Don't miss a single post by subscribing by email.  You can find all of this on the sidebar to the right.