Real Food is delicious.  Funny that this even needs to be said.  I often explain to folks that my family has made the transition to real food and they look back at me like I have two heads.  If I am eating real food……….then just what are they eating they are thinking.  They assume they are eating real food, too.  I then explain that we healthier foods than we used to.  OK………now, I must be crazy and certainly no fun at all.  Why would anyone want to eat "healthy food"?  That is an easy answer………..because real "healthy" food is delicious!
Once you purge chemicals from your body, the foods that you used to eat will taste different.  I remember my surprise when I had a "cheat day" and ate some of my old favorite foods.  I almost spit them back out.  The foods that used to make me happy and taste delicious tasted like nasty chemicals.  How could that be?  I'm no scientist, but I think we get used to certain flavors and the chemicals actually trick our taste buds.  Once we get rid of that chemical taste bud training (my words and not actual scientific jargon), we can once again taste the processed foods for what they are………..chemicals and cheap artificial ingredients.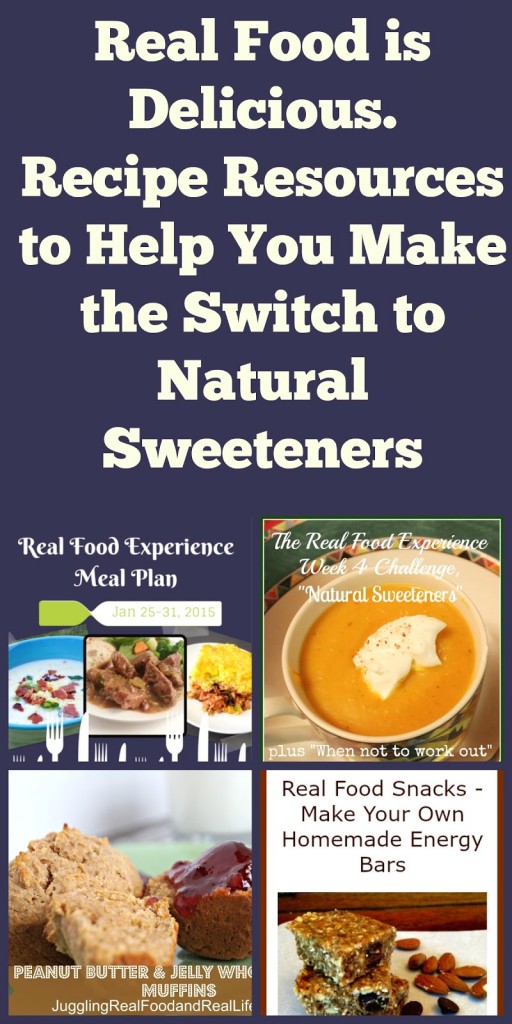 The opposite is also true.  Real foods taste even better that before.  The sweetness of an apple is amazing.  I found that I was better able to recognize and appreciate subtle differences in foods.  I eat a handful of nuts and each one has their own flavor.  I remember saying silly stuff like, "I wonder what this will taste like?"  I was like a giddy school-girl running around trying new foods for what tasted like the first time.
Using natural sweeteners is a great way to get rid of processed foods.  If you look at a box or can or bag and it says………….sugar, high fructose corn syrup, corn syrup, dextrose…………anything, but sugar and maple syrup then put it back on the shelf.  In addition to getting rid of the mass amounts of sugar that you were eating, this will help you to get rid of a lot of other chemicals as well.
OK, Christina……….I'm going to try to make the switch to natural sweeteners.
Now, what do I eat?  I don't want to starve!  I don't want you to starve either.  That would be a BAD thing.  The good news is that I've got great friends with super delicious recipes and they are here to help.  If you try just one new recipe this week, you will be one meal healthier than you were last week. I promise once you realize how delicious real food is, you won't want to go back.
Nicky, from Little Family Adventure has a delicious real food meal plan for this week.  I have made lots of her recipes and they are all easy to assemble and always delicious.  Next on my list is her Southwestern Taco Bake with Cornbread Crust.  My family loves Mexican food and I sure do love to have family dinners where everyone is happy and relaxed and enjoying dinner together.
KC The Kitchen Chopper is sharing information on probiotics, natural sweeteners, fitness advice and my favorite………………a recipe for Mango, Barley, Avocado, and Chicken Chopped.
That should take care of your dinners for a while.  Gaye over at Calm.Healthy.Sexy is sharing a recipe for homemade energy bars.  They can be customized to your taste and are sweetened with Medjool dates.  They don't have any sugar in them.  One of the neat things about sweetening foods is that you don't always have to use sugar.  Bananas, applesauce, and dates are all wonderful sweeteners.
I'm sharing a recipe for Peanut Butter and Jelly Whole Wheat Muffins.  They are delicious and contain just a hint of honey to sweeten them.  The real sweetness comes from the fruit jam.  They are perfect for breakfast, snacks, and lunch boxes.  Give them a try and let me know what you think.
I hope this helps you to continue on your real food journey.  Don't be afraid to try new recipes.  Don't worry that you are not a chef………..just get in the kitchen and do the best that you can.  You are going to make a huge difference in the health of your family.  They may not thank you know, but they probably didn't thank you for changing their diapers either.  We do these things because we love them and their health and well-being matters to us.
Have you tried any new recipes lately?  What is your favorite sweetener?  Have you discovered any new flavors lately?  I'm always surprised when I find out I like a food that I have never liked in the past.
You can also check out Week 1's
recipe resources which focus on fruit and vegetables here.