This easy real food dinner recipe is one of our family's favorite meals.  My husband introduced this recipe to me when we made the decision to start eating more real food.  We decided together that no matter what we cooked at home, it had to be better than eating fast food.  Bad eating habits can be hard to change so we decided that eating at home would be the first step.
My husband was very excited to jump into helping out in the kitchen and make this recipe for us.  His father had made this recipe for him as a child and it was always one of his favorites.  Super easy to make……. and with ham and pasta as ingredients it sure is child-friendly.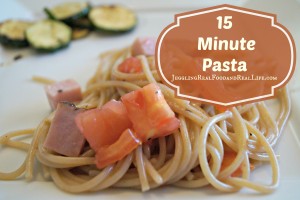 The technique is easy.  Chop some fresh ingredients, boil some pasta, and toss together.  This meal tastes delicious hot and equally good (if not better) the next day cold.  My kids fight over the leftovers for their lunch the next day so I recommend you make a big batch for your family.
15 Minute Pasta with Ham and Fresh Tomatoes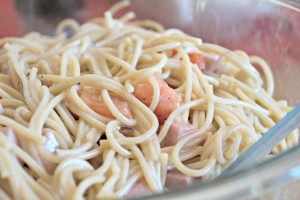 Easy Real Food Dinner Recipe: 15 Minute Pasta with Ham and Fresh Tomatoes
Author:
Christina - Juggling Real Food and Real Life
Ingredients
One pound whole wheat spaghetti
2-3 cups tomato chopped
2-3 cups ham steak chopped
1 cup Italian dressing (more or less to taste)
1 Cup Fresh Parmesan Cheese grated or shredded to sprinkle on top
Instructions
Boil water for pasta.
Add whole wheat pasta and cook until done. Usually about 9 minutes.
Chop up tomatoes and ham into bite-sized pieces.
Drain water from pasta.
In a large bowl combine pasta, tomatoes, ham, and Italian dressing.
Stir to mix dressing evenly.
Be careful not to stir too hard. You don't want to break up the tomatoes.
Sprinkle Parmesan cheese on top.
Enjoy hot or refrigerate to enjoy cold.
Notes
We recommend you use organic ingredients where available.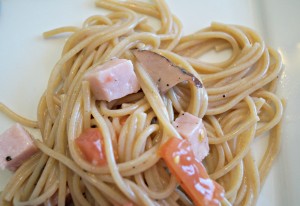 How often do you eat at home each week?  Do you think the quality of food is better when you cook at home?  Do you find that your schedule decides whether or not you eat at home??
If you are looking for help in making the transition to eating more real food, you should check out the Real Food Experience posts. You can get started at the beginning or jump around the challenges. You can find a complete round-up of the program here. Each week's challenge is full of terrific advice to help you transition from fast and processed food to a real food diet. Changes that will help you to live a healthy lifestyle and have the energy to keep up with your busy schedule. I would also love for you to join me on social media. You can find me on Facebook, Twitter, and Instagram on a regular basis. Leave me a comment and let me know you are there. I love to visit with my readers.
You might also be interested in this pasta with Alfredo Sauce recipe.