I love all of the fun and excitement that comes with Halloween.  What I don't like is all of the treats that are full of really scary ingredients.  I've always liked to have fun party food.  Pinterest is full of awesome looking themed treats, but so much of it is packed with tons of sugar and artificial colors.  I know that moderation is key, but there needs to be some moderation.  I can't just completely throw all of my rules on healthy eating out the window and feel good about it.  Lots of sugar and artificial ingredients are sure to give my kids a bellyache and that is no fun for any of us.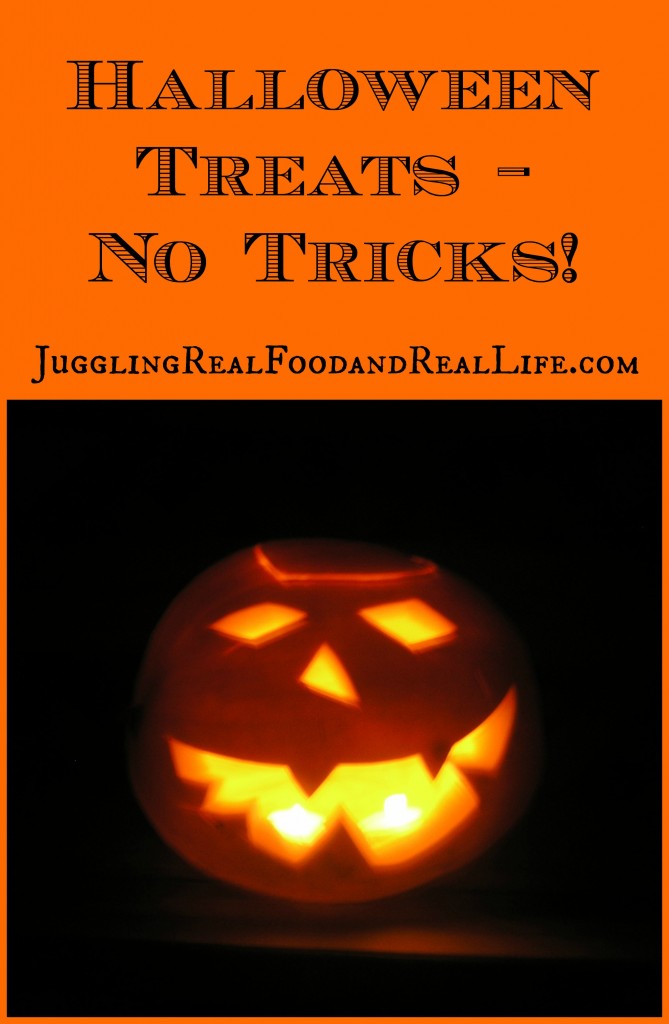 So, what is a fun mom supposed to do to strike a balance between healthy and fun?  Don't give up.  That's what.  I let the kids have some candy.  Don't get me wrong…….these kids get plenty of candy.  However, they have plenty of opportunities to eat candy in addition to the haul they bring home from their night out trick-or-treating.  There are the school parties, the Boy/Girl Scout parties, the gymnastics party…….you get the picture.  Everyone likes to party and let's face it………candy is cheap and easy. However, I've found a few treats (with no tricks) that I really like for Halloween
Clementine Jack-O-Lanterns
One of the easiest Halloween treats that I love is just a little artwork on a clementine.  You can easily transform a clementine into really cute Jack-O-Lanterns with a black magic marker.  They are adorable lined up for a party and easy enough to bring a little joy to the lunch box.
Banana Ghosts
Bananas and chocolate chips are all you need to make this easy and festive food treat.  These are really fun to let the kids make on their own.  My Girl Scouts really enjoyed making them!  Cut up a bunch of bananas and fill a bowl with chocolate chips and let them have fun making their own spooky ghost.  Bananas are naturally sweet and the touch of chocolate creates a really delicious treat.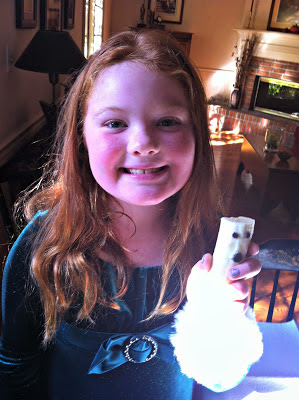 Clementine Pumpkins
This is another fun treat to let the kids make.  Can you tell that I like to get kids involved with food?  It turns treat time into a fun and really memorable activity.  If your kids are old enough they can take turns cutting little pieces of celery.  Then, simply peel the clementine and insert the celery into the center.  Easy peasy!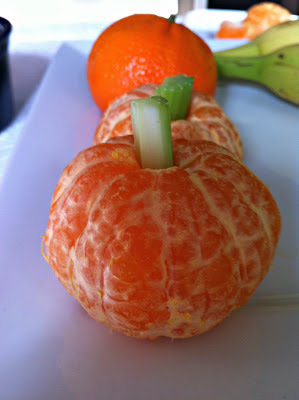 Halloween Veggie Platter
My friend Nicky at Little Family Adventure shared this Cauliflower Monster.  So cute and so easy!  My kids couldn't stop giggling when I showed them this veggie tray.  To quote my son, "That……….is awesome!"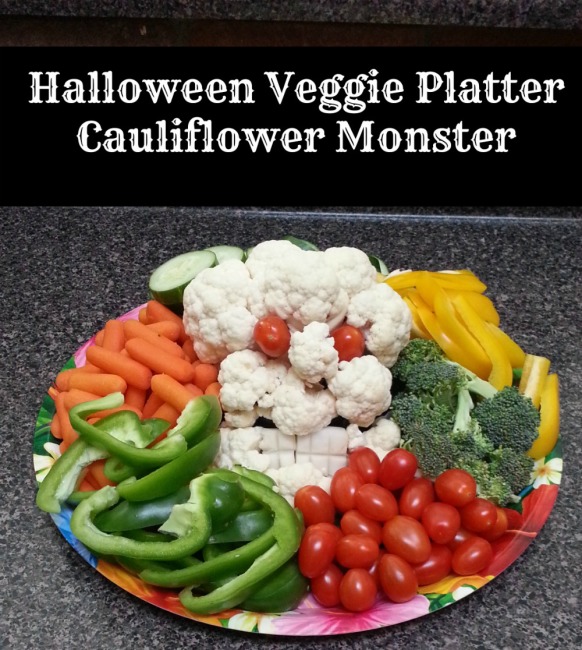 You don't need to completely throw out your healthy eating rules in order to have a fun event. Give these ideas a try.  I bet you can come up with some other fun ideas too.  Just use a little imagination.  Get the kids to help.  I bet they will come up with some really fun ideas.
If you are looking for help in making the transition to eating more real food, you should check out the Real Food Experience posts. You can get started at the beginning or jump around the challenges. You can find a complete round-up of the program here. Each week's challenge is full of terrific advice to help you transition from fast and processed food to a real food diet. Changes that will help you to live a healthy lifestyle and have the energy to keep up with your busy schedule. I would also love for you to join me on social media. You can find me on Facebook, Twitter, and Instagram on a regular basis. Leave me a comment and let me know you are there. I love to visit with my readers.