October is National Fire Prevention Month.  As an insurance professional, I have first-hand experience with the devastation that comes with house fires.  I've cried with families as they sift through memories and try to put their lives back together.  Sure…… insurance covers house fires, but it is so much nicer if the fire never happens.  Sentimental value can never be replaced.  It's heartbreaking to experience this type of loss.
It is really crazy to me how much we take fire safety for granted.  As a college student just learning to cook on my own, I would joke with my friends about how many times I set off the smoke detector with my cooking.  In fact, we would sing the song by Talking Heads, "Burning Down the House" all of the time.  We thought we were hilarious!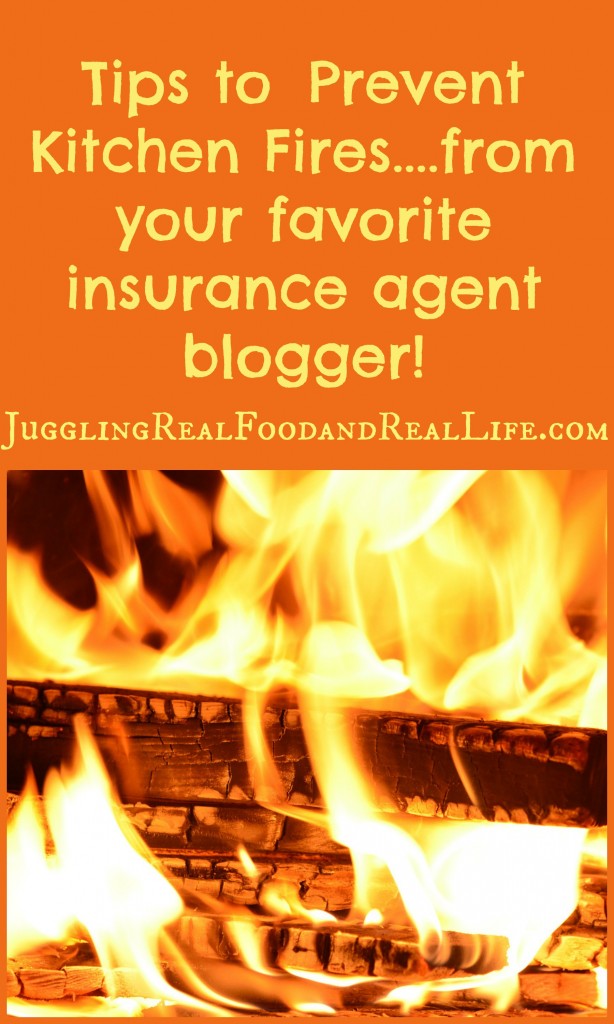 As I have gotten older, hopefully my cooking has gotten better.  I know I don't sing "Burning Down the House" anymore.  More importantly, I hope that my kitchen safety skills have improved.  According to the National Fire Protection Association (NFPA), one out of every 5 house fires starts in the kitchen.  That is a scary statistic!  I encourage you to review the following fire prevention tips and share them with your friends.  I know we are all busy Juggling Real Food and Real Life, but I want you to be safe.  While you are rushing around preparing meals, make sure you are taking the time to think about what doing things that will keep you safe.
Kitchen Fire Prevention Tips
Stay in the kitchen when you are boiling, frying, grilling, or broiling food.  According to the NFPA, one-third of kitchen fires are as a result of unattended cooking.  Turn off the stove if you have to leave the room to tend to the kids or answer the door……..any reason really.
When you are baking check the oven regularly.  Use a timer to remind you to check.  Make sure you stay at home when baking.  I remember going to the grocery store while baking chicken for dinner when I was in college.  Unfortunately, we took longer than expected to make our purchases.  My friends and I came home to a sorority house full of smoke.  Lesson learned!
Be careful of what you wear when you are cooking.  I tend to cook with my work clothes on.  Long and billowy sleeves are not uncommon.  Be careful not to drag your clothing into open flames.  Long sleeves, scarves, and big collars are especially problematic.
Keep pot holders, oven mitts, and dish towels away from your stove top.  They can spell disaster if you are in such a hurry that you toss them into an open flame.  I know.  I've done it before.  Thankfully, I was able to quickly put out the fire.
Another thing to be aware of near the stove top are wooden utensils, paper bags, plastic bags, and other food packaging.  Make sure you are setting these items to the side of the stove and not on to the stove.
Be aware of children in the kitchen.  I think the best defense against fire with children is to teach them how to use the stove correctly and supervise young children until they master this task.
Although we Jugglers often make dinner and then race out of the house, it's important to make sure to wipe grease off of the stove to prevent build up.  Take a few extra minutes to wife off the stove and avoid the heartache that comes with a house fire.
By following these simple rules,  you can be confident that you are doing all that you can to keep your family safe from kitchen fires.  Never allow yourself to get so busy that you ignore fire safety rules.
Since I always want you to be thinking about eating real food…………..If you are looking for help in making the transition to eating more real food, you should check out the Real Food Experience posts. You can get started at the beginning or jump around the challenges. You can find a complete round-up of the program here. Each week's challenge is full of terrific advice to help you transition from fast and processed food to a real food diet. Changes that will help you to live a healthy lifestyle and have the energy to keep up with your busy schedule. I would also love for you to join me on social media. You can find me on Facebook, Twitter, and Instagram on a regular basis. Leave me a comment and let me know you are there. I love to visit with my readers.