It sure has taken me a long time, but I think I have figured out the secret to keeping my bathroom clean.  If I had a ton of time, it would be easy.  I'm organized and while I was in college I worked summers as a cleaning professional.  I know how to clean.  What I have struggled with is how to keep it clean with my busy family and work schedule.  I rush around every morning trying to get the kids to school and me to work on time (makeup, high heals, the whole shebang).  I work away from home all day and return to an evening full of activities.  I like to use any extra time in my schedule to make sure to prepare delicious and nutritious real food meals for my family.  If you have a schedule which is anything like mine, you know all too well that there is little time for cleaning.
I really have gotten tired of chaos cleaning.  You know……..the crazy rushing around that happens when someone is coming over to the house.  If you have had enough of the panic and worry that happens anytime someone says they will "just stop by."  It's time for a change.  In order to reduce my overall stress, I decided that I had to figure out an easy routine that I could fit into my busy schedule…..5 minutes is about all I have to give.  I decided to use a strategy of stringing together easy habits into cleaning routines.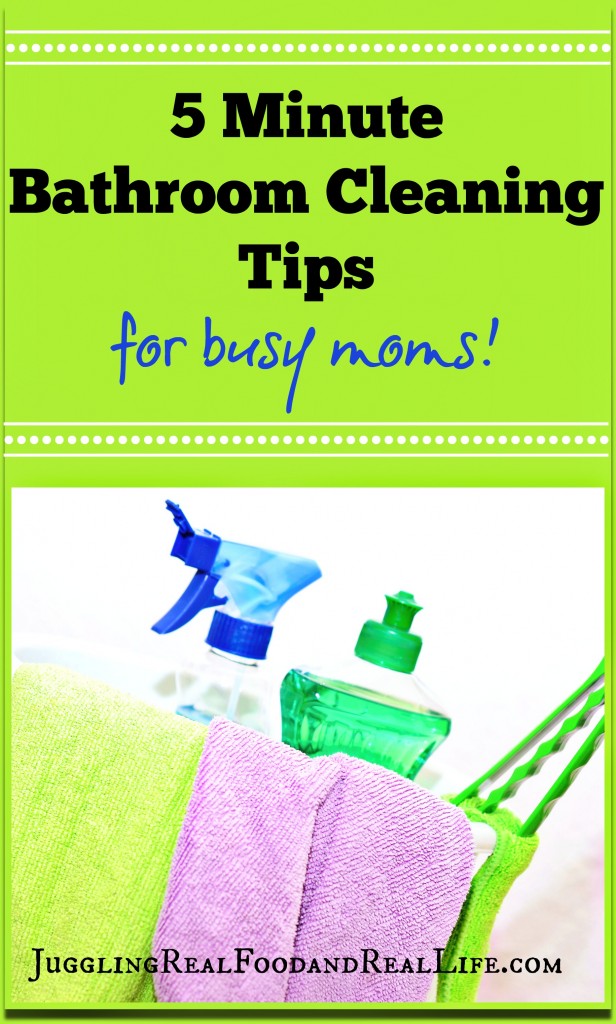 5 Minute Bathroom Cleaning
Clean bathroom mirror.
Wipe down sink.
Give the toilet a quick clean with toilet bowl cleaner and brush.
Use a Clorox-type wipe, sponge, or microfiber cloth to wipe down toilet seat and rim.
Have 6 minutes?
Wipe down moldings and any other flat surfaces in the room.
Another quick tip:  Wipe down the shower while you are still in the shower.  I give a quick scrub down each day while I'm letting the conditioner sit on my hair for a little longer.  I usually only grab a piece of the shower each day.  For example……..the front right corner one day and the back right corner another day and so on.  Since most of us shower more than once a week (please tell me that's true) , that allows plenty of time to get the entire thing scrubbed each week.
There you go……..that's it.  If you can grab just 5 minutes each day, you can have a bathroom that you can actually let your guests use.  It's an amazing feeling to walk into a clean bathroom each morning.  I know it sounds crazy, but having a clean bathroom really reduces my stress each day.  It takes a while to create habits that will stick, but give it a try.  This method works for even the busiest of moms.
Leave me a comment and let me know what other areas of the house are your biggest concerns.  I'll work on some other 5 minute cleaning routines that we all can use.  Are there any routines that really work for you.  Leave us a comment and let's get the conversation going.