When it comes to weeknight dinners, most moms want a dinner that tastes great and comes together in a jiffy.  No fuss!  That's what we want.  After a long day of work, the last thing I want to hear is the dreaded question, "What's for dinner, Mom?"  The question comes every evening no matter if I want to hear it or not.  To keep things easy and organized, I like to keep a master list of our favorite meals.  At the top of that list is flatbread pizzas.  Everyone in my family loves them and they are easy to customize.  Choose your favorite real food toppings and allow everyone to choose their favorite combinations.  It couldn't be easier!  And……..to let you in on a secret………it actually takes less time to make these flatbread pizzas than it does to order a pizza and have it delivered.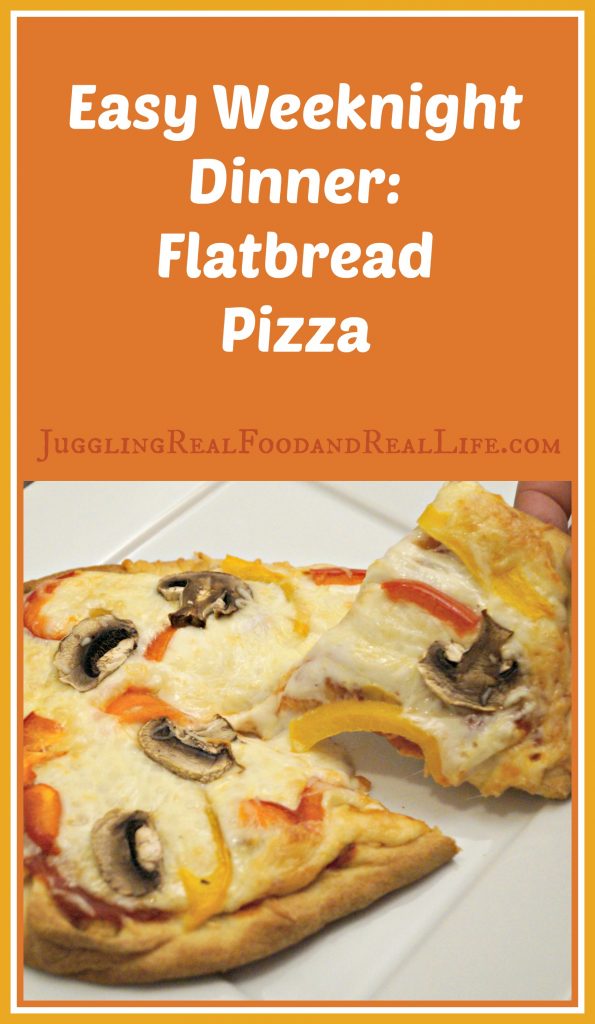 [bctt tweet="Keep your weeknight dinners simple and delicious with these flatbread pizzas." username="jugglngrealfood"]
I like to use a mandolin to quickly slice up the vegetables.  Thinly sliced vegetables are perfect for this flatbread recipe.  The vegetables cook more quickly when they are thinly sliced.  The mandolin really cuts down on my prep time and increases the visual appeal of the vegetables on the flatbread.  I don't have time to mess around on weeknights so the mandolin is one of my favorite tools.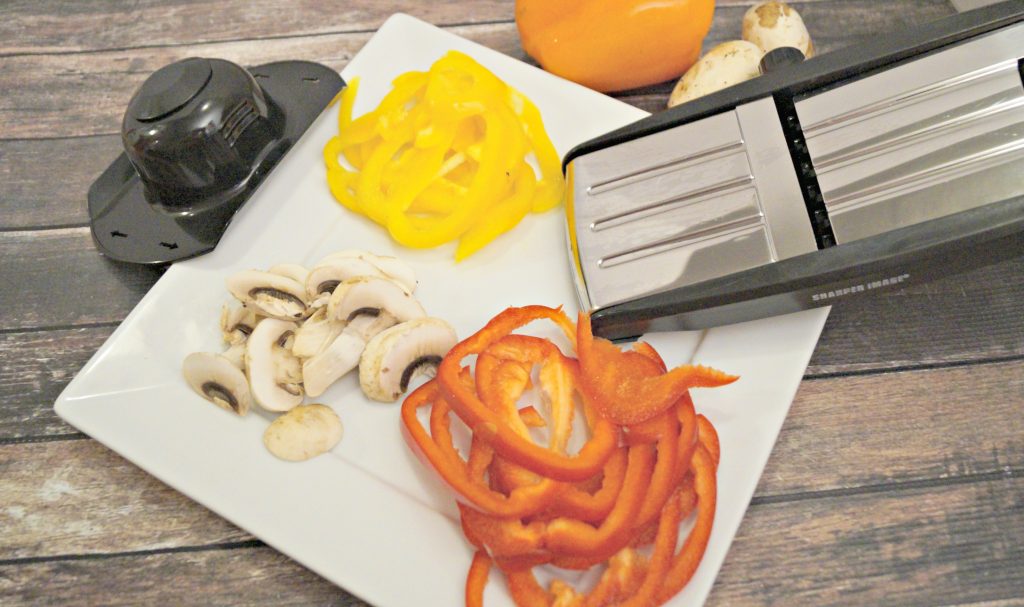 Once I have all of my vegetables sliced and cheese shredded, I lay out all of the ingredients together to make assembling the flatbread pizzas super easy.  Put the flatbreads on the pan, spread the sauce, add the cheese and vegetables and you are ready to bake.  While the flatbread pizza is baking you can work on math homework with the kids, toss in a load of laundry, declutter a small area of your home, or change clothes for the evening's activities.  When you are done with your task, dinner is ready to be served.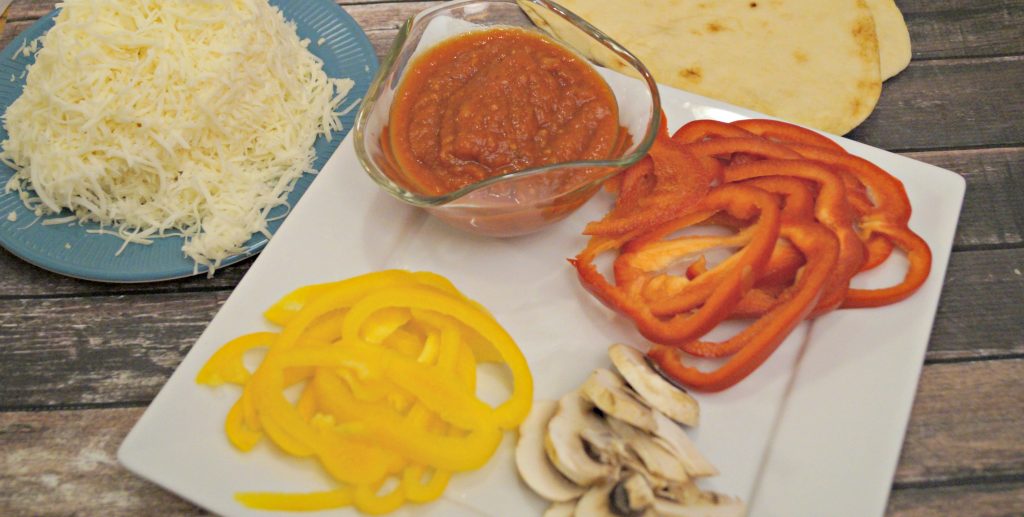 My kids love to help make these flatbread pizzas.  I love to get them into the kitchen as often as possible.  This is one recipe they are always willing to help with.  They can choose the topping they like and it's not a messy process.  Even the tiniest of fingers can help with this one.  I've also found that flatbreads are great for entertaining for both kids and grown-ups.  Simply put out all of the ingredients and allow your friends to assemble their flatbreads.  It's a fun activity to get conversation going early in the party.
Helpful tip:  If children prefer to make a cheese-only pizza, bake time can be reduced to 10 minutes.  Bake longer when adding the vegetables.  20 minutes is what works with my oven.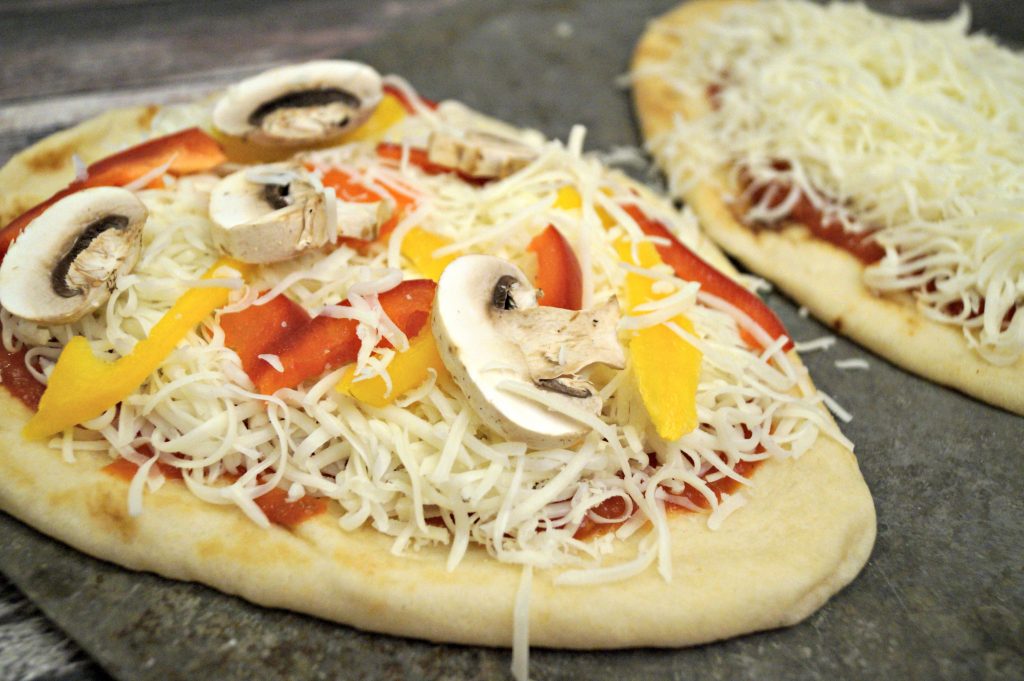 Bell Pepper and Mushroom Flatbread Pizza
Bell Pepper and Mushroom Flatbread Pizza
Author:
Christina - Juggling Real Food and Real Life
Ingredients
Naan Flatbread (whole wheat is preferred)
Pizza Sauce
Sliced Bell Peppers
Sliced Mushrooms
Shredded Mozzarella Cheese
Instructions
Preheat oven to 350* F
Place flatbread on baking sheet or pizza stone.
Spread pizza sauce over the flatbread to your taste.
Add enough mozzarella cheese to cover flatbread.
Add peppers and mushrooms .
Bake for 20 minutes.
Remove when cheese is melted and bubbly.
Handle carefully as the cheese will be very hot.
Cut with a pizza cutter into 4-6 pieces.
Notes
We suggest that you use organic ingredients whenver possible.
I hope you enjoy these flatbread pizzas as much as my family does.  Add them to your weekly rotation and then check out how excited your family gets for flatbread pizza night.
What are your favorite pizza toppings?  How often do you eat pizza?  What are some of your other favorite foods for entertaining?
Want more simple recipes your family is sure to love? Make sure you check out my recipe index.    I add new recipes all of the time so make sure you check back often.  You will also want to grab this free meal-planning printable calendar to make your meal planning easier.  It has areas to plan your daily activities and your evening meal prep to keep you organized.
The following are Amazon affiliate links.  That means a small portion of your purchase will be paid to me as a commission.  The price is the same for you.  I like to share these links to help support the cost of running this blog and to be a resource to you.  I like to make things easy for you and as always…..keep it real.