Today, I want to talk a little bit about transition recipes.  What am I talking about when I say "transition recipes" you are probably asking.  Transition recipes are those recipes that are not quite 100% real food.  They are perfect for when you are making the change from processed food to real food and are not yet quite ready to go all in on a real food diet.  In short, transition recipes are delicious, mostly real food, and always a hit whether you live a real food lifestyle or just want to make a meal at home once in a while.
When, my family started our real food journey, my husband and I discussed a lot about how our family would react to all of the changes.  Children have the reputation of not liking change and really loving those foods that they are familiar with.  That's why children's menus at restaurants almost always have the same foods on them.  Children are all different I know, but I have a couple that totally fit the stereotype.  How the heck was I going to convince them that real food was a good thing and avoid temper tantrums and hunger strikes??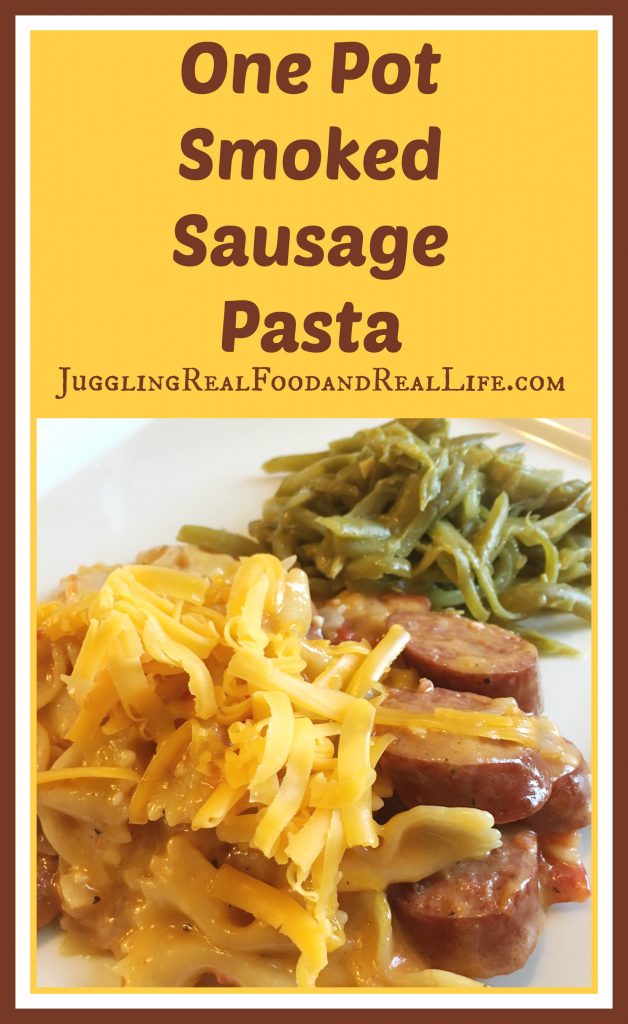 Transition recipes is where we decided to start.  We looked for recipes that had familiar ingredients that we could work on cleaning up.  Change the cheese to organic or change out the pasta to whole wheat for example.  My strategy was to get as much real food into my family while I worked to reduce the bad processed stuff.  This strategy worked great for us.  I encourage you to try the slow transition method if you have been thinking about making the change to real food.
Today, I am sharing this one pot smoked sausage pasta recipe.  It's perfect for busy evenings when there is a lot going on.  It comes together quickly and since you just use one pot, it's a quick clean up also.  This recipe makes a nice family size meal so you may have extras.  The leftovers are fantastic.  Pack the leftover one pot smoked sausage pasta in a thermos and you have a delicious lunch the next day.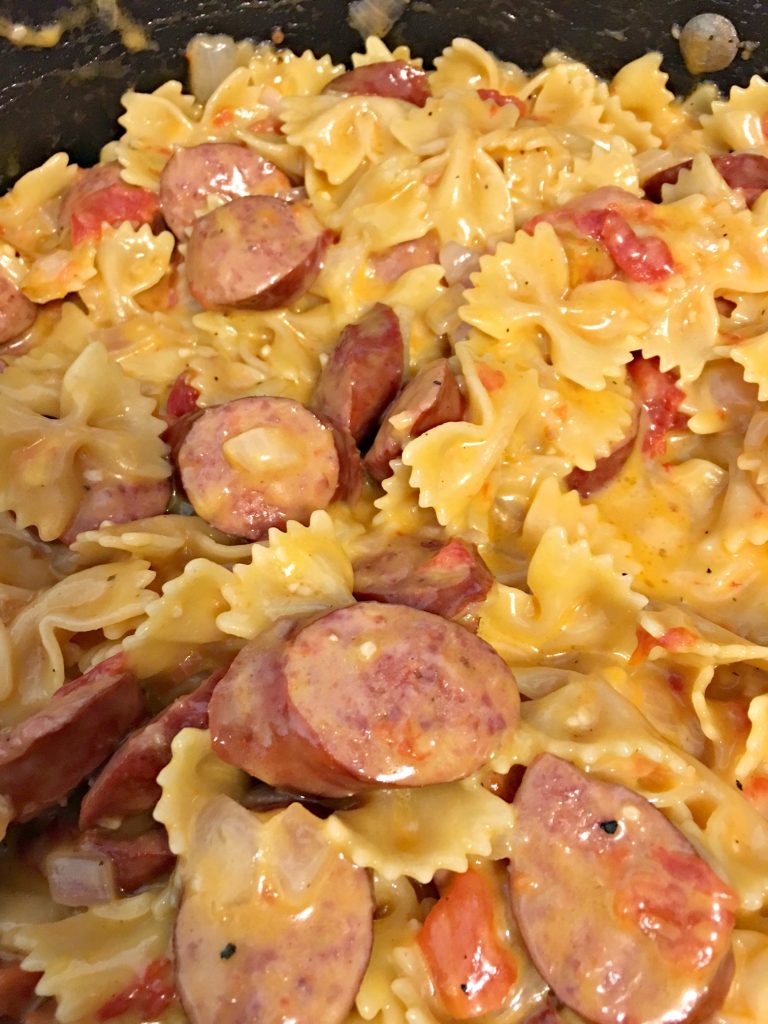 One Pot Smoked Sausage Pasta
Easy Recipe: One Pot Smoked Sausage Pasta
Author:
Christina - Juggling Real Food and Real Life
Ingredients
3 Tbsp olive oil
2 lb smoked sausage
1 medium onion chopped
3 cloves minced garlic
2 cups chicken broth
1 12 oz can diced tomatoes
½ cup heavy cream
¼ teaspoon pepper
8 oz dry whole wheat bow tie pasta
2 cups shredded cheddar cheese
Instructions
Slice smoked sausage into bite sized pieces.
Add olive oil to pan and sauté onions and sausage.
Stir in garlic.
Add chicken broth, diced tomatoes, cream, and pepper. Stir till mixed well.
Add pasta. Make sir that the pasta is stirred into the sauce and covered with liquid.
Cover and simmer for 15-20 minutes.
Add 1 cup of cheddar cheese. Stir until melted.
Serve with additional cheese and sour cream if desired.
Notes
We recommend organic ingredients where available.
Have you started a real food journey?  What are your tips for making the transition?  How do you handle complaints about the changes in the food you serve??
Want more simple recipes your family is sure to love? Make sure you check out my recipe index.    I add new recipes all of the time so make sure you check back often.  You will also want to grab this free meal-planning printable calendar to make your meal planning easier.  It has areas to plan your daily activities and your evening meal prep to keep you organized.