This article originally appeared over at Thrive Market.  I am sharing this article with permission as part of Thrive Market's Partnership Program.  It was written April 29, 2015 by Stephanie Clarke RD and Willow Jarosh RD, C&J Nutrition  The post includes affiliate links.
I was really excited to find this article.  When I find a great ingredient, I always try to figure out how I can use it in different recipes.   I love to experiment in the kitchen. This article proves that almond butter is perfect for more than just spreading on a piece of toast. 
And……..make sure you check out the special offer at the end to find out how you can get a free jar of Almond Butter from Thrive Market.  I hope you are enjoying these special monthly offers.  Leave me a comment and let me know if you have tried Thrive Market and if you enjoy these articles from Thrive Market.
[bctt tweet="Ask A Nutritionist: 3 New Ways To Use Almond Butter" username="jugglngrealfood"]
If you're stuck in a peanut butter rut, check out out rich, creamy almond butter as an option. Packed with protein, calcium, and vitamin E, it's a healthy—and delicious—way to get nuts into your diet. But you can do much more than slather it on toast. We've got three exciting ideas to  transform any jar of almond butter into something unexpected.
1.  Pasta sauce
Hear us out on this one. Almond butter has a more mellow flavor than peanut butter (which we also love!). So, turning it into a sauce for noodles (much like a peanut sauce) is a no-brainer. It has a smooth consistency with a mellow flavor that goes with nearly any other ingredient, from veggies to chicken to tofu.
Try whisking almond butter with minced garlic, grated ginger, soy sauce, rice vinegar, and toasted sesame oil. Or blend it with water, lime juice, chipotle powder, garlic, honey, and salt for an almond-chipotle sauce with a kick. It works beautifully over pasta or as a dressing for a slaw.
2. Super-fast almond milk
Out of almond milk but reeeeeeeeally want some for a smoothie or oats? Blend a spoonful of almond butter into water until you reach the consistency you're looking for. We can't take total credit for this one—our friend Ksinia over at Breakfast Criminals shared this on her Instagram recently and we loved it.
3. Amped-Up Cocoa
We love making homemade hot cocoa using cocoa or cacao powder, maple syrup, and cashew or almond milk. And just when we thought it couldn't get any better, we stirred almond butter into our creation and did a total taste bud swoon: rich, sweet perfection.
Introducing January's Product Giveaway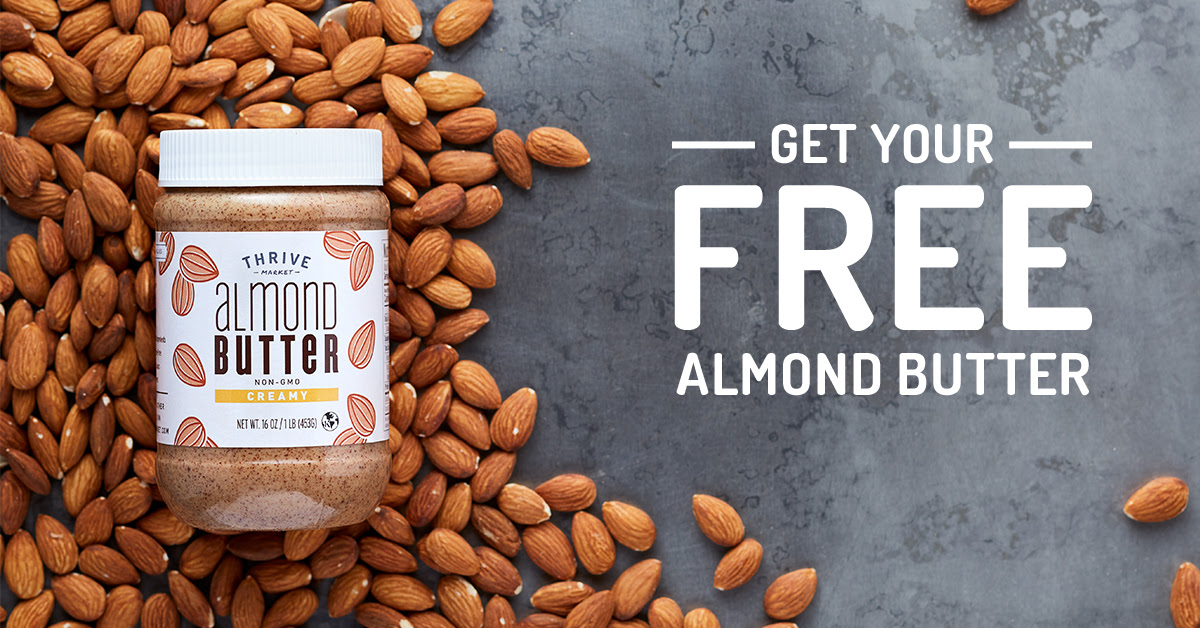 Thrive Market's Non-GMO Almond Butter
This creamy spread is non-GMO, and ready to take your rice cake, apple slice, or smoothie to the next level. Even better, each jar of Thrive Market Almond butter is made with only one—(yes one!)—wholesome ingredient: Just almonds. No added oils or sugars in sight.  Find out more here.
Photo credit: Paul Delmont