Have you started your Easter holiday dinner planning yet? No? Don't despair! If I have learned anything over the years as a busy working mom it's that with a little planning and energy it is possible to pull off a beautiful holiday for your family last minute. If you are anything like me, you are scheduled from sunup to sundown and there isn't much wiggle room to plan a Pinterest Perfect holiday. Throw out the perfection and focus on what matters most to you…………your family. Make sure your family feels welcome, loved, and they go home with full bellies.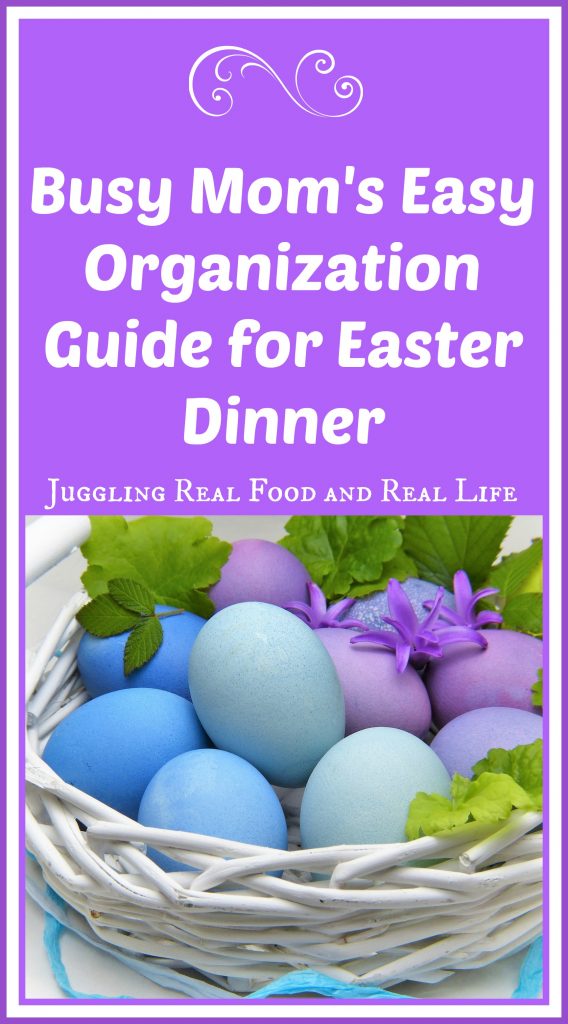 My goal with holiday planning is to make sure that I have plenty of time to enjoy my family. I don't want to spend the whole day in the kitchen. More than anything, I want my children to look back on their childhood and remember that their mom worked hard to make the holidays fun and spent the day enjoying the holiday with them.
Get organized! Take a few minutes and come up with a plan. Organization is key. Slow down and give some thought to what you want your Easter to look like and make some detailed lists.
Don't be afraid to ask your guests to help out with dinner. Most people will be thrilled to bring a favorite dish. Asking guests to help out with the dinner allows you to focus on less dishes and shortens your time in the kitchen.
Make sure the house is clean and the refrigerator cleared out early in the week. Declutter during the week and do your deep cleaning using pockets of time in your schedule. Enlist the help of your children as they get older. Older children can certainly dust, sweep, and vacuum if you have done the deep cleaning earlier in the week.
Write out your menu and post it on the refrigerator. It's really frustrating to get to the end of the meal and realize you forgot to put a dish out. Take a look at your recipes and pick your family's favorites. Consider trying a new recipe (only one) and maybe this will become a new family favorite.
Write out a detailed grocery list and grocery shop as early in the week as you can. How much butter do you need? Do you have enough potatoes? What are your guests drinking? Don't forget the rolls and dessert! Write it all out. Trusting your memory when you are running around is a recipe for disaster.
Make sure your dishes, silverware, table cloths, and napkins are ready. Does anything need polished or ironed? Do you have enough table space and chairs for everyone? Do you want a centerpiece? Consider setting the table early in the week and covering it with a sheet to keep it clean.
Prepare some recipes early in the week if possible. Also, think about what you can chop ahead of time for other recipes. Your kitchen will be less hectic and tidier on Easter day.
Get plenty of sleep! Nobody is at their best when they don't get sleep. You will be in a far better mood and better able to handle the day if you have had a good night's sleep.
Attend Easter service. Nothing puts life into perspective like attending church on Easter Sunday. If you and your family hear this message, the rest will fall into place as it should. Don't worry about the things that don't turn out as you would have liked. I have always found that imperfection is far more memorable than perfection.
Drop me a comment and let me know what busy mom tips you have for making sure your Easter dinner is delicious and enjoyable. I can't wait to hear from you!