OK………….you've done your research and decided the Juggling Mom's idea of eating whole grains is a good one.  Now what?  We talked about looking for the Whole Grain Council stamp on the packages at the grocery store.  You start looking and realize there are two different stamps.  Thanks a lot Juggling Mom!  What's the difference?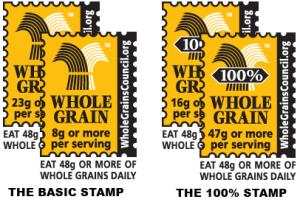 Indeed there are two different stamps.  The Whole Grain Council explains that the two stamps are the basic stamp and the 100% stamp.  See for yourself here on their site.  The 100% stamp means that all the grains are 100% whole while the basic stamp is a half serving of whole grains.  It may also have some refined flour, germ or bran.  The Whole Grain Council spells it out like this…………You can eat 3 100% whole grain items or 6 of the half serving products to get the recommended daily serving of whole grains.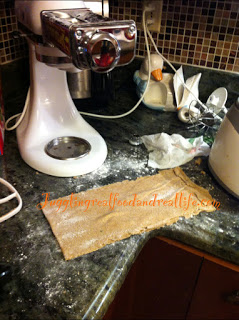 Making whole wheat pasta
I prefer to think about eating food on a weekly basis.  I want to make sure I get my nutrition for the week, but I don't worry if I miss something on a particular day.  This allows for flexibility.  Don't beat yourself up because you missed a serving of whole grains because you went out to a fancy dinner with your husband and they only had white pasta.  OK……it could happen.  It's almost Valentine's Day you know.
When we are talking about whole grains for the week, we talk about getting 48 grams.  A 100% serving is 16 grams and a basic serving is 8 grams.  Do the math and try to focus on getting all of your servings in for the week.
I found some great recipe sites to help.  You can check out my Recipe Index where I am always adding recipes.  Check back often.  You can also check out these sites.
I love Eden Organics.  This company goes above and beyond the requirements to be labeled as "Organic".  I love that about them.  If you would like to try some new Quinoa recipes you can find them on their site here.   I use King Arthur Flour when I make my Juggling Pumpkin Spice muffins and my basic Juggling Muffins.  I use it for everything really.  It is a little denser than regular white flour, but I've never felt the need to make my recipes only using half whole wheat flour and half white flour.  You can find some of the King Arthur Flour recipes here.  Have you ever tried flax seed?  It is relatively new for me and I am pleased to announce that I've introduced it to my family with great success.  You can find some recipes from Hodgson Mill here.  I usually buy my oats in bulk from my Organic Co-Op, but I found some great recipes from Quaker here.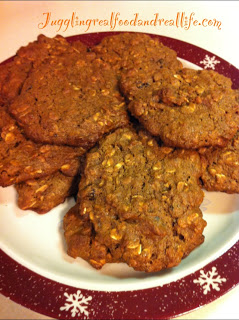 Breakfast cookies made with oats
Well……….that should give you some ideas.  Have fun trying new recipes and don't be afraid of flops.  You might actually come up with something new.  Leave me a comment below and let me know how things are going with your whole grain week.  Is your family enjoying this week?  Are you trying anything new?  Remember, we all benefit from this shared experience.  If you are new to the site you will want to check out our previous posts about whole grains here and here.
Don't forget you can join us on Facebook for more fun and support along the way.  You can also follow us on Twitter @Jugglngrealfood if you are interested in learning more about the Real Food Movement.  You can also follow our boards on Pinterest.