I talk a lot about maximizing your nutrition at each meal and about reducing overall sugar consumption.  This post isn't about that.  This post is about homemade whipped cream.  My Real Food Journey is actually kind of based on it.  How can a Real Food diet be based on a super sweet and yummy whipped cream you ask?  Maybe, I better start at the beginning…………….
I started my Real Food Journey a year ago in June.  Dropping processed food out of your diet doesn't happen overnight.  It takes time to change eating habits and acquire the knowledge to make such a drastic change.  Along the way, it took some convincing that eating Real Food and being healthy wasn't the end of the world…….it was actually the start of a better world for me.  July 4th rolled around and I was invited to a family picnic.  I was determined to stick to my Real Food diet as much as possible, so I volunteered to bring dessert.  I decided on a homemade shortcake with strawberries, blueberries, and homemade Maple Whipped Cream.  You guessed it………..red, white, and blue and all Real Food.
So what was the verdict?  Everyone loved it and declared that if healthy tasted
like that dessert, then they would be willing to try more "healthy".  Hooray!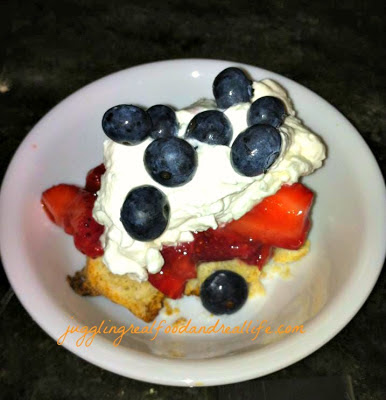 Hooray!  I was winning.  From that simple dessert, a food blog was born.  I knew that if I could convince my family to change their eating habits, there were plenty others that I could reach as well.  You can see the dessert on my Facebook page as my profile picture and I use it as my gravatar.  I keep it there as a reminder that good Real Food is not only healthy, but delicious.  I want my dinner guests to leave feeling like they ate a delicious meal. Although I am always thinking of the health of the meals that I prepare, that should not be a concern for my guests….especially when it is time for dessert.
I really have a hard time believing for most of my adult life that I never even thought about what was in my food.  I just stuffed it in my mouth and counted calories and fat grams.  Most of what I was eating wasn't even food.  Non-dairy whipped topping?  Yuck!  Why would I want to eat oil and chemicals when the real stuff tastes so much better and is better for me?  It takes no time at all to prepare.  I don't know what it is about making whipped cream, but I really enjoy it.  It's like a magic trick I can do or something.  The kids love to gather around to watch the transformation.  My daughter wants to experiment with making some flavored whipped creams so we bought a large carton of the whipping cream last time we went to the store.  I'll let you know how that goes.  I'm thinking I might put her to bed and try some boozey ones as well.  Don't worry, I won't leave you out of that either.
Maple Whipped Cream just takes two ingredients, but it is important to get them right.  I prefer to use organic dairy whenever possible to avoid growth hormones.  My kids are growing up way too fast without the added growth hormones.  Real maple syrup should be used.  Anything but 100% pure maple syrup is not maple syrup at all.  It is a mix of corn syrup, artificial flavors, and artificial colors.  This concoction is not allowed as part of our Real Food diet.
Now for the "Magical" Maple Whipped Cream recipe……………….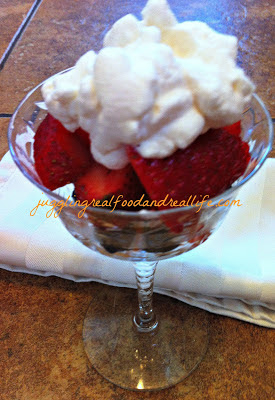 Maple Whipped Cream
Homemade Maple Whipped Cream - Juggling Real Food and Real Life
Author:
Christina - Juggling Real Food and Real Life
Ingredients
1 Cup Heavy Whipping Cream
¼ Cup 100% Pure Real Maple Syrup
Instructions
Chill metal mixing bowl for best results.
Pour heavy whipping cream into mixing bowl.
Using an electric mixer on med high to high slowly pour in the maple syrup.
Continue mixing until soft peaks begin to form.  (It's like magic!)
Serve immediately.
Listen to all of the sounds of enjoyment as you serve.
Notes
We recommend organic ingredients when available.
Now it's your turn……..  I've talked enough.  Can you imagine how delicious this will taste?  Tell me about the different ways you plan to use this recipe.  Do you use a non-dairy topping now or something else?  I bet you can remember someone making this for you.  Tell me stories………..I just love to hear family stories.
Thank you for all of the love and support. Don't forget you can join us on Facebook for more fun and support along the way. You can also follow us on Twitter @Jugglngrealfood if you are interested in learning more about the Real Food Movement. You can also follow our boards on Pinterest.