I don't know how you meal plan and cook, but I find myself choosing recipes that I know most everyone in my family will enjoy
.  I don't often stop to think, about what I really like to eat.  I think this is pretty typical mom behavior.  Today, is a little different.  Today, I want to talk about one of my favorite recipes.  I love this soup!  I can't get enough.  I love to make it because it is so easy.  It also tastes even better the next day when much of the soup is absorbed into the pasta.  For me, the best recipes are the recipes that I can cook once and then use for a couple of meals.  It takes time to cook Real Food and if I can make two meals at once............that is certainly a good thing.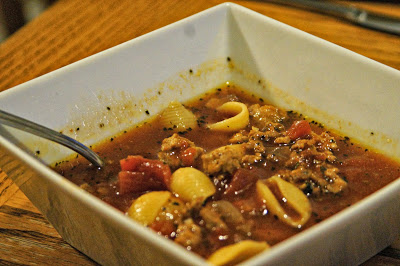 I made this soup on what is a typical Thursday for us these days
.  I run from work to pick up my younger ones from their school's aftercare.  We then rush over to cheer and flag football practice. My husband meets me there because he is the flag football coach.  I stay with my daughter for her practice and then we race home to put dinner on the table because my high school son is both exhausted and starving after his football practice.  Homework is sometimes done in the car and sometimes done after dinner so I need to get dinner on the table, pronto!  Any of this racing around sounding way too familiar?  I have found that breakfast foods and crockpot meals make for the easiest dinners on these busiest of busy days.
A little background on the Juggling
.............I make lunches at night so while I'm in the kitchen, I brown the sausage and chop the onions.  I put these in refrigerator till the morning and then toss everything in the crock in the morning and then rush my kids out the door to catch the school bus. Then it's off to work for me.  I spend the entire day looking forward to eating this soup when I finally return home.  Give it a try.  Soon you will be as obsessed as I am with this soup.  
Zesty Crockpot Italian Pasta Soup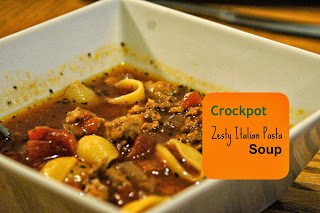 Zesty Crockpot Italian Pasta Soup
Author:
Christina - Juggling Real Food and Real Life
.
Ingredients
1 pound bulk Italian Sausage (Browned and drained)
3 Cups of Beef Broth
1 Cup Water
1 28 ounce can of diced tomatoes
1 6 ounce can of tomato paste
½ cup onion, chopped
¼ teaspoon salt
¼ teaspoon pepper
4 - 5 cloves of garlic, minced
1 Tablespoon of dried parsley
1 Tablespoon of dried basil
2 Cups uncooked shell pasta (whole wheat preferred)
1 Cup of additional Water
Optional: Top with shredded Mozzarella cheese or grated Parmesan.
Instructions
Mix Tomatoes and Tomato Paste in the crockpot.
Stir in cooked Italian Sausage.
Add Broth, Water, Onion, Garlic, Basil, Parsley, Salt and Pepper.
Cook on LOW for 7 - 8 hours or HIGH for 4 - 5 hours.
At the end of the cook time, add Pasta and 1 Cup of Water.
Stir to combine pasta.
Let Cook for an additional 30 minutes
Notes
We recommend organic ingredients where available.
This feeds my family of 5 to 6 and we have lots of leftovers. If you would like to stretch it further or like it with more soup broth, extra water or beef broth can be added.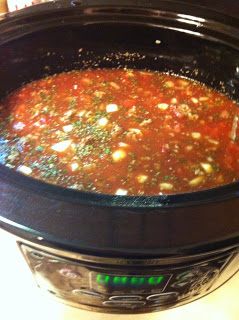 Enjoy!
What are your favorite quicker than quick meals?  Do you cook for your likes or your family?  Is it possible that you all like the same thing?
I can't wait to hear from you. Leave me a comment here and I invite you to join the fun on our various social media. Just join us by using the various buttons at the top of the page. Lots more recipes, tips and fun to be had by all! If you are new to the blog……..I invite you to check out our Weekly Challenges. This is a great systematic way to to eat more of a Real Food diet and eliminate processed food. This is the approach my family took to overhauling our diet. Remember……small changes can create dramatic changes to your overall health. Good luck!