Maybe, it's the cooler weather, but I always feel like baking more in the fall.  Monday is usually a big cooking evening in my house.  I come home from work and my older son has to be at Boy Scouts right away, but I am free to cook away at home.  In addition to dinner, I can usually try out 1 or 2 recipes as well.  Did I mention Monday is also a big laundry evening in my oh-so-glamorous home?
This past Monday, I was really craving something sweet and when I took a look around my kitchen, I noticed 3 rather ripe bananas.  That doesn't usually happen since we eat bananas so quickly in our house.  I took it as a sign that I needed to make banana muffins.  I love my banana muffin recipe because the primary sweetener is those ripe bananas.  I do use 1/4 cup of honey, but that is a whole lot less sugar than lots of other banana bread recipes that I have seen.  I think the bananas make it plenty sweet.  I think that this has something to do with my lower overall sugar consumption.  I don't need as much sweetener to get my sugar fix.  That is a nice side effect of eating Real Food.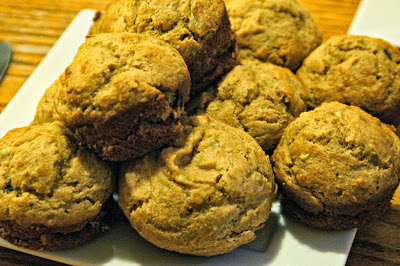 I had a few dark chocolate chips left so I tossed them in.  I had so few that it was like a treasure hunt to find the chips in the muffins.  They did add a nice bit of additional sweetness.  At different times I have also added cranberries, raisins, and nuts.  My younger ones don't like nuts, but I just love them in banana muffins.  I like to have recipes that I can customize to my family and easily mix up to provide greater variety.  In short, I like to have a few recipes that I can turn into a lot of different dishes.  These muffins are one such recipe.  I usually make regular muffins, but you could make mini muffins or even bread with this recipe.  Just adjust the cooking time.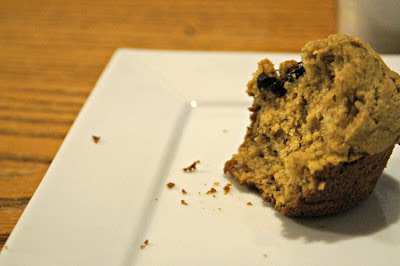 I hesitate to divide my recipes up in my Recipe Index into meals like I see other folks do.  These muffins are a great example of why I don't like to do that.  Good, Real Food can be eaten any time of day.  I eat these for breakfast, as a snack, along with a salad at lunchtime, and with a nice bowl of soup at dinner.  I don't like to tell you when you can eat your Real Food (like you would listen to me anyway. LOL!) so I list the recipes alphabetically.  And don't forget, if you have extra, these freeze great for a quick meal on another day.
Whole Wheat Banana Muffins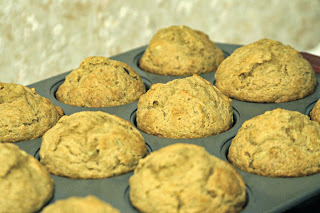 Ingredients:
2 1/4 cup whole wheat flour
3/4 teaspoon baking powder
1/4 teaspoon salt
3 ripe bananas (mashed)
1/3 cup coconut oil
1/4 plain yogurt
1/4 cup honey
2 eggs
1 teaspoon vanilla
Directions:
Preheat oven to 350 degrees and grease your muffin pan.  I used butter to grease my pan.
Stir together your dry ingredients (flour, baking powder, and salt).
In a separate bowl mix together bananas, oil, yogurt, honey, eggs, and vanilla.  I used my stand mixer.
Mix the dry ingredients into the wet ingredients.  Stir in any additional fruit, dark chocolate chips, or nuts if desired.
Scoop muffin mixture into greased muffin pans.  I use my ice cream scoop for this.
Bake for 15 minutes.
Makes about 12 large muffins.  I have stretched it out to 18 smaller muffins.
I hope you enjoy these muffins as much as we do.  Are they sweet enough for you?  Do you set aside time to try new recipes or is your schedule just too packed for that?  Do you keep your kitchen stocked with basic ingredients so that making recipes is easier or do you have to run to the store all of the time?
I can't wait to hear from you. Leave me a comment here and I invite you to join the fun on our various social media. Just join us by using the various buttons at the top of the page. Lots more recipes, tips and fun to be had by all! If you are new to the blog……..I invite you to check out our Weekly Challenges. This is a great systematic way to to eat more of a Real Food diet and eliminate processed food. This is the approach my family took to overhauling our diet. Remember……small changes can create dramatic changes to your overall health. Good luck!