Talk about taking things for granted……..I grew up eating wonderful whole foods.  My parents didn't try to be healthy, they just were.  My mother went to the grocery store and bought whole foods to prepare our meals.  It really was the frugal thing to do as well.
Growing up our pantry was full of  homemade tomato juice, homemade pickles, peaches, jams, and more.  Each one canned as the harvest came in.  Each one made from real food ingredients, not because my mother was trying to follow some special diet, but because that was what people ate.  So much has changed over the years that we don't even realize that we aren't eating real food anymore.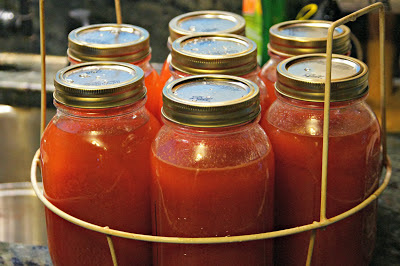 When I first started cooking on my own, I was a bit perplexed.  How do you prepare a meal without all of those canned staples?  I really had no idea how to make spaghetti sauce without homemade canned tomato juice so I turned to popular brands at the grocery store to help.  Ahhh………..look at all of the amazing meals I could prepare simply by purchasing some boxes, bottles, and cans.  Of course, the problem is…………it was all highly processed.  Low fat is full of sugar.  Highly processed is full of salt and a whole host of ingredients created in a laboratory and not in nature.  This was not the natural start that I had.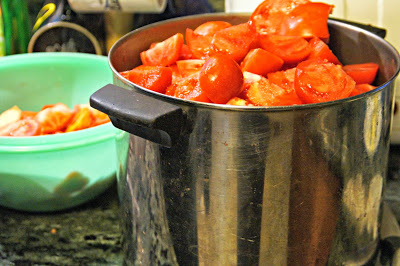 When I switched to my real food lifestyle, I began to long for that darn canned tomato juice.  What once seemed so uncool to me, was now almost glamorous.  During the first year of our real food journey, my aunt asked me if I would like some of her canning jars.  I didn't have any definite plan for them, but I jumped at the opportunity.  I was now the proud owner of numerous Mason canning jars.
Fast forward to a couple of weeks ago.  My mother and I discussed the possibility of she and my father teaching me how they canned my treasured tomato juice.  Since my schedule is always crazy, we needed to set a date for our canning class.  We scheduled a Sunday after my little guy's flag football game.  If it's in my calendar, then I can schedule everything else around it.  We actually were going to do this!
I'm sure many of you are laughing at me because you are already incredible homesteaders.  I, on the other hand, grew up declaring to everyone who would listen that, " I didn't have a domestic bone in my body."  This was quite a bold move for me.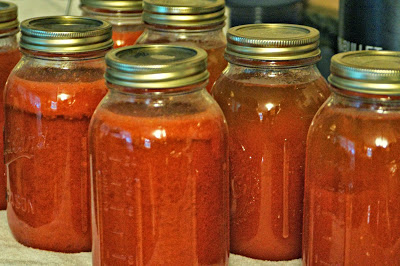 During my lesson, I learned a couple of different recipes for the canned tomato juice.  We canned 19 jars.  Not bad for my first attempt!  My mother told me the story of the year she set 100 jars of tomato juice as a goal.  She did it too.  That is just amazing to me.  I also found that my memories of tomato juice spattered all across the kitchen on canning day were not completely inaccurate.  My father is a lot neater than he used to be, but we still made quite a mess.   I've got to say…….making a mess in the kitchen is kind of fun.
I'm looking forward to more domestic lessons.  Preserving the harvest is a lot of work, but it is also really fun, especially when you get to share the experience with your loved ones.  The more time I spend in the kitchen, the more I realize that cooking is another way for me to express my love for my family.  One of my favorite sayings is, "Nothing says  I love you like clean underwear."  While I still believe that, I now also feel that "Nothing says I love you like real food prepared with loving hands."
Now it's your turn…………..What do you do to preserve the harvest?  Are you a canning pro or novice?  Tell me some of your favorite food stories from your childhood.  I love hear them.
I can't wait to hear from you. Leave me a comment here and I invite you to join the fun on our various social media. Just join us by using the various buttons at the top of the page. Lots more recipes, tips and fun to be had by all! If you are new to the blog……..I invite you to check out our Weekly Challenges. This is a great systematic way to to eat more of a Real Food diet and eliminate processed food. This is the approach my family took to overhauling our diet. Remember……small changes can create dramatic changes to your overall health. Good luck!