Disclosure of Material Connection: I received one or more of the products or services mentioned complimentary from Influenster in the hope that I would mention it on my blog. Regardless, I only recommend products or services I use personally and believe will be good for my readers. I am disclosing this in accordance with the Federal Trade Commission's 16 CFR, Part 255: "Guides Concerning the Use of Endorsements and Testimonials in Advertising."
I am taking a break today from my usual food talk to have a discussion with you girls.  I was beginning to think that my skin would never age.  Ha! Ha!  I am now 44 and I think someone finally washed the bathroom mirror so I could see what is really going on with my skin.  Where the heck did all of those tiny lines come from?
My husband is as sweet as they come.  He always compliments me…….even in front of other people.  He says things like he "thinks that I'm beautiful." I "don't need all that makeup."  You know……..nice things!  I'm going to let you in on a secret, if you don't already know.  Shhh…….don't tell anyone.  My husband is 6 years younger than me.
I always thought that meant that I was older and wiser and he darn well better listen to what I'm saying.  LOL!  For some reason, 44 is the age that I am now thinking about what I look like again.  I don't want to be his frumpy old wife.  Maybe the high heels help a little with that?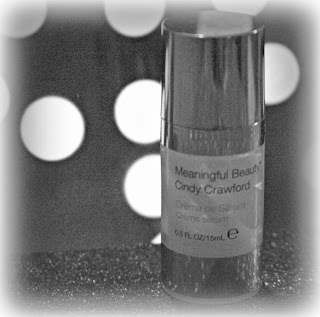 I tell you all of this so that you can understand how truly excited I was when Influenster asked me to try Meaningful Beauty Creme de Serum.  I had seen the gorgeous Cindy Crawford on TV talking about this product and always thought……..when is that girl going to start looking older?  I must know her secrets!  In addition to good genetics, I have to think that the Meaningful Beauty Creme de Serum has got to be helping.  I tried it and nothing happened.  I asked my husband jokingly if I was as beautiful as Cindy Crawford after applying the Meaningful Beauty Creme de Serum and he replied, "Well……..you don't have that ugly birthmark."  Gotta love that guy.
Fast forward a couple of weeks, and I realized that my skin was starting to feel softer, smoother, and more hydrated around my eyes and mouth where I was applying the Creme de Serum.  I was really surprised to actually notice a difference.  I'm a sensible woman.  I don't really think that this will make me look like I am in my 20s again, but after just a little while…………I think I do look younger.  I look like I'm 43 or maybe even 42.  And as silly as that sounds (and I mean it be)…………..looking a few years younger really does make me feel better.  I want my skin to be as beautiful as my body feels from eating my new and improved real food diet.
Thanks to real food, I have more energy than I have had in years.  What's wrong with looking as good as I feel?  I say……..nothing is wrong with that…………nothing at all!!
Have you noticed that you are feeling younger since changing to a less processed diet?  How do you feel about using beauty products?  Do you use a lot, a little, or none at all?  For all of you who grew up at the same time as me, I bet you have Cindy Crawford stories.  I would love to hear them.  Remember the Pepsi commerical?
For more information on the Meaningful Beauty Creme de Serum and their entire line of products, check out their website at:
Let me end with my usual reminders……………I can't wait to hear from you. Leave me a comment here and I invite you to join the fun on our various social media. Just join us by using the various buttons at the top of the page. Lots more recipes, tips and fun to be had by all! If you are new to the blog……..I invite you to check out our Weekly Challenges. This is a great systematic way to to eat more of a Real Food diet and eliminate processed food. This is the approach my family took to overhauling our diet. Remember……small changes can create dramatic changes to your overall health. Good luck!