Saturday mornings are my favorite time to cook and create these days.  We are busy all through the year with the kids activities, but winter is a little quieter.  The little ones have gymnastics class in the afternoon, so that leaves the morning open to create.  These peanut butter and jelly muffins were born out of a dream or maybe I should say a craving that I woke up with.  My cousin over at Winter Delights makes the best homemade jams.  She gifts them to us at Christmas and I buy some from her often throughout the year.  Since we are just beyond Christmas………I knew we still had some of her strawberry jam in the refrigerator.  It disappears pretty quickly so I knew I better satisfy my craving soon.
Now a little bit about these muffins and my creative process.  My little guy loves peanut butter……….but he doesn't like too much peanut butter in his recipes.  It's weird to me.  All of the time I create a recipe thinking he will love it and he returns it to me with a look of disgust and a very polite, "No thank you."  I always look back at him surprised and say something like, "Don't you like it sweetie?  It has peanut butter in it.  You love peanut butter."  His simple response always is, "Too much."  He is a little man of few words when it comes to his food choices.  Last Saturday I was determined to make a muffin he would eat.
We are in the middle of the Real Food Experience so we are talking a lot about whole grains and natural sweeteners so this recipe needed to include those elements.  My final result…………this recipe I have listed below which is a very light peanut butter flavored muffin made with whole wheat and honey.  I used regular whole wheat flour so there is a nice biscuit-like quality to these muffins.  I like that.  It hold up to the jelly nicely and I find one muffin very filling.  It's a nice little treat without any yucky processed food ingredients.  They are not overly sweet which I like because the jam adds extra sweetness.  My daughter has put her seal of approval on them.  She said, " I don't care what you call them Mom.  I call them good!"
I'm a bit of peanut butter girl so my next step is to make a super duper peanut butter muffin for me.  I'll let you know how that turns out.  In the meantime……..these are pretty good with a bit more peanut butter slathered on them instead of the jam too.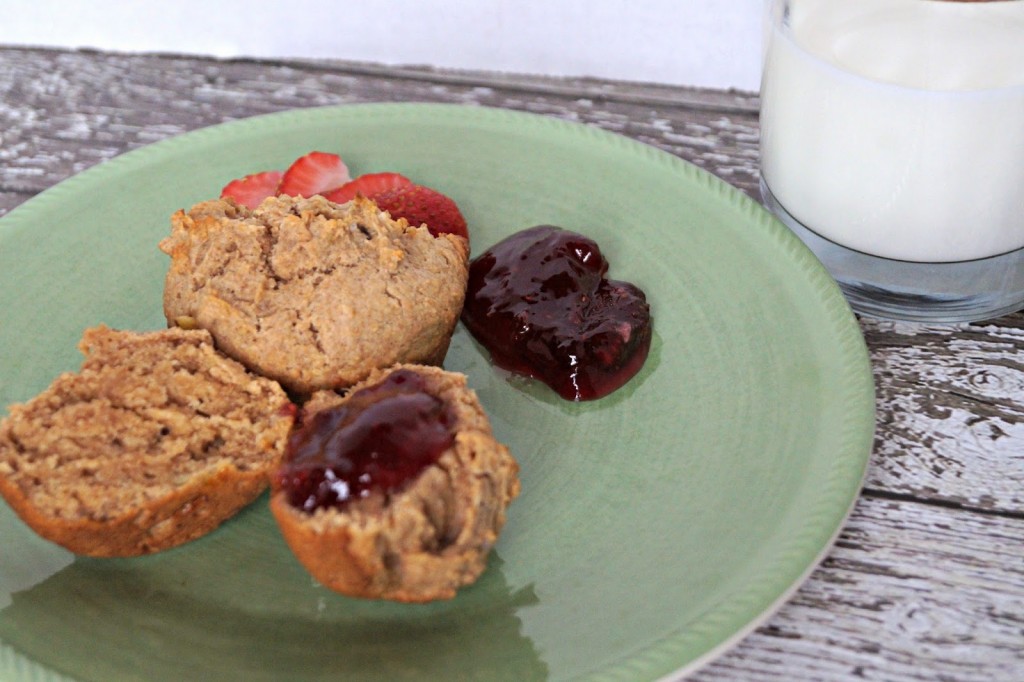 Peanut Butter and Jelly Muffins
Ingredients:
2 1/4 cup whole wheat flour
3/4 teaspoon baking powder
1/4 teaspoon salt
1 ripe banana (mashed)
1/3 cup coconut oil (melted)
1/3 cup peanut butter
1/4 cup honey
2 eggs
1 teaspoon vanilla
1 tablespoon strawberry jelly per muffin
Directions:
Preheat oven to 350 degrees and grease your muffin pan. I used butter to grease my pan.
Stir together your dry ingredients (flour, baking powder, and salt).
In a separate bowl mix together banana, oil, honey, peanut butter, eggs, and vanilla. I used my stand mixer.
Mix the dry ingredients into the wet ingredients.
Scoop muffin mixture into greased muffin pans. I use my ice cream scoop for this.
Bake for 15 minutes or until a toothpick comes out clean.
Cut in half and serve with strawberry jelly.
Makes about 12 large
muffins.  You could also stretch it out to 18 smaller muffins.  They freeze well…….if they last that long.  They hold up well in the lunch box, but I would pack the jam separately.
So………please tell me I'm not alone.  What are some of your family's food quirks?  What is your busiest season of the year?  Do you like to be creative in the kitchen or do you follow recipes exactly how they are written?
I promise to keep bringing you the best and most accurate information on nutrition I can find……….
and hopefully with a little bit of humor along the way as well. You can find lots of great information on this blog (check out the tabs above and the archives). You can follow what others are doing for the Real Food Experience using #RealFoodExperience. Make sure to subscribe by email so you don't miss anything. You can also find lots of great tips, tricks, advice, and fun on my
Facebook
page and my other social media. Please join us and share us with your friends!
If you have missed any of the Real Food Experience 2015 posts……..you can find them all on the Real Food Experience 2015 page.  Keep it bookmarked and share it with your friends.  It's a wonderful reference piece.