Today, I've got something a little different for you.  I've talked a lot about how I want to feed my family a nutrient dense diet.  It's important to make each bite count.  During the Real Food Experience this year we talked about "Eating a Rainbow."  The idea behind eating a rainbow is that each of the different colors of fruits and vegetables contain different vitamins, minerals, and nutritient elements.  The more colors you eat each day……..the more nutrition you are giving your body.  When you eat a diet that is diverse in nutrition you will have more energy and better be able to fight disease.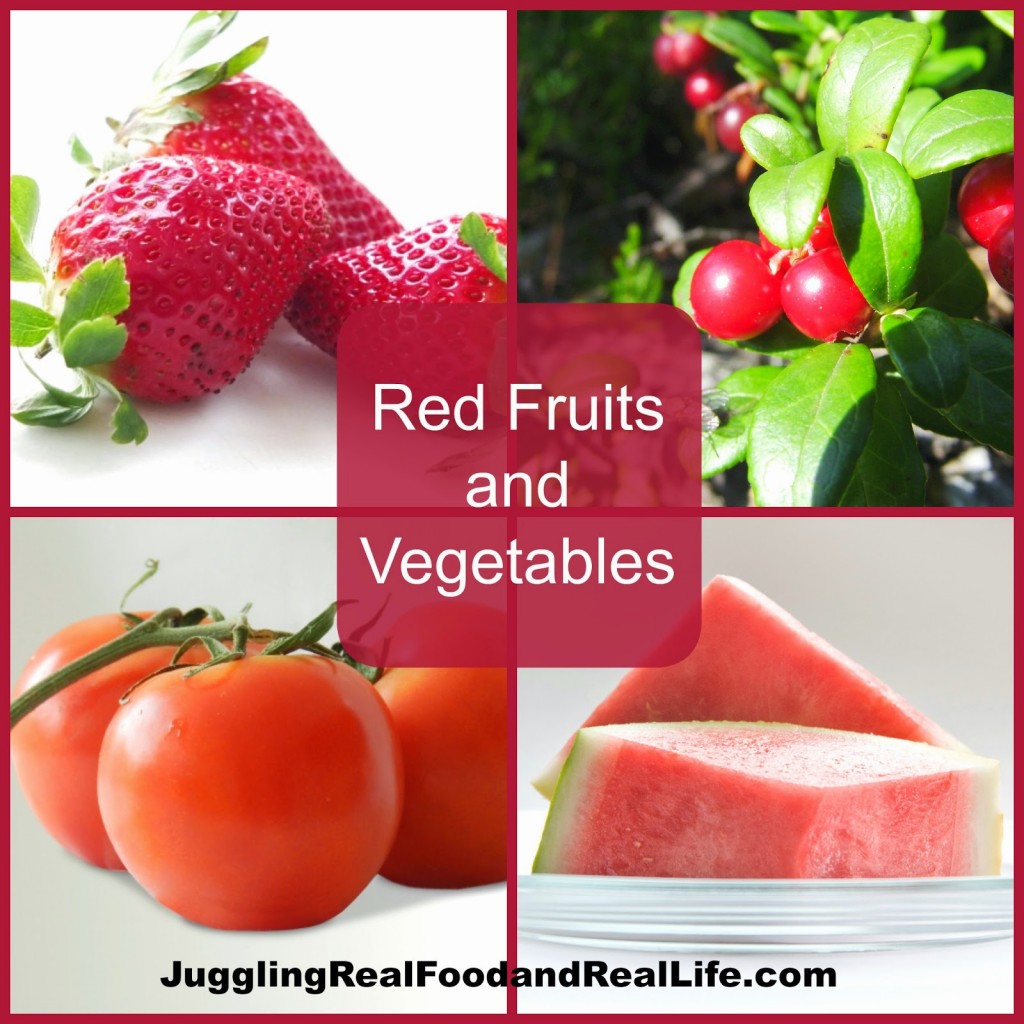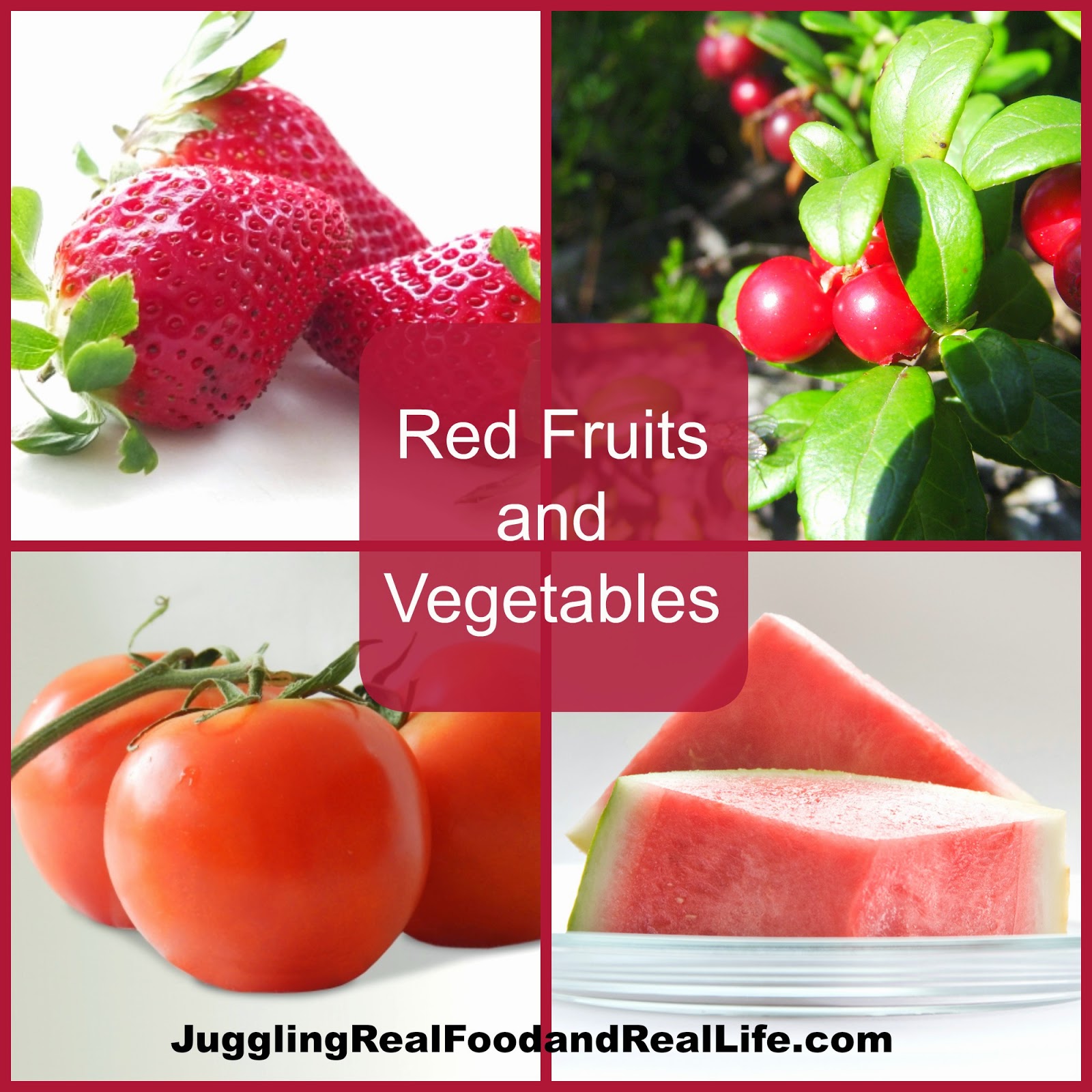 During the Real Food Experience we talked about all of the health benefits of eating Red fruits and vegetables.   There is some powerful nutrition in those delicious red foods.  Now…….let's get real.  There are times that we like to eat dessert.  It's not salad all of the time over here.  I try to reduce my family's overall sugar consumption on a regular basis, but sometimes we just want to celebrate with a little dessert.
Does that mean that I just give up on nutrition and go crazy eating nothing but junk??  No.  I haven't completely lost it, although my family may disagree.  There is still a chance to grab some nutrition even when eating dessert.  I can eat my cake and get my nutrition too.  Hooray!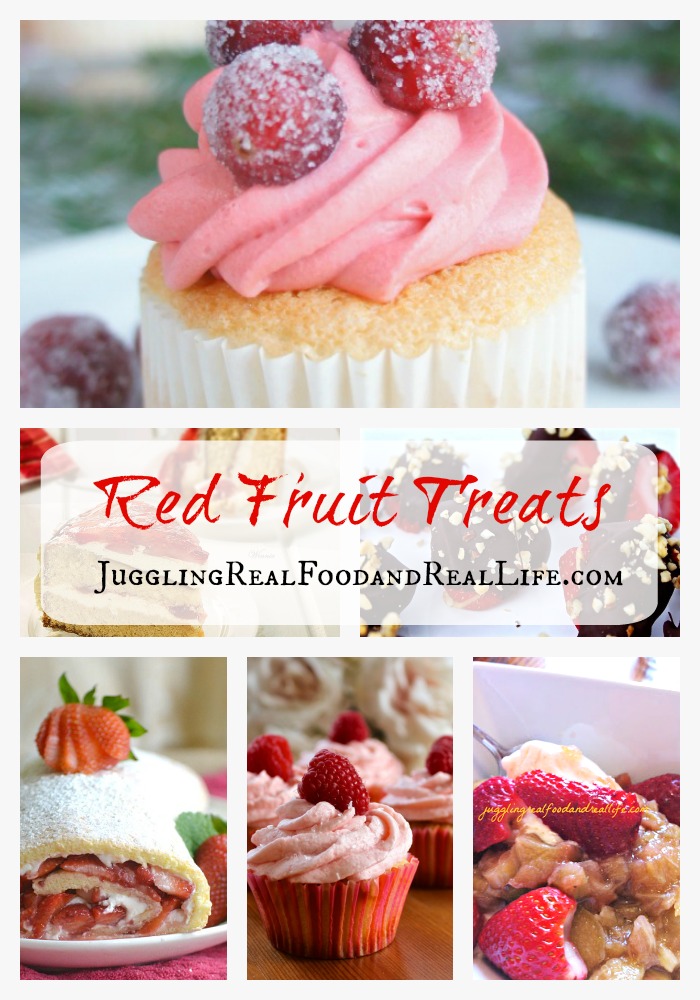 Today I am sharing 10 of my favorite Red Fruit treats.  Each one is so delicious that your family won't even realize they are eating any nutrition at all.  I promise.  I'm not saying that these are "healthy desserts."  Oh no……..there is plenty of sugar in each one of these decadent desserts. However, a few bites of nutrition with your dessert can't be a bad thing, right?
10 Red Fruit Treat Recipes
Chocolate Fruit Bites from Homemade Food Junkie
Strawberry Roll from Creative Southern Home
Strawberry Torte Cake from Something Sweet Winnie's Blog
Champagne Cupcakes with Raspberry Frosting from Homemade Food Junkie
Chia, Strawberry, and Raspberry Mint Popsicles from Eat Good 4 Life
Baked Rhubarb Compote from Juggling Real Food and Real Life
Strawberry Ice Cream Sandwiches from Little Family Adventure
Cinnamon Apple Crisp from 100 Days of Real Food
Strawberry Mousse from My Whole Food Life
Caramel Apple Upside-Down Cake from Deliciously Inspired
Do you have a favorite Red fruit dessert?  Go ahead and link it below in the comments so we can all give it a try.
If you are looking for help in making the transition to eating more real food, you should check out the Real Food Experience posts. You can get started at the beginning or jump around the challenges. You can find a complete round-up of the program here. Each week's challenge is full of terrific advice to help you transition from fast and processed food to a real food diet. Changes that will help you to live a healthy lifestyle and have the energy to keep up with your busy schedule. I would also love for you to join me on social media. You can find me on Facebook, Twitter, and Instagram on a regular basis. Leave me a comment and let me know you are there. I love to visit with my readers.