Our Good Habits series shares lots of useful tips that you can incorporate into your daily life.  There are tips for all areas of your life including your daily mental health, organization, parenting, healthy eating, and lots more. This series is dedicated to simple solutions for common problems.  Good Habits work together to create an overall positive outlook on life and a healthy relationship with food. This week we are talking about one of the simplest methods to drop your overall calories without much effort.  It's an oldie, but a goodie!
You won't find me talking about dieting much around here.  Diets don't usually work for most people and have never worked long-term for me.  I have found that eating real food and controlling portions is a great way to have a healthy relationship with food.  Smaller portions are not the complete answer to healthy weight, but eating smaller portions is certainly a step in the right direction to living a healthy lifestyle.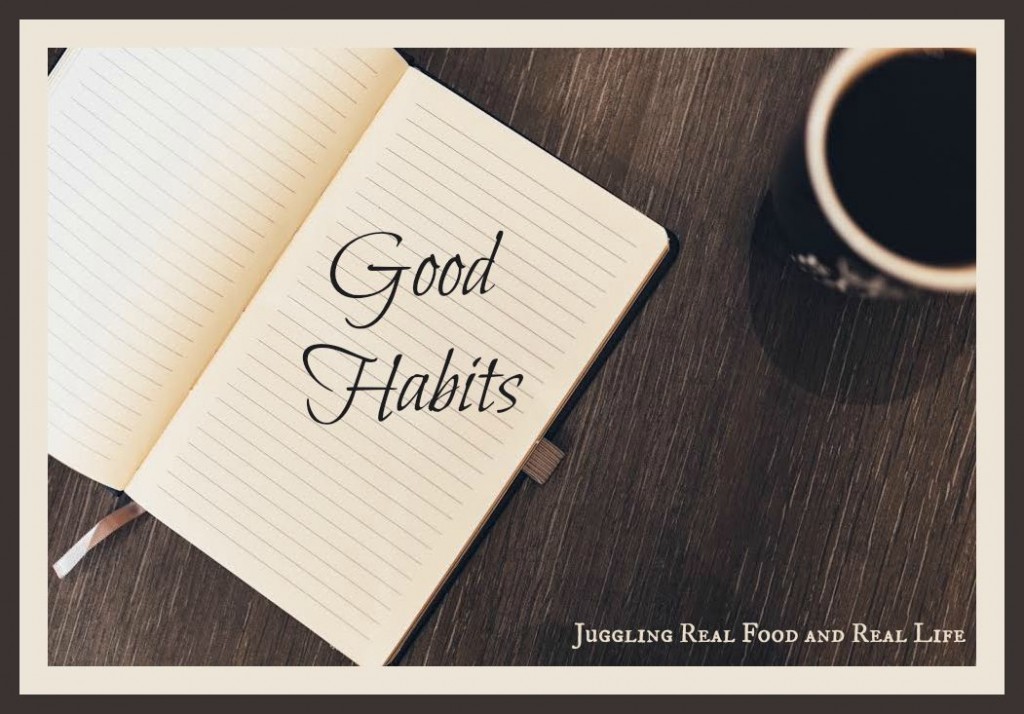 Make it a Daily Habit to Reach for a Salad Plate Rather than a Dinner Plate When Serving Yourself.
Using a smaller plate to reduce portion sizes seems too simple.  It is easy to shrug off as complete nonsense.  However, using smaller plates and even serving utensils has been proven to reduce portion sizes.  A study at Cornell University by Professors Brian Wansink and Koert  van Ittersum explored an optical illusion that causes an object to look smaller when there is more white space around it.  You can read more about the study here.  Now let's think about our dinner plate.  We have a great big white dinner plate with a piece of chicken on it.  On that big plate, the chicken will look rather small.  Now, let's think about that same piece of chicken on a smaller plate.  It looks quite a bit larger, doesn't it??  I know that my kids will fill up any cereal bowl I give them…. no matter the size.  It's all about making that bowl look full and not how much food is actually in the bowl.  If I want to reduce their portion sizes, I just need to cut back on the size of the bowl they use.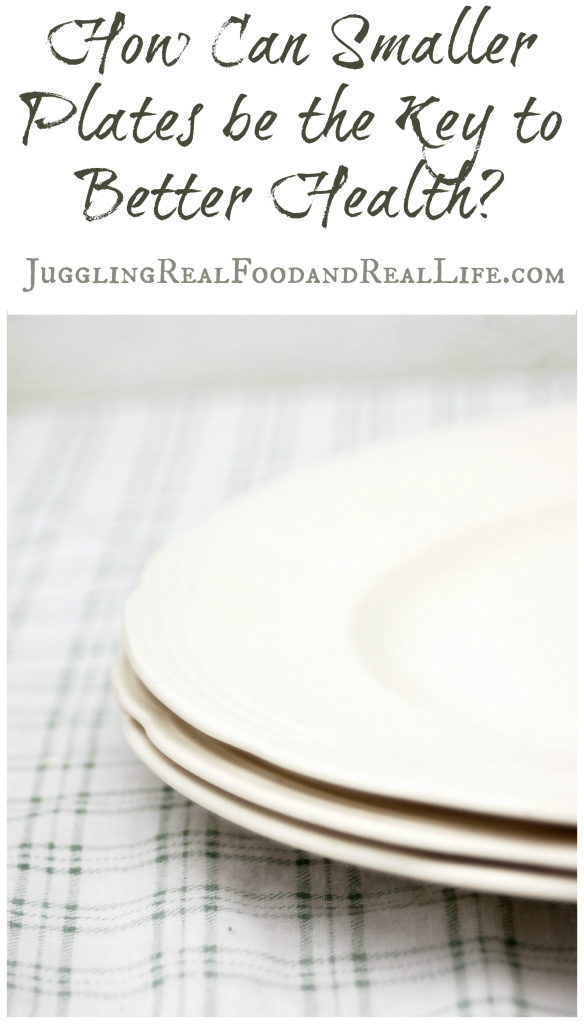 Not everyone is trying to lose weight, but I do know that portion control is a big issue for many families.  We live in a society of super-sized portions………double and triple burgers, extra large milkshakes, and sandwiches that are large enough to serve a family of 4.  It's crazy how our idea of correct portions has been messed with.  Using smaller plates is one simple way to bring our portions back to what is considered to be normal and healthy.
Remember that new habits are not formed overnight.  They take practice.  The good news is that using a smaller plate should be something that is easy to get into the habit of doing.  Good luck!  Let me know how it goes.
I really want to hear from you.  Share your comments below.  Do you already use a smaller plate for your dinners?  Has this habit helped you?  Do you think this is a habit you could easily start?
Since I always want you to be thinking about eating real food…………..If you are looking for help in making the transition to eating more real food, you should check out the Real Food Experience posts. You can get started at the beginning or jump around the challenges. You can find a complete round-up of the program here. Each week's challenge is full of terrific advice to help you transition from fast and processed food to a real food diet. Changes that will help you to live a healthy lifestyle and have the energy to keep up with your busy schedule. I would also love for you to join me on social media. You can find me on Facebook, Twitter, and Instagram on a regular basis. Leave me a comment and let me know you are there. I love to visit with my readers.
You might also be interested in:  Good Habits – Start Your Day with a Positive Message