I've been asked a lot lately about the sweeteners that I use, so I thought I would talk a bit about Honey.  Honey is the sweetener that I use the most in my house.  I use it in all kind of recipes.  I use it in baking and my crock pot recipes.  I stir it in my tea and plain yogurt.  It also makes a simple piece of whole wheat toast taste like something special.
Sugar really is sugar……. no matter what form it comes in, so you need to make sure that you don't overdo it with honey or any other sweetener.  You also need to be careful not to feed a baby under a year old honey.  Babies' immune systems are not
developed enough to handle the botulism spores in honey.  Don't worry, it is safe for the rest of us and had lots of health benefits.  More on that in a bit.
It is my desire to feed my family the most nutrient dense and the least processed foods that I can find.  Honey is actually one of the first changes I made when changing my family over to Real Food.  Honey is delicious, so I didn't think that I would have too much trouble getting them to switch.  Once they got over the shock of the sugar bowl disappearing, it really was an easy switch.  And…….it can't get any less processed than honey.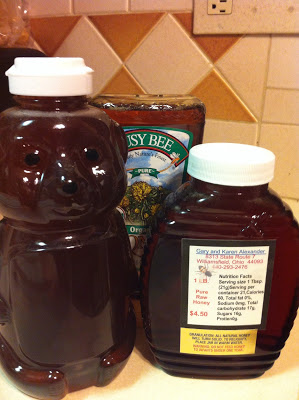 Honey is made when bees take pollen from flowers back to the honeycomb and work their magic.  Magic…..I'm pretty sure that is a technical term.  Essentially, honey is harvested by shaking the honey out of the honeycomb. That's it!  No fancy equipment needed.  Well……except that funny looking outfit with the big hat that they wear.  There is no need for preservatives as long as honey is stored in a sealed container at room temperature.  It lasts quite a long time.  There is a rumor that there was honey locked away in the Egyptian pyramids for 100s of years that was later found. And guess what?  Yep!  Still good to eat.
The flavor of honey is determined by the flower that the bee gets the pollen from.  Honey can be created from over 300 floral sources in the United States.  While, clover is the most common, there are lots of other sources like buckwheat, alfalfa, orange blossom and lavender.  Can't you just imagine how delicious they must all be?  The lighter the honey, the milder the flavor.  The darker ones have more full-bodied flavor so give that some thought when deciding which ones you want to try.
OK……..so honey is sweet, comes in a variety of flavors, and is not highly processed.  What else can it do?
Honey is a great natural energy booster.  If you want an instant energy boost, try honey.  Glucose is absorbed by the body quickly, which gives you a quick energy boost.  Honey's natural sugars have also been shown to prevent fatigue during and after exercise.  You might want to put those energy drinks aside and try a spoonful of honey instead.  Natural peanut butter and honey is a great energy boost to help kids make it through their busy days. It also makes a great quick snack before sporting events and workouts.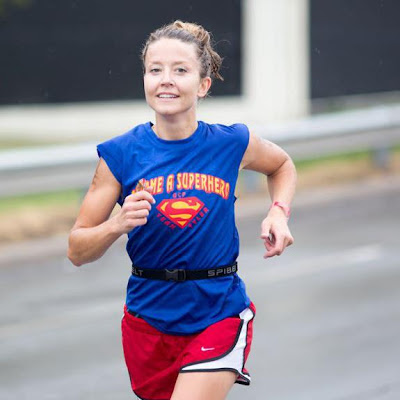 My friend and fellow Real Food eater Janice
Honey is also great for sore throats.  Have you ever seen honey flavored cough drops?  The idea comes from the fact that honey can soothe your throat and is great at killing bacteria.  So……honey with tea doesn't just sound like an old wives tale anymore, does it?  It really does have the power to fight off illness. Honey, lemon juice, and salt make a great gargle if you aren't a tea drinker.  I'm an equal opportunity healer here.
Well………that is just a few reasons that honey is my favorite sweetener.  Do you use honey?  What is your favorite sweetener?  I would love to hear from you.  Just leave me a comment below.  If it says "No Comments" then you are the first.  Go ahead!  Click on it and let me know what you are thinking.  Let's get the conversation going for everyone.  You can also join the conversation over at Facebook and follow us on Pinterest.  Make sure you register your email at the right of the page so you don't miss an episode.