This weekend my local Farmer's Market opened up for the season.  I have a huge association with the start of my Real Food journey and this Farmer's Market.  I celebrated the opening like a holiday.  You see, it has been just about a year since I decided that my family needed to switch to a Real Food diet for the sake of our wellness.  One of the keys to our success has been the discovery that fresh Real Food is absolutely delicious.  Rather than focusing about taking foods away from my family, we focused on what we could add to our diet by visiting the Farmer's Market.  We, of course, were following our newly developed family food rules.  As our family began to adjust to these rules, we developed a couple of sub-rules.  We decided it was important to us to buy local where possible and to eat seasonally.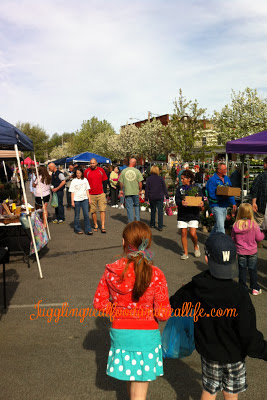 Why buy local?  There is something special about looking the person who grew your food in the eye as you hand them your dollar.  Talk about voting with your dollars.  This is the ultimate.  Your money stays local and that is an obvious help to the local economy.  There are also nutritional reasons for buying local.  Locally grown food tastes and looks better.  They are picked at their peak and delivered a short distance to your Farmer's Market and then home to your table.  Locally grown food does not spend lots of time on trucks or airplanes.  There is no sitting around in warehouses.  Less nutrients are lost because the food has not been sitting around for a long period of time.  I like to buy organic and I often hear that organic produce just doesn't last very long.  I'm here to tell you, the problem is not that it is organic produce.  The problem is that it is old produce.  If it takes 2 weeks to get to your grocery store, how long do you think it is going to last when you get it home?  Now think about your locally grown food, that is probably only a couple of days out of the field.  It lasts much longer.  Problem solved!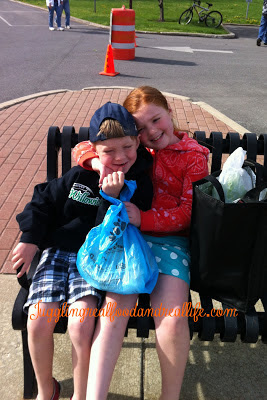 Why buy seasonal produce?  Let's start with price.  When you buy your fruits and vegetables as the harvest comes in, the price is much lower.  The Farmers are eager to move their produce and will have it priced to move.  Buying produce out of season, often means transporting it cross country and higher prices as a result.  Seasonal foods are also more nutritious.  Buying your fruits and vegetables at the peak of the season means that the naturally occurring vitamins, minerals, and phytonutrients are also fresh.  Eating with the season means that my family is forced to eat out of our comfort zone.  Not only are we exposed to more nutrients by eating seasonally, but we stumble upon some new favorite foods as a result.  Of course, the kids are always being exposed to new foods, but I was surprised to discover some new favorites of my own.  Last ……….but certainly not least, is taste.  Have you ever eaten a strawberry right out of the field?  If you have, you know that there is no better taste than a strawberry in season.  The same can be said for all seasonal produce.  Wait, till you discover all the flavors.  You will be blown away.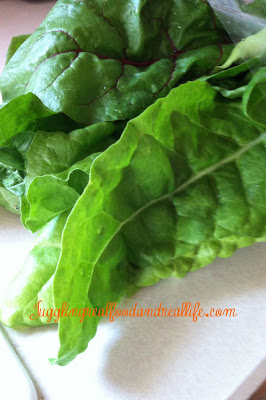 It's not always possible to buy all of your food locally and seasonally.  Living in Ohio our local produce has a rather short season and not everything we like to eat is grown in our local area.  My kids would be pretty darn upset with me if I told them that they could no longer have their favorite Monkey Bites because we were only eating locally and bananas are certainly not grown in Ohio.  We would also miss out on oranges, lemons, papaya and lots of other tropical produce.  That's why the local and seasonal rules are not as strict as our other rules.  We really love to add extra nutrients and flavor by buying locally and seasonally.  We also want to support our local farmers.  When talking about these two rules within our family, we often say "when possible".   We plan recipes based on seasonal produce, but if it is not available locally, we will still buy it at the grocery store.
Now it's your turn.  What are your favorite seasonal fruits and vegetables?  Does you family have a plan to buy locally or seasonally?  You may want to read one of my earlier Farmer's Market posts.  If you are interested in hitting your local Farmer's Market, here are some tips to help you.
Thank you for all of the love and support.   Don't forget you can join us on Facebook for more fun and support along the way.  You can also follow us on Twitter @Jugglngrealfood if you are interested in learning more about the Real Food Movement.  You can also follow our boards on Pinterest.