Our next entry to our Juggling Real Food and Real Life Smoothie Competition is Susan from Lil Bit of Mama Time.  Susan is a wife and a mom.  She has a beautiful, three year old daughter
and a son who is due in early September.  She was born and raised in North Carolina
and found her home in Arizona shortly after college. She has been married to her
wonderful husband for six years now and couldn't be happier with the life they have
made together.   Susan started her blog in April 2013 when she was put on bed rest
for pre-term contractions at 19 weeks. She has always had a dream of starting her
own blog, and this gave her the opportunity. She wants to to share all of
the cooking, craft, homemaking and sewing projects that she is working on.  Susan has a really fun blog full of lots of great ideas.  I know you will love it.  Stop by and have a visit with her.
Don't forget……….the winner of the
competition is determined by the recipe which has the most votes. A vote is a
written comment at the bottom of the post. Read the post, leave a comment, cast
your vote and………best of all…….try the recipe.
Now let me introduce Susan…………………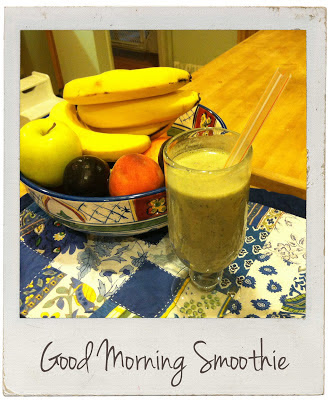 Susan's Good Morning Smoothie
I'm a big fan of smoothies.
It's such an easy and yummy way to get down your vitamins and protein
each day. I've tried a bunch of different combinations, but this is one my
favorites.  It can be a bit thick  and don't let the spinach detour
you, the flavor blends right in. Please try it and let me know how y'all like
it.
Here's my Good Morning Smoothie
recipe:
Ingredients:
1 cup of Silk unsweetened soy
milk
1 Banana – sliced for easier
blending
½  cup of Strawberries
¼ cup of Blueberries
½  cup of Raw Spinach
1 tablespoon of Omega-3 Flax Seed Oil (I use Spectrum)
Directions:
Blend in mixer until smooth.
Enjoy!
Now it's your
turn………..leave your comments below and cast your vote for Susan's Good Morning Smoothie.  Have you ever had spinach in a smoothie?  What did you think?  What is your favorite time of day to have a smoothie?   Check back for more competitors next week.
There are going to be more great recipes for you to check out.