Our next entry in the
Juggling Real Food and Real Life Smoothie Competition
is Gaye from
Calm.Healthy.Sexy.
  Gaye is a Christian, the wife of a wonderful man and the mother of two terrific sons.  She has a career, a home, a garden, a church, extended family, friends, and activities – all of which compete for her time and energy.  Like many of us, she is working on maintaining balance in her life.  Her goal is to feel calm, healthy and sexy – at least some of the time!  She is one of my best blogger friends and an inspiration to me.  I spend quite a bit of time reading her blog.  She is my only sanity sometimes.  Stop by her blog and you will see why I speak so highly of her.Don't forget……….the winner of the competition is determined by the recipe which has the most votes.  A vote is a written comment at the bottom of the post.  Read the post, leave a comment, cast your vote and………best of all…….try the recipe.
Now let me introduce Gaye…………….

Super Orange Smoothie

Like most Juggling readers,
I'm trying to keep a lot of balls in the air – taking care of my family, working,
preparing real food, exercising, gardening, blogging and devoting some time and
energy to my marriage.  Sometimes, I lose
control of one (or a few!) of the balls!
When that happens, the one I'm most likely to drop is the one labeled
"take care of myself."  I'm sure it's the
same for you – when everyone in the family needs something right now, your own needs fall to the bottom of your list of
priorities.
I can't always control my family's schedule, but I have
figured out something I can do for myself every morning – regardless of what
happens the rest of the day!  Five or six
days a week, I make a big, fruit- and vegetable- packed smoothie for
breakfast.  Sometimes I add some plain
Greek yogurt for protein.  It tastes like
a treat, and gives me five or more servings of fruits and vegetables to start
the day.  I'm always in a hurry on
weekday mornings, so I usually drink it in the car on the way to work.  My smoothies start my day out right, and
serve as a small reminder that my needs are important too.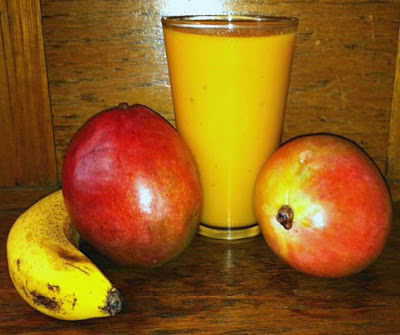 This Super Orange Smoothie is one of my favorites, and I
appreciate Christina letting me share it with her readers.  I hope you'll enjoy it as much as I do.
½ c. orange juice
½ c. carrot juice
1 medium ripe banana
1 c. frozen pineapple chunks
1 c. frozen mango chunks
¼ c. plain Greek yogurt, optional
Allow the frozen fruit to thaw for a few minutes (or defrost
it in the microwave for 30-40 seconds) – it should still be frozen, but not
frozen solid.  Combine the ingredients in
a blender and mix well.  If the smoothie
is too thick, add a little more orange juice and blend again.Now it's your turn………..leave your comments below and cast your vote for Gaye's Super Orange Smoothie Recipe. Check back for our other competitors each day this week. There are going to be more great recipes for you to check out.