There are probably a lot of you reading this title and thinking…….."Why do I need to make my own microwave popcorn when it has already been invented?"  Come on……..I know you are thinking it.
Popcorn is a very healthy snack until it is made with unhealthy oils, artificial flavors, and artificial colors.  It is also loaded with more salt than most of us should have in a week.  Have you ever looked at the microwave popcorn labels?  Not a pretty sight for a Real Food family.  The problem is, my teenager loves popcorn above all other snacks.  I had to figure out how to make his favorite snack more healthy for him.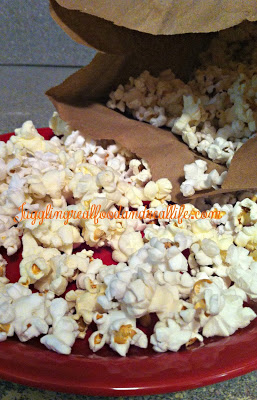 I tried air-popped popcorn and that is a nice alternative for our family.  My husband loves the nostalgia of it.  He grew up eating air-popped popcorn and he likes to share the popcorn and childhood stories with our children.  We melt real butter and pour it over the popcorn.  Salt sticks to the popcorn when it is buttered.  You can also eat it plain.  It is really delicious all on its own.
Teenager problem solved, right?  Wrong!  The boy likes microwave popcorn.  He doesn't want to go to the trouble of getting out the air-popper and catching the popcorn as it flies out of the machine and all over the kitchen. He wants to be able to take out a bag and put it in the microwave and then eat it out of the bag.  You know……..if you dirty a bowl you have to take it to the kitchen.  That takes way to much energy for a teenager……….even the teenager who is spending his whole summer working out, running, and practicing for football season.  OK, I get it.  He wants microwave popcorn.
How hard can it be to make microwave popcorn?  Ummmm………it's kind of embarrassing, but it's not hard at all.  I don't know why we have been snookered by these food companies into thinking that we need to buy their expensive microwave popcorn.  I bought a big bag of organic popcorn for $1.20.  That is a lot less expensive than the microwave popcorn bags.
So here is the secret.  Shhhh………..don't tell anyone.  Of course, if they do any Internet searches they can find all kinds of people talking about making your own microwave popcorn, so I guess it's not a secret anymore.  And this post is not going to do anything to help keep it a secret.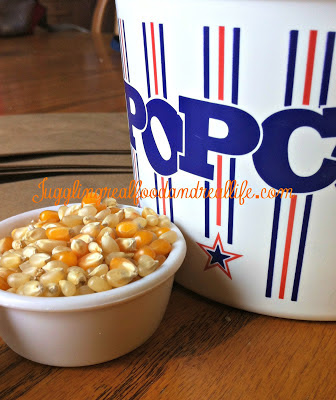 DIY Microwave Popcorn
All you need is:
1/4 Cup Popcorn

Brown paper bag (lunch size)

Melted Butter (If desired)

Salt (If desired)
Directions:
Place 1/4 cup popcorn in to the brown bag.

Fold down the top of the bag a couple of times.  Make sure it is folded firmly.

Place bag with popcorn into microwave.

Cook on high in microwave until popping slows.  You need to listen for this.

You can use the handy dandy "popcorn" button some microwaves have.  I found that this was too long for my microwave.  I had to stop it before the time was up.  The teenager says it take 1 minute and 50 seconds to get perfect popcorn.  Of course, microwaves vary greatly.

Then all you need to do is dump it into a bowl, drizzle melted butter and shake on some salt.  Or…………as the teenager does it………just dump it all in the bag.
DIY microwave popcorn really is delicious and healthy snack.  It is so easy………even a teenager can make it.  Popcorn is perfect whenever you want a crunchy snack.  It makes for a great side-dish for lunch too.  Popcorn is a whole grain after all.  I like to pack bags of popped popcorn for car trips.  I also take un-popped bags with me to work for a quick afternoon snack.
Do you eat microwave popcorn?  How else do you make your popcorn?  Do you eat it plain, with butter, or with other flavors?  What other snacks do you wish you could find a little bit healthier?  I would love to hear some of your teenager stories as well.
Thank you for all of the love and support. Don't forget you can join us on Facebook for more fun and support along the way. You can also follow us on Twitter@Jugglngrealfood if you are interested in learning more about the Real Food Movement. You can also follow our boards on Pinterest.