Have you ever been lucky enough to be given 2 stuffed to the brim bags of apples?  I have.  My folks went to visit out of town family last weekend and they came back with all kinds of goodies for me.  They brought me fresh from the farm eggs, homemade egg noodles, and 2 enormous bags of apples.  I felt like I hit the Real Food lottery.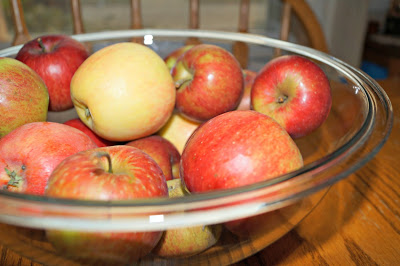 You should have seen me……….I was giddy as a schoolgirl over apples.  These apples did not have a big "Organic" sticker on them, but I knew that was exactly what they were.  Apples grown in my aunt's yard and certainly not sprayed with disgusting chemicals.  The apples came with a warning from my father, "You need to watch out for worms, of course."  Gross!  For free apples, I am willing to put myself out there with my sword and shield and be on the lookout for worms.
So far………..so good.  I haven't found any worms.  I am slowly working my way through the bags (using my pockets of time) and making Crockpot Cinnamon Applesauce.  My little dude loves his applesauce.  He often tells me he wants applesauce, applesauce, and applesauce for his lunch.  I feel really good about serving this applesauce to him.  Just imagine the love that goes into this applesauce……………from the growing of the apples, to the picking, to the peeling.  I hope he feels some of that love each time he eats it.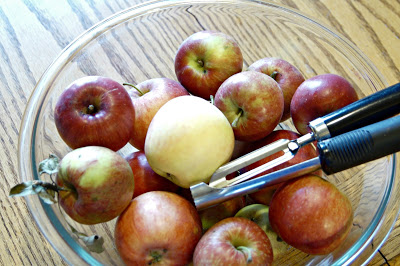 I am hoping to freeze some of this for the winter, but so far we are pretty much eating it as I make it.  My little guy isn't the only one who likes it.
We like it scooped into a bowl or  lunch container and eaten just as it is, but it is also really good on pancakes instead of syrup………especially my Cinnamon Spelt Pancakes. 
Like all my recipes, this is simple goodness.  Use the best ingredients you can find and it will always taste better than its store-bought counterparts.
This is a great recipe because it can make as large or small of a batch as you like. The recipe is from the Crockin' Girls.  You can see their recipe here.  I've made only one REAL Food change. When I make this recipe it makes the house smell better than one of those expensive fall harvest candles. My husband says we should make this applesauce more often just because it smells so darn good!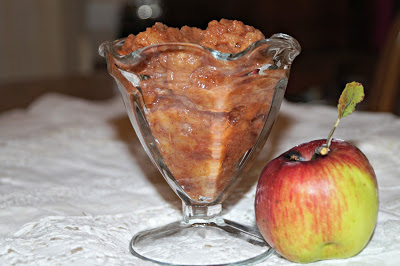 Crockpot Cinnamon Applesauce
Crockpot Cinnamon Applesauce - Juggling Real Food and Real Life
Author:
Christina - Juggling Real Food and Real Life
Ingredients
6-8 Apples. (I often use more than that. I buy apples every week. Sometime we eat a lot and sometimes we don't. All the extras go into making applesauce.)
1 Tablespoon honey (You might need a bit more if your apples are a bit tart. Don't overdo it though. You can always add more later if need be.)
2 Teaspoons Cinnamon (We are generous here. I use overflowing teaspoons.)
Instructions
Core, Peel, and quarter your apples.
Place the apples in the crock pot.
Add your honey and cinnamon.
Cover and cook for 2-3 hours on high or 5-6 hours on low. You will have to adjust your cook time based on the number of apples you use and the crock pot you use. When the apples are done cooking, remove the lid and use your potato masher to mash up the apples. The Crockin' Girls suggest using a blender to make it smoother for babies. Place in a sealed container in the refrigerator. This should last for about a week or so. It also freezes great. You can place it in ice cube trays for baby or kid size portions or put it in freezer bags if you want a larger portion.
Notes
We recommend using organic ingredients when available.
You can find my favorite peeler and corer through my Amazon Affiliate Link if you need to add these items to your kitchen.  Having the right tools makes all the difference.  Peeler and Corer.
So, I am sitting here brainstorming questions to ask with my family and my teenager comes up with, "Have you ever had applesauce thrown at you?"  Sure………that's a good question. LOL!  They also want to know if you have a favorite apple?  Do you like your applesauce hot or cold?  Smooth or chunky?
I can't wait to hear from you. Leave me a comment here and I invite you to join the fun on our various social media. Just join us by using the various buttons at the top of the page. Lots more recipes, tips and fun to be had by all! If you are new to the blog……..I invite you to check out our Weekly Challenges. This is a great systematic way to eat more of a Real Food diet and eliminate processed food. This is the approach my family took to overhauling our diet. Remember……small changes can create dramatic changes to your overall health. Good luck!