Next week marks my 1 year blogiversary. That's a big deal in the blogging world.  That means I didn't give up on you, writing, or Real Food and………you didn't give up on me.  This blogiversary has got me reflecting and asking lots of questions.  One of the things I've been thinking about is if my simple recipes are "good enough?"  Am I helping my readers by sharing my simple recipes?  The conclusion that I've come to is………."Yes!"  Simple Real Food recipes is the very essence of Juggling Real Food and Real Life.
Sure, I could share with you my recipes that I make when I've got lots of time, but that's not what busy parents like you and I have time for.  Juggling Real Food and Real Life is about cutting out processed and fast-food and getting Real Food meals to the table/lunchbox each day.
My #1 strategy is to use simple, beautiful ingredients.  It not only saves me time in the kitchen, but it is easier to determine if the ingredients are Real when I use less ingredients.  What do I mean by this?  When I first changed to a Real Food diet, I was really overwhelmed.  Organic……….NonGMO certified……….what the heck is that ingredient?  Carrots, tomatoes, zucchini, eggs…………..that was easy for me.  Bottled spaghetti sauce and carrot juice……..now that is walking a slippery slope.
My 6th grade teacher, Mr. Bowman, taught me the K.I.S.S. Principle.  Keep It Simple Stupid.  What a valuable lesson that was!  It really applies when cooking Real Food.   So, I am going to quit fretting about giving you simple recipes.  Simple food really is nutritious and delicious.
Today, I would like to share with you my Drizzled Balsamic Zucchini.  So good!  Even my daughter who hasn't eaten much zucchini agreed it was delicious.  Wow!  It's 3rd grade approved!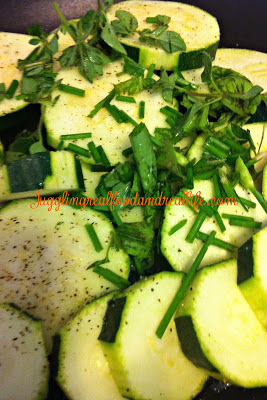 Ingredients:
Zucchini (I like to use the smaller ones for this recipe.

Salt

Lemon Thyme (Sprig)

Basil (Couple of leaves)

Chives (Small bundle)

1-2 Tablespoons Olive Oil

Balsamic Vinegar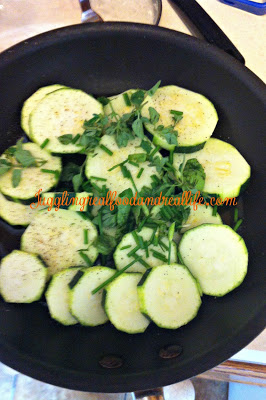 Directions:
Slice zucchini into about 1/2 inch slices. (I like to leave the peal on, but create stripes using my vegetable peeler.  This should be done before slicing.)

Coat fry pan with olive oil.

Place zucchini in pan.  Do not overlap pieces.

Sprinkle salt and other herbs across the top of the zucchini

Allow to cook over medium heat until slightly brown.  Flip over the pieces and allow to cook until fork tender.

Plate zucchini and drizzle balsamic vinegar over the zucchini.

Serve hot.
Now it's your turn………….Do you like elaborate recipes for everyday or do you like to keep it simple?  What are your favorite vegetable side dishes?  Do your kids eat zucchini?
I can't wait to hear from you. Leave me a comment here and I invite you to join the fun on our various social media. Just join us by using the various buttons at the top of the page. Lots more recipes, tips and fun to be had by all! If you are new to the blog……..I invite you to check out our
Weekly Challenges
. This is a great systematic way to to eat more of a Real Food diet and eliminate processed food. This is the approach my family took to overhauling our diet. Remember……small changes can create dramatic changes to your overall health. Good luck!